*This page is being updated as new information becomes available. Check back often!*
In Presence you will find many upcoming events, some that deal directly with politics and others that might be good for your mental health!
Some spaces to process the election on Nov. 4 that you might be interested in are:
Taylor Center's drop-in events, healthy snacks, and craft time!

Paw Program (with DOGS!) from 12-1 pm at the Pause
Flaten Art Museum's Reflection Wall  in CAD – come reflect and share your thoughts
College Ministry's regular Wednesday gathering at *8 pm*
College Dems and College Republicans regular meeting time (Wed. from 7-8 pm)
Other events happening after Nov. 4 include–
Evening Debrief Session with ACs on Nov. 5 (look out for email from AC)
What Now? on November 5 from 11 am-11:45 am ( Event Zoom Link)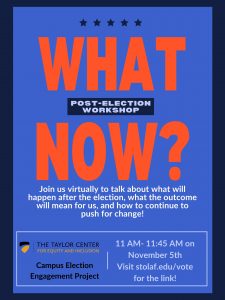 Reflecting on the 2020 American Election: An Informal Conversation with the Political Science  Department from 6:15-7:45 pm (Zoom Link)
Lots of other fun, let loose, and "take your mind off of things" activities in Presence!
Campus Resources
There's no doubt there is a perfect storm of events colliding: the election, the pandemic, and the end of Fall term! Take care of you and others during this time. Here is a list of campus resources to reach out to if you need more assistance or ideas:
If you are experiencing an immediate, life-threatening mental health emergency, call 911 or go to the nearest hospital emergency department. If you are experiencing a mental health crisis in which you are not in immediate danger but are not feeling safe, visit this Emergency page for more support options.