Pastoral Care – The chaplain staff in the College Ministry Office engages in a wide variety of conversations. From discussions regarding vocation to questions of faith to the joys and struggles of daily life, we are happy to offer pastoral care. As we face together the COVID-19 pandemic, you may wish to discuss your concerns or fears or hopes. Whatever the topic might be, our time together can take several different forms – video calls, email or telephone. To set up a time to talk, please email a chaplain and you can decide together a time and format.
Matt Marohl, College Pastor – marohl@stolaf.edu
Katie Fick, Associate College Pastor – fick@stolaf.edu
Shosh Dworsky, Associate Chaplain for Jewish Life – dworsk1@stolaf.edu
Iman Jafri – Interim Associate Chaplain for Muslim Life – jafri1@stolaf.edu
College Ministry Office: (507) 786-3092 or ministry@stolaf.edu 
Worship – Daily chapel and Sunday worship services will resume online on Monday, April 6, at their regularly scheduled times and can be accessed at the St. Olaf Streaming link.  Services will continue online through the remainder of the 2019-20 academic year.
Monday, Wednesday, Friday – 10:10 AM
Tuesday – 11:10 AM
Thursday – 11 AM
Sunday – 10: 30 AM
Podcast – The St. Olaf Chapel podcast is hosted by Pastors Matthew Marohl and Katherine Fick. Each week they bring you chapel talks by students, faculty, and special guests recorded live in Boe Memorial Chapel on the campus of St. Olaf College.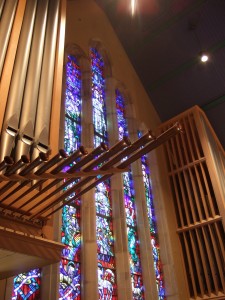 Online updates and programming – Follow us on Instagram @stoboechapel and continue to check this website for online devotions, digital event announcements, and other spiritual care resources.
Psychological Tips for Managing COVID-19 Concerns – The St. Olaf College Counseling Center offers a checklist for recognizing distress and psychological health tips on their website.
https://wp.stolaf.edu/counseling-center/covid-19/
Prayer – As a multi-religious ministry staff, it is our joy to come together to care for the St. Olaf College community. One way that we can do this is through prayer. Below is a prayer for our community.
Let us pray,
We pray, O God, for all those around the world dealing with COVID-19. Where there is grief over the death of loved ones, grant the peace that comes with the promise of your presence. Where there is anxiety or fear over illness or quarantine, grant hope in your healing. Give wisdom to all leaders facing difficult decisions regarding the communities in their care. We pray also for the students, faculty and staff of St. Olaf College. Keep us mindful of the whole college community; for workers in food service, health services and counseling, for students and faculty as they re-imagine their shared learning, and for parents and families – grant us grace and resilience as we strive to love and serve one another.
Amen.