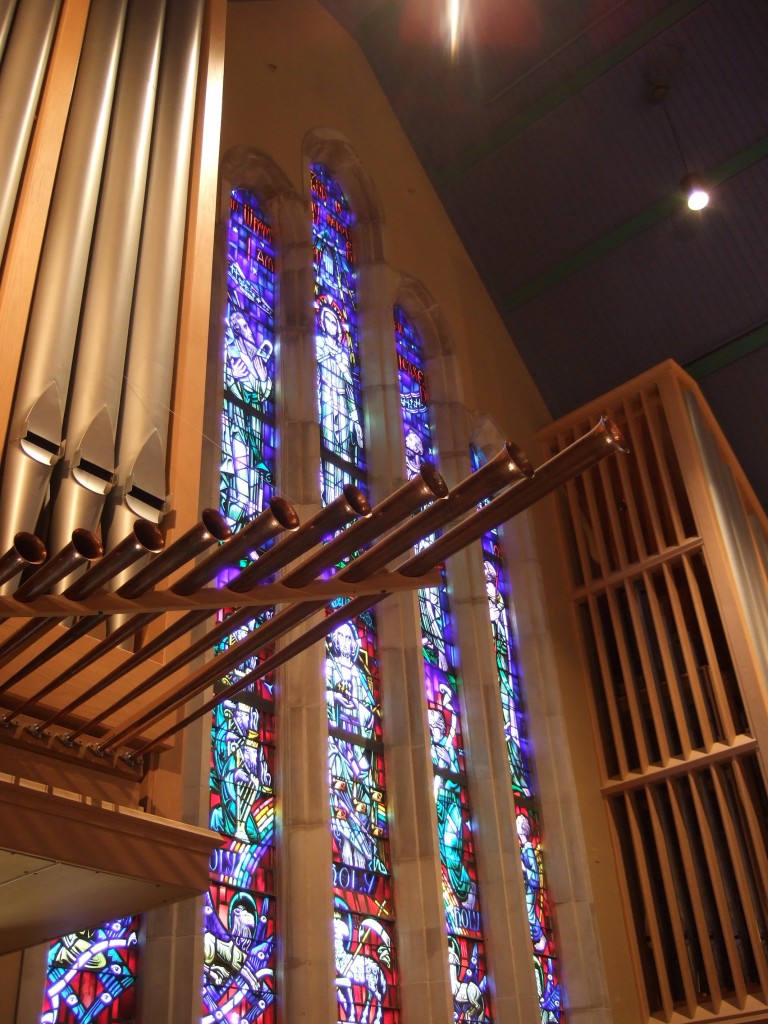 The Holtkamp Organ
In the worship life of the college, the organ is an important servant, used in collaboration with St. Olaf College's extensive music program and as a recital and teaching instrument. The organ also invites participation — from choral ensembles, orchestras and bands, and the congregation.
Boe Memorial Chapel's pipe organ was installed in 2006. The main instrument in the chancel area includes four manual divisions playable from a three-manual, English-style drawknob console and has 75 ranks totaling 4,105 pipes. Visually the organ is designed to complement and frame the central window, and its case serves as a hard, reflective "shell" for the choir area directly below. With 15 ranks and 963 pipes, the gallery organ retains the central cases from the original chapel organ built by the Schlicker Organ Company (1960) and incorporates the console built by Hotlkamp in 1990. The entire instrument can be played from either console. This arrangement enables the flexible placement of choirs and instruments either in the main chancel music space or in the gallery.
St. Olaf is a place where music is not just taught but experienced, both by music students and the college community. Because of the active worship life on campus, a rich experiential learning takes place at St. Olaf. The organ, serving as an instrument for the accompaniment and leadership of song, and as an interpreter of song, is a vital part of that unique worship life.
Specifications of the Organ
Holtkamp Organ Company, Cleveland, Ohio (Opus 2090)
View Complete Specifications (PDF)
PEDAL
GREAT
SWELL
CHOIR
32′
32′
16′
16′
16′
16′
16′
16′
8′
8′
8′
8′
8′
4′
4′
2′
IV
32′
16′
16′
16′
16′
8′
8′
8′
8′
4′
4′
Violone Bass
Bourdon Bass
Open Wood
Diapason
Violone
Bourdon
Lieblichgedackt
Quintaton
Open Wood
Octave
Violone
Nachthorn
Flute
Choralbass
Nachthorn
Nachthorn
Mixture
Trombone Bass
Trombone
Bombarde
Bassoon
Clarinet
Tuba Harmonique
Bombarde
Trumpet
Bassoon
Bombarde
Trumpet
Bombarde on Pedal
MIDI A
16′
8′
8′
8′
8′
8′
4′
4′
2 2/3′
2′
1 3/5′
IV
V
16′
8′
8′
8′
Violone
Diapason
Violone
Dulciana
Harmonic Flute
Chimney Flute
Octave
Openflute
Quint
Fifteenth
Terz
Scharf
Mixture
Bombarde
Tuba Harmonique
Bombarde
Trumpet
Tremulant
Great 16′
Great Unison Off
Bombarde on Great
MIDI B

16′
8′
8′
8′
8′
8′
4′
4′
II
2′
II-III
IV
16′
8′
8′
8′
4′

Lieblichgedackt
Geigen Diapason
Gamba
Vox Celeste
Hohlflute
Lieblichgedackt
Octave Geigen
Traverse Flute
Cornet TC
Octavin
Mixture Graves
Plein Jeu
Bassoon
Trompette
Hautbois
Vox Humana
Clairon
Tremulant
Swell 16′
Swell Unison Off
Swell 4′
Bombarde on Swell
MIDI C

16′
8′
8′
8′
8′
8′
8′
4′
4′
2 2/3′
2′
2′
1 3/5′
1 1/3′
IV
16′
8′
8′
8′

Quintaton
Principal
Voce Humana F6
Bourdon
Quintaton
Erzahler
Erzahler Celeste
Octave
Rohrflute
Nazard
Principal
Nachthorn
Tierce
Larigot
Scharf
Bass Clarinet
Tuba Harmonique
English Horn
Clarinet
Tremulant
Choir 16′
Choir Unison Off
Choir 4′
Bombarde on Choir
MIDI D
BOMBARDE
GALLERY PEDAL
GALLERY GREAT
GALLERY SWELL
16′
8′
8′
8′
4′
4′
2′
16′
16′
16′
8′
8′
8′
Open Wood
Open Diapason
Nachthorn
Stopped Flute
Open Diapason
Nachthorn
Open Diapason
Tuba Harmonique
Bombarde
Festival Trumpet
Tuba Harmonique
Festival Trumpet
Bombarde
Zimbelstern
Vogelgesang
16′
16′
8′
8′
8′
4′
16′
8′
Principal
Gemshorn
Octave
Gemshorn
Pommer
Super Octave
Bassoon/Oboe
Festival Trumpet

8′
8′
8′
4′
4′
2′
IV
8′

Principal
Gemshorn
Pommer
Octave
Pommer
Gemshorn
Mixture
Festival Trumpet

8′
8′
8′
4′
2′
16′
16′
8′
8′

Rohrflute
Gamba
Voix Celeste
Spitzflute
Principal
Festival Trumpet
Bassoon/Oboe
Festival Trumpet
Bassoon/Oboe
Tremulant
Swell 4′
Swell Unison Off