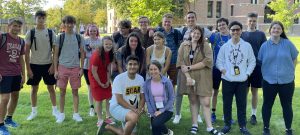 St. Olaf Orientation to Academics and Resources (SOAR) provides an extended orientation for all students in their first year to equip them with the knowledge and tools to be successful at St. Olaf.  Students learn key skills like how to utilize campus resources and implement college level reading and study techniques through small group conversation, reflection, and the practice of successful academic habits.  All SOAR sessions are led by our highly trained SOAR Peer Leaders.
Because college is a whole new world and way of learning, one very different from high school, most first-year students experience ups and downs during their first semester.  SOAR provides a place to intentionally create community, access resources, and meet new people through small group activities with their SOAR Peer Leader.
Fall 2021 SOAR Workshop Schedule: 
New Student Orientation: Essentials of Academic Success
September 16: Finding Your Balance; Making the Most of your Time

September 30: Studying Smarter…Not Harder

October 7:  Preparing for Registration/Advising 

October 21: How to Ask for Help & Where to Find it

November 4: Finding Your Fit; Opportunities to Engage in Campus Life

November 18: The Importance of Relationships in Exploring Vocation
SOAR during Interim:
January 18; 6:30pm & 8:00pm in The Pause: The Impact of Sleep on Academic Performance: Presented by J. Roxanne Prichard, PhD
     Roxanne is a Professor of Neuroscience and Psychology and past Scientific Director for Center for College Sleep. An award-winning researcher, speaker, and author, Dr. Prichard       has spent the last fifteen years studying sleep. Her research has been summarized in a variety of national media outlets including TIME, US News and World Report, PBS News        Hour, Huffington Post, ABC News, The New York Times and USA Today, among others.
Spring 2022 SOAR Schedule:
February 17th: International and Off-Campus Study/ACE
March 17th: Personal Wellness/Managing Stress
April 14th: Financial Literacy
Questions regarding the SOAR program should be directed to Tara Hupton, Assistant Director of Academic Support-SOAR, Tutoring & Student Support ; hupton1@stolaf.edu; 507-786-2129.