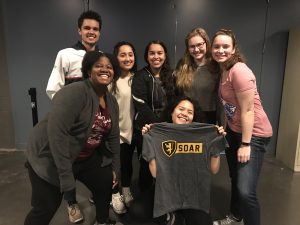 SOAR (St. Olaf Orientation to Academics and Resources) Workshops are co-sponsored by St. Olaf Athletics, the Center for Advising and Academic Support, the Piper Center for Vocation and Career, and the Taylor Center for Equity and Inclusion.  The purpose of SOAR Workshops is to introduce you to people and resources that can help you transition to college and set you up for a successful career at St. Olaf. 
Because college is a whole new world and way of learning, one very different from high school, most first year students experience ups and downs during their first semester.  SOAR Workshops will help you understand how we do things around here and where to get help when you need it.  SOAR is also a place to create community and meet new people through small group activities and peer mentors.
Questions regarding the SOAR program should be directed to Tara Hupton, Academic Enrichment Specialist; hupton1@stolaf.edu; 507-786-2129.