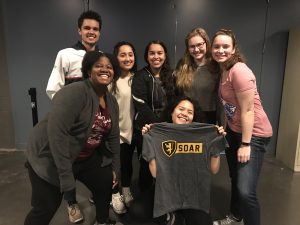 St. Olaf Orientation to Academics and Resources (SOAR) workshops help first-year students build strong college personal and academic habits that will help them to be successful at St. Olaf.  Students learn key skills like utilizing campus resources such as the Piper Center for Vocation and Career and implementing college level reading and study techniques through small group conversation, reflection, and the practice of successful academic habits.
Because college is a whole new world and way of learning, one very different from high school, most first year students experience ups and downs during their first semester.  SOAR Workshops will help you understand how we do things around here and where to get help when you need it.  SOAR is also a place to create community and meet new people through small group activities and peer mentors.
The Fall 2020 SOAR Workshop Schedule: 
September 3: A Balancing Act; Making the Most of your Time

September 17: Essentials of Academic Success

October 1: Studying Smarter…Not Harder

October15: Finding Your Fit; Opportunities to Engage in Campus Life

October 29: College Reading Techniques & Personal Finance Tips  

November 12: Networking in Career Exploration
Fall 2020 will be the final pilot year for the SOAR program before being available to ALL St. Olaf students in Fall 2021. If you are interested in being a part of this exciting pilot program, you will need to register for Writing 111 I or J, Writing 107 or Writing 110 or participate in intercollegiate athletics.
Questions regarding the SOAR program should be directed to Tara Hupton, Academic Enrichment Specialist; hupton1@stolaf.edu; 507-786-2129.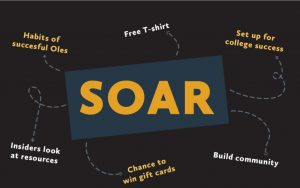 Sponsored by:  To Include is To Excel
with funding from the Andrew W. Mellon Foundation