I WAS born in the Main, August 5, 1897, and my first memory (whether I was told it or remember it) was of sitting on the front or east steps with my brother Norman, my sister Evelyn, and my cousins, the Mohn boys. A great big bumblebee flew along, and I said, "Oh! What a pretty bird." It stung me on the thumb, and my cousins said they had to crack butternuts for me all afternoon to keep me from crying. Both our families were living in apartments on the first floor of the Main at the time — the Ytterboes having the one to the northeast, the Mohns the one to the southeast. I don't remember Uncle Mohn too well other than that he was the first president of St. Olaf College. I remember sitting in the parlor in the lap of my father and seeing Uncle Mohn sitting near the living room table drinking a cup of coffee. That scene is as clear in my memory as if it were yesterday.
I do remember my great-great uncle, The Reverend Nils Brandt very well because he lived to be ninety-seven years old, and we children considered him a grand old gentleman. He was small in stature, but certainly not small in mind and spirit. We always said, and I think it is true, that he was a classmate of Ibsen and Björnson at the University of Christiania, now the University of Oslo. He became the oldest living graduate of the University and was knighted by the King of Norway.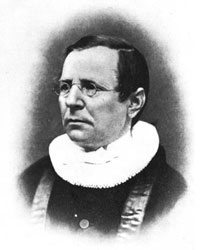 Rev. Nils Olsen Brandt First Norwegian Lutheran pastor to penetrate the region west of the Mississippi River.
My grandmother was a Brandt on her maternal side, and her father, my great grandfather, was Lensmand Anderson. They lived in the district of Valders in Norway. As I understand it, a lensmand was a very important person, a lawyer and a government official, and, as such, was looked up to in his district. My grandmother remembered that when she was a child the family rode in their carriage, and as they rode along the people would take off their hats and bow to them in recognition of their high position. When Lensmand Anderson died the family was separated.
At his death, my grandmother was in her very early teens. Her own mother, my great grandmother, must have been a most attractive woman by family account as she soon married again. She married a Mr. Ringstad, who took her to America. My grandmother then was left in the care of her uncle, the Reverend Nils Brandt, and when he returned to Norway to marry Didrikka Ottesen, my grandmother came over to America with the Brandts. The Reverend Mr. Brandt's wife was a highly cultured and educated woman of the Aall family from Porsgrund in Telemark, Norway.
Things in America were very pioneer, and so it was decided that Mrs. Nils Brandt would teach French in a small Episcopal school in Oconomowoc, Wisconsin. My grandmother went to school there and learned to love the Episcopal Church. In later years when I moved to Anniston, Alabama, and found there was no Lutheran Church there, it pleased Mother to hear that I had entered the Episcopal Church, because she knew how closely her own mother had been connected with that church in her early days in America.
After schooling my grandmother married Andrew Kittelsby. Mother told me that Grandmother Kittelsby was a great teller of tales. Her children and neighbors would gather around her as she read them stories or told them tales from books she had read.
Mother said that in later years after she had married she read Ivanhoe. But she found nothing new in the book as Grandmother Kittelsby had told the tale so accurately and so dramatically that even that tremendously long story was as familiar to her as though she had read it herself.
I remember a celebration we had here in Anniston for my mother on her birthday. One of the guests was Mrs. Cottington B. Wells, niece of General Sherman of the famous Sherman's march to the sea during the War Between the States. She and my mother got together, and it was discovered that Mrs. Wells had attended the little Episcopal School in Oconomowoc, Wisconsin. My mother, Elise Ytterboe, was quite excited as the facts were revealed. Mrs. Wells was quite a character, and I remember her saying the little Episcopal Church school died because it became so fashionable and later so exclusive.
Mother attended St. Olaf's School (academy), located on the east side of the Cannon River where the Congregational Church now stands, during the second year of its existence. And she lived in the home of its first president's family, the Reverend and Mrs. Thorbjörn Mohn, her aunt and uncle, on Division Street in downtown Northfield.
She has often spoken about the James and Younger bank raid in Northfield, an event which the city now celebrates annually in an autumn festival called the Defeat of Jesse James. Mother had been asked by Tante Mohn to go down a couple of blocks to the center of town to do an errand. Imagine her horror and surprise when she got there just after the raid and saw two of the men of the James and Younger gang lying dead on the street.
The next day Uncle Mohn had promised to go out in the country to baptize a couple of children. To get to the place he had to travel through the "Big Woods", and everyone thought that the rest of the James and Younger gang was hiding in those woods, and urged him not to go; it would be dangerous, they said. But Uncle Mohn, full of courage and determination, took the trip and got back home safely.
I remember my two grandfathers very well; two men couldn't have been more different. Grandfather Kittelsby was retired and had been mayor of the town of Calmar, Iowa, for many years. Calmar is located very near Decorah. He lived in quite a large house in a pleasant part of town. We would now call the house Victorian. It had a wide front porch, and I thought it was a fine place. Many years later, in 1964 to be exact, I took my daughter-in-law, Josephine Ehringhaus Ayers, to Calmar, and we looked it up. It is still standing and attractive, although it is full of gingerbread decoration.
As I remember Grandfather Kittelsby, he was an elderly man with a shock of grey hair, good features with a short but luxuriant beard. He had the bluest eyes I had ever seen. He was dignified and had a slow, deliberate way of speaking.
He had a lovely garden and loved to work in it. He was deeply religious and loyal to the Old Synod and to Luther College. He gave of his means and also collected money for the building of the college. He was on the Board of Trustees of Luther College during the years 1865 to 1890. His name is inscribed on the stone monument erected on the campus for the hundredth anniversary of the college.
I remember so well that when we visited him in the summertime he would have family prayers every night. He would read out of a book of sermons. This was always in the Norwegian language, and we children who had played hard all day could scarcely keep awake during the long family prayer service and the language which we could hardly understand. The word "summariam" made an indelible impression upon me, because I thought when I heard it that it would mean the end of the prayer service. I didn't know what it meant. Oftentimes he would read two sermons and there would be two "summariams." I realized only later in life that the word "summariam" meant the summing up of all the points of the sermon.
Actually Grandfather Ytterboe was an entirely different sort of man — very vibrant, drove his horses like mad. He lived on a large farm outside of Calmar and, as the road from Calmar to the Ytterboe place had seven railroad crossings, people considered that to ride with him was a most dangerous experience. But we children loved it and would hold on to our hats as we drove like the wind up the road and across the numerous tracks. At the gate of the Ytterboe place was a little red public schoolhouse for which Grandfather had given the land. In it my father had received his early education, and I looked at it with awe; it was so little. I could picture my father sitting at one of those little desks.
Grandfather Ytterboe was a very generous man, and I remember at dinner time he would tell us to look under our plates. When we did there was a great big shining silver dollar. Of course, we thought Grandfather Ytterboe was very rich. He was considered a man of substance in those days and he, too, gave and worked for money to build Luther College. His name also is inscribed on the stone monument which stands on the Luther College campus.
My father and mother were engaged and married in 1886 during the heat of the church fight. When they were engaged, Father, then a professor at St. Olaf College, sent a telegram to Uncle Mohn announcing the event. Sending a telegram was an unusual thing in those days, so Father must have been a very excited and happy man. The telegram was a little rhyme in Latin and Norwegian:
Jacta est alea,
Min er Elise Amalia. 
Which, translated, means:
"The die is cast,
Elise Amalia is mine at last."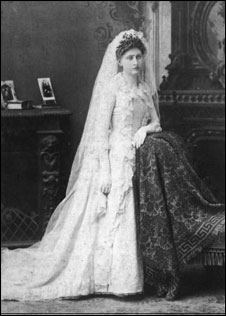 Wedding picture of Elise Kittelsby Ytterboe. 1886. Taken in Decorah, Iowa.
They were married in Calmar, and it must have been a large wedding, for I have the wedding picture, which shows a great crowd. The Luther College band played under the direction of the famous Sperati at the wedding reception. Uncle Mohn was father's best man, and the Reverend Wilhelm Koren, who was one of the leaders of the church fight in the Old Synod, performed the ceremony. Feelings ran so high that the Reverend Wilhelm Koren would not even shake hands with the best man, Uncle Mohn.
Wedding picture of H. T Ytterboe. 1886. Taken in Decorah, Iowa.
Father and Mother were, of course, loyal to St. Olaf, but they also loved the Reverend Mr. Koren, because he had baptized, confirmed and married them. But because Uncle Mohn was an ordained minister of the newly organized United Church, the Reverend Mr. Koren could not bring himself to shake hands with a man who had opposed him in the church fight. This seems a little thing, but it does show how high the emotions can rise during religious wars or church fights. Prof. and Mrs. Ytterboe's parlor in the northeast corner of the main building. November 15, 1887.
The Old Main
Chapters:
Foreword
Mohn and Ytterboe Family Connections
The Old Synod
The Reverend Bernt Muus
Young Professor Ytterboe
The First Bathtub at St. Olaf College
1898-1899
1899
A New Day and A New President
Chapel Prayers by H. T. Ytterboe
1903-1904
Aftermath
Erik Hetle and Ole Rölvaag
Hoyme Chapel
Old Buildings at St. Olaf College
1300 St. Olaf Avenue
Agnes Margaret Kittelsby
Professor O. G. Felland
Agnes Mellby
Town and Gown
Music at St. Olaf
St. Olaf's First Rhodes Scholar
My Mother, Mrs. H. T. Ytterboe