IN the early days of St. Olaf College and continuing into the early 1900's, there was a distinct division between the alumni group and the St. Olaf Association. The Alumni were graduates of the college; the St. Olaf Association was composed of students who had attended college but did not graduate. Mother naturally belonged to the latter group, as she had attended St. Olaf School in 1876. The members of the St. Olaf Association came back for November sixth and commencement and were very loyal to the school, but they looked up to the alumni group and longed to be a part of the distinguished few.
It was at commencement in 1904 that Jack Aasgaard (the Reverend J. A. Aasgaard) came to call for Mother and escort her to the alumni meeting. There she was honored by being elected an honorary member of the St. Olaf Alumni. They made quite an occasion of it with speeches and tributes to her. They also presented her with an alumni pin. I haven't seen one of those alumni pins for ages. But it was about a half inch in diameter, bronze in color, with a Norwegian lion in the center with the college motto
"Fram, Fram, Kristmen, Krossmen"
around the edges. I remember Cousin Edward Mohn had designed it. All alumni wore these pins with great pride. Mother was the very first person so honored by the alumni group, and she was moved almost to tears by their thoughtfulness and their kindness to her.
I shall now omit many years, but they were years that I have touched on under previous subjects.
It was the summer of 1919 that President Boe and Professor P. O. Holland came to Mother to ask her to take charge of the finances at the Mohn Hall dining room. Mother accepted with pleasure. She felt that if the college wanted her and needed her, she would do anything to help. Furthermore, she would have a room in Mohn Hall. She would be relieved of housekeeping duties. She would be nearer the students and feel closer than ever to the college she loved.
How did I feel about this? I was sick at heart to think that my mother, my precious mother, had to leave the home and go out to work. I suppose that it was false pride on my part; I am sure it was. But to understand my feeling more closely, I must say that in those years it was not customary for ladies to take jobs outside of the home. However, Mrs. P. G. Schmidt was working in the bookstore located in the basement of the Main, and she had set a precedent. Later I came to realize that Mother was wise in her decision. She loved the work. It really was not hard work, and I don't believe it made her nervous. It was only on festival days that it became a bit difficult — on days such as commencement and the music festival when so many graduates and friends of the college returned. They all knew Mother from the early days and wanted to stop and talk with her until a crowd gathered around her. On such occasions Mother, always so friendly and sweet, would find it rather difficult to be the gracious hostess and also keep up with her work. She did, however, have some helpers among the senior boys who were trying to make some money to pay for their schooling. They were always kind to her. She continued in this capacity for many years. In the summer she would visit my sister and me, and oftentimes our families would visit her at St. Olaf. She would not come to live with us, although we urged her to do so. The real heart of the matter was that she didn't want to leave the college, and we, her daughters, understood her feelings. Our letters flew back and forth constantly, and she kept me informed on everything that was happening on The Hill. I had kept Mother's letters, but we had a fire in our house, and the attic in which her letters were kept was destroyed. A few letters in a downstairs desk were saved, and I shall quote a few of them because they are so characteristic of her and are a part of St. Olaf's history.
"May 16, 1922 . . . Must tell you about the game on Saturday — Carleton and St. Olaf played their first game of the season on our ground — the day was perfect and, mind you, at the close of the ninth inning not a score had been made — such excitement — all Northfield was out — in the tenth Carleton made a score — tremendous cheering on the Carleton side — then ours made two, and our crowd went wild — the game was ours! Cousin Ivan Ringstad motored down to see the game. He said he would not have missed seeing it for a great deal. Wish you could have been here! Love from Mother."
I shall always cherish and love Gertrude Hilleboe for her kindness to Mother. Miss Hilleboe was Dean of Women and she also lived in Mohn Hall. She was a very busy person with her position as a dean and she also carried a teaching load. However, she was never too busy to take time off to be with her Tante Elise, as she called Mother.
Mother was getting older and she often said to me that the sad part of getting older was that one by one the old friends passed away. But she must have remembered what Father said so often:
"When one is young, make friends with older people because one can learn from them, but when one gets older, make friends with younger people because they keep one young in spirit."
Mother did just that. It seemed to me that she had young friends galore. Just to name a few, the Jorgen Thompsons, the Rölvaags, the Boes, Flatens, Mellbys, Miss Nora Solum, Miss Mildred Henderson, Mrs. Tronbol, the P. O. Hollands, the Art Lees, the Heglands, the Spohns, the Theodore Jorgensons and, of course, the Fellands and her own relatives, Gertrude Hilleboe and the Ray and George Mohn families. I have Mother's copy of Theodore Jorgenson's History of Norwegian Literature published in 1933. On the flyleaf the author has written, "Sincere regards to Mrs. Elise Ytterboe, a magna cum laude rook player and a grand young lady of St. Olaf College."
Here is another letter that Mother wrote me. It is dated October 25, 1935. "I saw the Carleton-St. Olaf game. It was such a beautiful day that it was good to be out in the open. We lost the game! All that was made was one touchdown by Carleton — our boys played a splendid game, so looking at it one did not feel the way one does just reading the result. Many people were down from the cities, and fine sport was shown on both sides. Both colleges had their bands out — it all was quite exciting and a lot of fun. Last night I was to one of the most enjoyable affairs I have ever been at up here for a long time. It was a dinner given at Rölvaag's by Mrs. Rölvaag, the Misses Gulbrandson and Miss Thykesen (Norse Department) for their new Dr. Theodore Jorgenson who, no doubt you have read, took his Doctor's degree with flying colors. Some members of the examination committee told him it was one of, if not the best thesis given at the University of Minnesota. So this dinner was planned for him. Miss Gulbrandson was Toast Mistress and after the first course (fish, Norwegian style) she welcomed the guests and called on Mrs. Rölvaag to say something. Mrs. Rölvaag got up and said a few words very nicely and then presented Dr. Jorgenson with Dr. Rölvaag's gown — toga, that is— his Doctor's gown. The tears just rolled down my cheeks, and I believe there was not a dry eye there. It was so touching — a complete surprise to Jorgenson — other toasts were the response by Jorgenson, Dr. Boe, and Professor Hetlie. Miss Thykeson spoke for the men, and it was so clever and humorous we all laughed. We drank toasts in grape juice. There were three courses and coffee and cake. The table was so pretty — a long table with chrysanthemums and candles. Mrs. Rölvaag has many lovely things. We were sixteen at the table — the men had tuxedoes, and we ladies wore our best. I wore my lavender. It was fine of them to ask me and I did so enjoy it."
Here is another quotation from a letter written in 1935:
"This evening I had the girls in our corridor for a little lunch. Served chocolate, angel food, lefse, cheese and crackers. They seemed to enjoy it. After they left, they gave me a serenade — sang songs, so I guess it was a pleasure to them. I love to do those things."
Mother's grandchildren always called their grandmother "Grams." As a result, all of the students began to call her "Grams." It was in 1938 on her 75th birthday that the entire college, faculty and students alike, celebrated by giving a dinner in her honor. The Mohn Hall dining room was changed into a banquet hall. Many were the speeches and tributes given for her, and she was named "Queen of the Campus." Mother was not used to speaking in public, but she wanted to thank everybody for such a wonderful occasion. She got up, thanked them as graciously as she knew how and ended her remarks by saying: "I can only say as did David of old 'my life has been spent in pleasant places.'" Indeed it was so. That was also the year The Viking was dedicated to her.
Here is another letter with some of her comments on the Nazi invasion of Norway. Her letter is dated Monday evening, April 15, 1940.
"I think of the poor Scandinavians — how they are suffering — 'protected' by the Germans? Can you feature anything so cruel and also so ridiculous? And to think Norway has sheltered such traitors, the Quislings! I do hope they will not find and murder the King and Crown Prince Olav. They seem so close to us after their visit here not quite a year ago. The King was not here, but the Crown Prince and Crown Princess stayed right here on the Hill a couple of days and seemed to enjoy the quiet of Agnes Mellby Hall — and now they are hiding. They seemed so close to us; where will it end? Miss Solum almost wept this a.m. when it was announced over the radio that Kongsberg had been taken. She has relatives there and has visited them. The mint of Norway is located there, so, of course, they had to take that! Thrinne Bothne (a relative) is in Norway, and no one has heard from her. People are so excited about war news that really all we can think about is listening over the radio. We are hardly able to do our daily tasks since the Prince and Princess have been our guests so lately. The students are so concerned, which they otherwise might not have been, as they know so little about Norway — few speak it, as you know. We are so anxious that even our radio has secured extra time, so now we hear foreign reports at 9:30 a.m. just before chapel hour — and you know we are right there to listen! Of course, we hear other stations throughout the day — but this is especially from Norway over our own station WCAL. Now must listen. Love heaps, Mother."
Here is a letter dated May 21, 1940:
"Aren't you surprised to get a letter from me right after the music festival? The speakers last night were Dr. Boe and Dr. Cowling (Carleton). Cowling spoke so beautifully about the choir. He said: 'You have given me such a treat by your singing religious music — it is such a relief to hear something so good when all one does hear these days are war and murder.' F. Melius Christiansen had called on them to speak. Dr. Boe said, 'Dr. Cowling would be seventy years next year and all would celebrate — he did not think Dr. Cowling was like a woman and mind if he told his age.' Then Dr. Cowling got up again and said, 'I'll never call on Dr. Boe for a speech again!' Everybody laughed. God take care of you in these difficult times. My love as ever, Mother."
I rarely heard Mother criticize anybody, but she could get disgusted with people of small minds when she thought they were interfering with the policies of the college. One time I was visiting in Northfield. It was the time that the library was being built. We friends and alumni of the college had donated what we could to the building of the Rölvaag Library as we were told it was to be called. There arose, however, quite a heated controversy among the friends of the college. There were quite a number of people who did not approve of the library being called the Rölvaag Library, as they thought Rölvaag's writings were too earthy to be sanctioned by a Christian college. I used the word "earthy" advisedly in lieu of a more forceful word.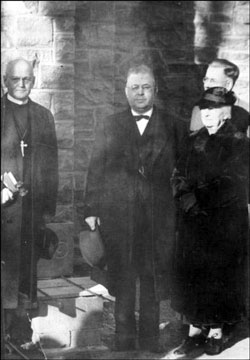 The Rt. Rev. J. A. Aasgaard, Pres. Lars Boe, Mrs. Ytterboe. Dedication of the Rölvaag Library.
Mother said to me one day in regard to this heated controversy: "Edel, what did you give your money for? Did you give it for a library, or did you give it for the Rölvaag Library?" I answered, "Why, I gave it to the Rølvaag Library." "That decides it," said Mother, and Rølvaag Library it was called.
I believe Mother's happiest year was the year three of her grandchildren attended the college. They were the two Tetlie boys, Dick and Joe, and my daughter, Elise Ayers. They used to drop in to Mother's room in Mohn Hall every day. Her grandchildren called her "Grams" and held her in deep affection. My daughter, Elise, was named after her. It is a name that has long been in our family.
My daughter, Elise, tells me that Mother was asked to give a little talk over WCAL. This was to be given in Norwegian. Mother, who was not a public speaker by any manner of means, wrote out a little piece in Norwegian, and she used to practice reading it before Elise. Elise, not knowing a word of Norwegian, would always say, "Grams, I think it is just wonderful," and Mother was perfectly satisfied.
In the same year 1942 St. Olaf was requested to provide training facilities for usage by the U. S. Navy, and Dr. Boe, the true patriot he was, answered them in a historic and simple sentence: "Take the whole college, if necessary." That Christmas vacation there was a tremendous upheaval at the school getting ready for the Navy. Mohn Hall and Ytterboe Hall had to be vacated. Students were put three or four in each room. I had a hurried note from Mother which I shall never forget.
She wrote: "Who would ever have thought that Hitler had the power to move me out of Mohn Hall? He is a rascal and a wicked man!" She was given the guest room in Agnes Mellby Hall.
Her last years were spent going over Professor Felland's many pictures and writing down the names of all the persons there photographed. It was a task only she could do, as she remembered everybody from the earliest days until the present. Also, it was a service of importance for future historians. I have in my hand a letter I received from Dr. Boe. It is dated February 5, 1940. I shall quote one sentence in which he speaks of Mother: "Your mother loves it here, and we enjoy her with us. She is not a missing link, but the link that binds us to our pioneer past."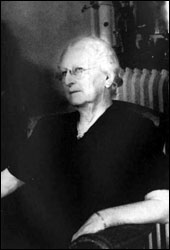 Mrs. Ytterboe taken on her 75th birthday.
Mother died November 17, 1944, at my sister Evelyn's home. This is the tribute paid her by her younger friend, Theodore Jorgenson, which appeared in The Manitou Messenger:
"Mrs. H. T. Ytterboe, Pioneer
"Elise Kittelsby Ytterboe, Mrs. H. T. Ytterboe: now there was a great and good woman. She was what I call a great laborer in the vineyard, a great wife, a great soul in her own right and in the right of God. What a boon her life has been to St. Olaf College!
"I never knew Mrs. Ytterboe until she was close to the sixties. Here she has been these last twenty-five years with us — and to others much more than that — but no one could say that she was old or even growing old. Oh, no! Eager and alive she was, as the youngest girl on the Hill, forward-looking and happy to see the school prosper, intensely human, and deeply glad to have fellow beings around her. When we came together, a small group in that corner room she used to have in Mohn Hall, well, there was some way of making coffee, and pretty soon she brought out from somewhere an ample lunch, tidbits of various kinds, and we dropped into the playing of some innocent game to make the time pass, stopping long whiles to do nothing but talk and laugh, — aye, aye, happy hours they were indeed, full of the innermost strength and joviality of the human character; kindly, unaffected and free.
"On the wall of this room where she lived for many years, there was a large and very attractive portrait of Halvor Ytterboe. Indeed my strongest impression of that indomitable St. Olaf man has come from the picture and the way it was triangulated to me through Mrs. Ytterboe. The picture was really too large for the room, made, I suppose, for her home down the avenue. But one could tell she wanted Halvor near and with her all the time.
"There was a one-man woman for you! Nearly forty years she lived in her widowhood, but Halvor was as much alive and as inevitable to her as on their wedding day. And I noticed that these last years, when she began to say her day was ending, she would faintly intimate that she would just as soon go and be with Halvor. It was a beautiful thing, this marriage of Mr. and Mrs. Ytterboe.
"During recent years I often urged her to write down her memoirs from childhood and from her early days at St. Olaf. One winter I worked with her now and then. We had a part-time stenographer, went over her letters and other material. She loved to do it; it was like going back over the familiar paths now glowing in the lambent sheen of memory.
"She was proud of her family, proud in her loyalty and in her faith. I liked her best that way, for she was a daughter of pioneers in a significant midwestern community. It has been said that any person who fails to accept the implications of his or her past does so with dire consequences to the personality in question. Well, Mrs. Ytterboe more than accepted her background. She lived with her people, loved them as her own flesh and blood. When she mentioned the leaders — Koren, Brandt, Larsen, and others of the Decorah group — she spoke with a touch of reverence and personal affection. To her they were the young growing America built by her own kin, and to her they meant the growing church of her unfolding years.
"In connection with St. Olaf, Mrs. Ytterboe was an incarnation. I cannot find another word for it. She was an incarnation of something deep and great, a spirit and an abiding trust, a vision and an unshakable confidence in its realization. She was a great tree planted here at the beginning and watered by the rivers of eternity. When we in a moment of pessimism would say that a little shift in the tax policy of our country might eliminate colleges of our kind, she would have nothing of it. Nobody could make a dent in her stonewall certainty that St. Olaf would go on and be great. She had lived through the hard years at the beginning and in the nineties. She had seen a victory greater than anyone of her generation had anticipated, and the sight was marvelous to her eyes.
"One of the last years of the nineties, when the century of the pioneers was dropping off into the twilight, she had been present when the Reverend Bernt Julius Muus had stood on the platform for the last time, saying to the audience, 'We who are about to die salute you — you who are to live and go on with the work.' A short time after that, in the very last days of the century, President Mohn died, the man with whom she had lived and labored and served from the beginning, her own kin by marriage. Four years into the new decade, her own husband passed. He too had given his boys the last message, 'Stand by the school — stand by the cause!' So she came from heroic days. In the lengthening years, she heard those mighty echoes, and no disturbing noise of the hour could make a very deep impression on her mind. She was indeed the incarnation of the St. Olaf spirit.
"I might continue to write this way for days about incidents in her life . . . her concern for her children, her loyalty to her friends, her kindnesses and charitableness — no mean or caustic word did I ever hear from Mrs. Ytterboe's mouth. But I must finish.
"A great and good woman she was, a wife and mother of the highest devotion, a tireless servant of a people's high calling, truly a great soul in her own right and in the right of God. Theodore Jorgenson.
(Editor's Note: Mrs. Ytterboe, one of the last great pioneers of St. Olaf College, died Friday, November 17.)
The funeral took place November 21, 1944. St. Olaf College was closed in her memory, and pictures of the Ytterboe family were displayed in the Rølvaag Library. The funeral services were at St. John's Church. Dr. J. A. Aasgaard, President of the Norwegian Lutheran Church of America and a close friend of the family, preached the sermon, basing his tribute to Mother on the words of the Psalmist, "I bow down heavily as one mourns for his mother." He also said: "Mrs. Ytterboe's life is the history of St. Olaf. In her death a chapter is finished in the history of the college. She was the last link in the chain of pioneers whose devotion to St. Olaf dated back to its beginning."
The St. Olaf Choir sang "Beautiful Saviour" and "Nunc Dimmittis" by Glinka with the words "Lord, now let us Thou Thy servant depart in peace according to Thy words, for mine eyes have seen Thy salvation . . . "
As we left the church the organ burst forth with the mighty hymn, "Built on a Rock the Church Shall Stand, Even While Temples are Falling."
Afterwards when we left the cemetery and we were driving up The Hill to have supper with the faculty, I looked up at the Main. The flag was at half mast. The Main seemed to smile down at us and it seemed to say to Mother:
"How shall I say goodbye to you, my friend? I have put my flag at half mast as I have done so many times for your loved ones, your kinsmen and friends. In my bosom you and your husband made your first home. In my bosom your children were born. Those early days were golden days. We had many difficult days and we had many happy days, but we were strong and we kept the faith. Do you remember the sixth — the sixth of November? I had hundreds of candles in my windows and I stood proudly on my Hill. The townsmen went out of their houses to look at me and they said to one another, 'How beautiful it is!'
"You and I were young together, now we have become old; why, they even call me the Old Main.
"It is true then, my friend, and I must say goodbye."
The Old Main
Chapters:
Foreword
Mohn and Ytterboe Family Connections
The Old Synod
The Reverend Bernt Muus
Young Professor Ytterboe
The First Bathtub at St. Olaf College
1898-1899
1899
A New Day and A New President
Chapel Prayers by H. T. Ytterboe
1903-1904
Aftermath
Erik Hetle and Ole Rölvaag
Hoyme Chapel
Old Buildings at St. Olaf College
1300 St. Olaf Avenue
Agnes Margaret Kittelsby
Professor O. G. Felland
Agnes Mellby
Town and Gown
Music at St. Olaf
St. Olaf's First Rhodes Scholar
My Mother, Mrs. H. T. Ytterboe