I don't really believe that President J. N. Kildahl at first wanted to be President of St. Olaf College. He was a deeply spiritual man and a great and forceful speaker. But the church had called him to be President. He had a keen sense of duty; so he answered the call of the church.
He had no training as an administrator for a college, and he must have been rather bewildered at first. Father, continuing to take all the financial responsibilities, was there to help him in many ways. Uncle Mohn had built well, and the college courses were well-planned. Some of the loyal professors were still there.
So a new day had come. St. Olaf was safe in the hands of the church, and a tremendous building program was started. I say tremendous advisedly, because to us in those days it seemed just that.
Ytterboe Hall was planned and built under the supervision of Father. It was a wonderful building and one of the finest men's dormitories in any private school in Minnesota, or even in the surrounding states. Carleton College was envious and filled with admiration. It was a large dormitory and it had room for more boys than were enrolled at the college in that day. It had electric lights throughout; there was a splendid gymnasium; the toilet and bath facilities were considered the very finest to be had. They were located in the basement and, at that time, it was considered perfectly convenient for the boys on the third floor to rush down three flights of stairs to take their showers and wash their faces at the long row of washbasins. Shades of the first tin bathtub in the "Main"!
The Ytterboe family had a fine suite of rooms. First was Father's office, then the parlor, as it was called, then Father and Mother's bedroom, and then the bedroom for the three children — my sister Evelyn, my brother Norman, and me. That led into a private bathroom for us, which we considered the height of modern accommodations.
I remember the first telephone in Father's office. It made a deep impression on me as a child. Father had a great sense of humor, and we had a janitor whom we children called "Old Helgeson." Helgeson lived on upper Forest Avenue in a tiny little house with his daughter Lena. Father planned to have Helgeson use the new telephone, which was attached to the wall in his office, and he stationed the daughter, Lena, in the Main. We were all gathered in Father's office when "Old Helgeson" came in, and Father hold him to take up the big black receiver and say "Hello, Lena," which he did. Lena answered him, and he was so astonished that he dropped the receiver and turned to us with bewilderment written all over his face and said, "Det er virkelig Lena," which means, "It's really Lena." We had great fun over that episode.
Then a new President's House was built on the campus. It was an elegant house, roomy and comfortable, and had plenty of bedrooms to take care of the Kildahl children. Father, as you can well imagine, was extremely busy with the planning, supervising and building of Ytterboe Hall and the President's House. There were also the fine, raised wooden sidewalks which extended from Ytterboe Hall all the way through the woods to the President's House to the Ladies' Hall and to the "Main."
Soon thereafter Halle Steensland gave his fine gift to St. Olaf College, the gift of the Steensland Library. For this Father was partly responsible as he was a good friend of the Steenslands. This was the first large gift given to St. Olaf College. Father worked and planned and supervised this lovely revival of Greek architecture. It was more than adequate for the books of the library at that time, and the basement was used for a museum of rocks and fossils which had been collected by someone whose name I now cannot remember. This was the first building at St. Olaf College to be named for a person.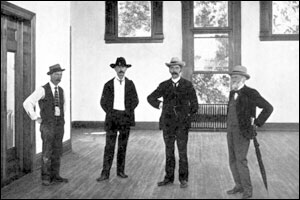 The Acceptance of the Library From the Builders Gunner (contractor) H. T. Ytterboe, Thori (architect) Halle Steenland. Aug. 5, 1902
President J. N. Kildahl was a fine man and he soon took up the reins and grew strong in office as the years passed. He had four boys and one daughter. The youngest boy, Harold, was my good friend and playmate, together with Osmund Felland, who lived in the Ladies Hall. We children always called the building the "old" Ladies Hall. I don't know why we did that except that we knew it was an old building from early days moved by Harold Thorson to the campus; so we naturally thought it was an "old" building.
Every now and then some English language purist would say, "We really must not call it the Old Ladies Hall, because old ladies don't live there at all." In fact, the ages of the girls were sometimes from fourteen to twenty-one. We would try to say "Ladies Hall" but, invariably, we would go back to the same expression, and it continued to be called "Old Ladies Hall" by us.
The Fellands lived there, and I remember a tremendous key to the front door. It must have been six inches long. I sometimes wonder where that key has gone. I remember Professor Felland's lovely garden beside the Old Ladies Hall in the clearing of the Big Woods. The garden was backed by a whole row of snowball bushes and the garden contained old-fashioned flowers such as bleeding hearts, peonies, iris, and lilies of the valley. We often had pictures taken there.
It seemed to me that we lived in Ytterboe Hall for a long time, for a year seems long in the memory of a child. They were happy, wonderful years. We had the woods to roam in, the wild flowers in the spring, and Norway Valley with its beauty in which to wander. Of course, we felt we owned the college as it was such a part of us.
President Kildahl, as I said, was a fine man. He was a good father to his four boys and one daughter. He became very popular with the people of the church because he was one of them, one of the people.
We at Ytterboe Hall had many girls from Norway working in the kitchen and helping to keep things clean and tidy. I remember especially Nellie Sathre who baked such delicious breads and rolls and cinnamon rolls. I loved her and, strangely enough, I connect Nellie Sathre's baking with the Spanish-American War! I also connect the assassination of President McKinley with the building of Steensland Library. (Nellie Sathre's son married Nellie Boe, sister of President Boe.)
I was a great friend of all the girls from Norway, and one of them even gave me a gold cross with the words "Gud Med Dig." ("God Be With You")
I remembered the cleaning woman very well. Mrs. Lageson used to talk to me by the hour. One cold winter day I came in from sliding down the hill or making snowballs, and my hands were almost chapped and cracked, and she looked at me and looked at my hands and said, "Edel, you must take care of your hands because some day you will become a lady." I thought with wonderment on that statement, and I thought of it a great deal all that day. "Some day I would become a lady." How wonderful, strange . . .
I remember so well the Hilleboe family who were cousins of ours, and every summer they would go to visit Grandfather Ytterboe and stop with us in Northfield on their way back home. So my cousin Gertrude's memory also goes back to the early days of the college. Another cousin, Marie Hilleboe, and my brother Norman were the same age. Of course, we had plenty of room for the entire family in the summer months there at Ytterboe Hall. One time we heard a loud howl from down the corridor. It was my brother Norman screaming. As it turned out, my cousin Marie loved Norman so much that she bit him, and when she was asked why she did that, she said in Norwegian, "Jeg vill bare smakke pa ham," which means, "I just wanted to taste him!"
I remember only one spanking I received from my father and that was because I hadn't been polite enough to an old farmer who came to visit the college. My father always told us that anybody, no matter who it was, who was interested in the college and the school, was a friend of ours and should be treated with great respect.
Those were the days when he always said to his boys in the evening devotional which he had formerly repeated so many times in difficult days, "Stand by the college." As I said, those were busy years for Father, although they were safer years for the college financially. The money did not come easily and the financial burdens all rested on his broad shoulders.
In those years Father had to continue traveling a great deal, for he was responsible for the buildings and plans, had various financial commitments and was on many finance committees. We children were wild with joy when he returned from these trips. He would take me, the youngest, and bounce me high up to the ceiling and catch me again, always happy to be back with the family. It seemed to me he always brought us some candy, especially rock candy. We would never ask him for the candy, but would look at him with great expectation in our eyes, then he would give us a little paper sack. We opened the sack and it contained a few pebbles! We knew he was teasing us, but very soon out would come a beautiful sack of real, delicious rock candy. We children adored him. He was wonderful in our eyes, and his joyous spirit pervaded our hearts, filling us with the joy of life.
I remember one time he took all of us, Mother, Evelyn, Norman and me, to see the Gentry Brothers' Dog and Pony Show which had come to Northfield. It was a little circus with only trained dogs and ponies. However, it made my mother very nervous as she thought the trainers were cruel to the animals. Father, who was very kind and understanding of my mother's feelings, made us leave in the middle of the entertainment. I can see myself being dragged by the hand and looking longingly back at the cute little ponies and darling little dogs. It was a big disappointment to my child's mind, but we were taught to obey and never questioned the authority of our parents.
I must have been a very funny little girl, because I had a puzzle that I asked my father about a thousand times, and he could never guess the answer! The puzzle was this:
"There was a hill, upon the hill there was a mill, around the mill there was a walk, and under the walk there was a key. What is it?" My father never could guess what it was, and he puzzled and puzzled. At last, I would shout out triumphantly, "Milwaukee!"
I remember that Father asked me to go to town with him one day. I thought that would be wonderful. He started walking from Ytterboe Hall on the raised wooden sidewalk through the woods to the Main. We reached the brow in front of the Main and walked down the three stone steps, which I believe are still there, down the hill and along Forest Avenue on the way to town. Father was tall, had long legs, and it seemed to me he walked with seven league boots. I couldn't keep up with him, so I decided to run a long way ahead, then I would rest until he came up to me. I don't know what we did in town, but I shall never forget his steady long strides.
Father was a chess player, and I remember well the many visits that Per Strömme, the writer, made to us. He and Father were great friends, and they had gone to Luther College together. I used to watch the two gentlemen as they sat quietly looking at the board. My mother had quite a time getting them to leave the chess game and to eat their meals on time. It was said that Per Strömme had Father in mind when he created the character of Halvor in his book "Vorledes Halvor Blev Priest."
Mother too was busy in those days. Always she and Father helped welcome friends and alumni when they came to visit the college. Mother voluntarily took charge of the girls in the kitchen and planned many of the meals during the school year as well as during the summer months. We all sat at the faculty table in the dining room of Ytterboe Hall, and I remember what a tease P. O. Holland was. He always sat next to me and would pinch me under the table. Mother was horrified every now and then by my squirming and the funny faces I would make. It delighted P. O., and he would look at Mother with the most innocent of expressions. Father too was a great tease and loved to tease Mother. One day there was a dinner for the trustees, and the table was all set in Ytterboe Hall dining room, and just as the trustees were descending the long stairway leading into the dining room Father picked up my petite mother and put her right on top of the set table! Mother, who was quite dignified, was terribly embarrassed and scrambled down from the table just in time to welcome the trustees.
I was there and though it was very funny!
The Old Main
Chapters:
Foreword
Mohn and Ytterboe Family Connections
The Old Synod
The Reverend Bernt Muus
Young Professor Ytterboe
The First Bathtub at St. Olaf College
1898-1899
1899
A New Day and A New President
Chapel Prayers by H. T. Ytterboe
1903-1904
Aftermath
Erik Hetle and Ole Rölvaag
Hoyme Chapel
Old Buildings at St. Olaf College
1300 St. Olaf Avenue
Agnes Margaret Kittelsby
Professor O. G. Felland
Agnes Mellby
Town and Gown
Music at St. Olaf
St. Olaf's First Rhodes Scholar
My Mother, Mrs. H. T. Ytterboe