IN 1906 the chapel was completed. It was named Hoyme Memorial Chapel by President J. N. Kildahl who was far away in Chicago when the bitter fight was gathering momentum as to whether the church should accept St. Olaf College as its school.
Although Formand Hoyme opposed St. Olaf, memorializing him was certainly right. He was after all the first president of the newly organized United Norwegian Lutheran Church in America. However, it was quite amusing to some of us in the Mohn and Ytterboe families to learn that later on a girl's dormitory was named Hoyme Hall. Of all things! Little do the girls who live in Hoyme Hall realize that if Hoyme had had his way no girls would ever have been admitted to St. Olaf College. But time marches on and those things are forgotten.
Hoyme Chapel was not a beautiful building but it met the needs of the college and was used for all gatherings — daily chapel exercises, Luther League, music recitals and was of great value in the life of the school. It was located on the south brow of the hill and west of the present Flaten Art Center. It contained the first memorial window ever given to St. Olaf College. This was given by the alumni in memory of Father. It was a large stained glass window depicting the city of Bethlehem with the star shining down on it.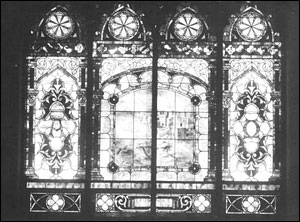 Window in Hoyme Chapel given by the alumni association in memory of Prof. H. T. Ytterboe.
Underneath were the words: "In memory of H. T. Ytterboe presented by the alumni of St. Olaf College. Remember now thy Creator in the days of thy youth."
This passage is from the 12th chapter of Ecclesiastes, Father's favorite book in the Bible.
Constantly during the chapel exercises in my Academy and College days, I loved to look at this window. It was located on the south side of the chapel, and in the morning with the sun shining through its predominant colors of reds and blues became a veritable gem of color. When the chapel burned in 1923 and the window was destroyed, it was Mother's greatest wish that the alumni's memorial gift to Father be replaced. She wanted it replaced in the proposed new Boe Chapel. For this she left a sum of money.
Oftentimes she would say to me, "Edel, soon your father's work will have been forgotten at St. Olaf, and I want the memorial window for your father to be replaced."
Our family never forgot Mother's dearest wish, and we later added the required funds. Therefore, there is now a memorial window to Father in the Boe Chapel. It is one of the three tall lancet windows directly behind the altar in that handsome new chapel. These windows are rare in their beauty and form a focal point in the chapel.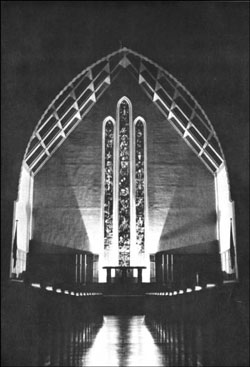 Left lancet window given in memory of Prof. H. T. Ytterboe. Boe Chapel.
The Old Main
Chapters:
Foreword
Mohn and Ytterboe Family Connections
The Old Synod
The Reverend Bernt Muus
Young Professor Ytterboe
The First Bathtub at St. Olaf College
1898-1899
1899
A New Day and A New President
Chapel Prayers by H. T. Ytterboe
1903-1904
Aftermath
Erik Hetle and Ole Rölvaag
Hoyme Chapel
Old Buildings at St. Olaf College
1300 St. Olaf Avenue
Agnes Margaret Kittelsby
Professor O. G. Felland
Agnes Mellby
Town and Gown
Music at St. Olaf
St. Olaf's First Rhodes Scholar
My Mother, Mrs. H. T. Ytterboe