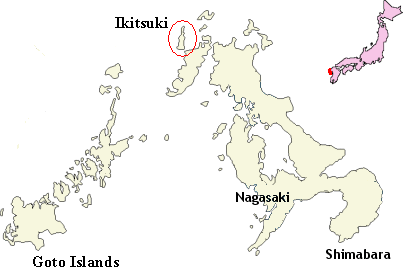 Ikitsuki is a beautiful island just off of Hirado in Kyushu. While the island is well known for its historical and current whaling and fishing industry, it also has a dynamic past and present Kakure Kirishitan presence. The island's geography and surroundings played a large role in the unique aspects and development in Christian practices. Ikituki has had a recent push to record this unique Kakure Kirishitan history before it is lost forever. With the economic condition pulling the youth away from the island, many of the Kakure Kirishitan groups are thinning or even disbanding. Even traditionally secretive groups feel the need to share or record the traditions their ancestors risked their lives to preserve.
Our group had the pleasure of meeting with one former leader of one of these groups and one of his friends whose family used to be Kakure Kirishitan but rejoined the Catholic Church. Each man shared his own family's history and then discussed their thoughts on Kakure Kirishitan on Ikituki in general. Ikitsuki had continued Kakure Kirishitan practices longer than other regions that suffered disintegration of their hidden Christian communities.
But now even on Ikitsuki the hidden Christian traditions are not being passed on as the communities dwindle.