THIS HERE NOW
Nature and Human Consciousness
September 18 – October 31, 2010
Artists: Guido Alvarez, Christine Baeumler, Jil Evans, Jill Ewald, Chris Larson
The exhibit will also include historical and contemporary prints from the prints and drawing collection at the Minneapolis Institute of Arts.
Co-curated by Jil Evans, Christine Baeumler, Jill Ewald
MORE INFORMATION:

Opening Reception, Friday, September 17, 6 – 8 p.m.
Panel Discussion with artists plus professors of Art History, Philosophy, and Religion, Thursday, October 7, 7:00 p.m., Dittman 305
Homecoming: October 1 – 3
Gallery closed for Fall Break October 16 – 19
THIS HERE NOW: Nature and Human Consciousness is an exhibit of historical and contemporary art that addresses questions of deep philosophical and religious significance: what is consciousness and meaning?  Are they reflections or clues of some deeper, meaningful or purposive reality (perhaps God) or are they accidental bi-products of an impersonal, mechanical reality not driven by purpose and meaning?  Is consciousness itself only a complex physico-chemical process or is it some new reality that is more than physical processes?  Some of the great world religions (Judaism, Christianity, Islam, some Hindu traditions and more) see the natural world in purposive terms and recognize subjectivity and experience as unique realities.  While some philosophers embrace reductive forms of materialism, others counter that subjectivity, experience, and purposiveness are foundational, irreducible realities.  Such debate forms an important part of the contemporary conversation about science and philosophy, religion and the liberal arts.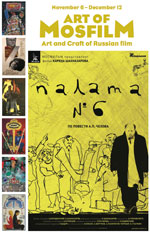 November 6 –  December 12, 2010
ART OF MOSFILM: Art and Craft of Russian film
This year marks the 50th anniversary of the beginning of Russian studies at St. Olaf College. This exhibit, which discusses Russian film and its relevance to Americans while celebrating filmmaker Karen Shakhnazarov, is one of the events that will mark the anniversary. The show will look at the history of Russian film through posters, stills, set design sketches, and film clips.
Opening Reception, Thursday, November 11, 11:45 AM – 12:15 PM (Community Time). Russian film-maker Karen Shakhnazarov, Russian-Armenian filmmaker, producer and screenwriter will receive an honorary degree prior to the reception in the gallery. Shakhnazarov became the Director General of the Mosfilm studios in 1998.
Opening Reception, Thursday, Nov. 11 11:30 a.m. – 12:30 p.m.
Gallery closed for Thanksgiving break November 24 – 28
January 7 – February 20, 2011
RIVER AND STONE, LETTERS AND LEAVES
Meg Ojala, Sabbatical exhibit
Professor of Art and Art History, Meg Ojala, created the work for this exhibit while on sabbatical during the 2009-1010 academic year. View postcard >>
This exhibit includes three different bodies of work: large scale color landscape photographs made during my sabbatical year; small scale platinum-palladium prints from Angkor Wat in Cambodia; and a group of experimental pieces that include multiple images of one kind of object, such as letters and leaves. Visual elements and themes such as line and repetition, the compression of space and time, and a heightened sense of impermanence, appear in all of this seemingly disparate work.  Meg Ojala
Artist Reception: Friday, February 11, 6 – 8 p.m.
Artist Talk: Tuesday, February 15, at noon, Flaten Art Museum Gallery
Gallery closed for Interim Break January 29 – February 6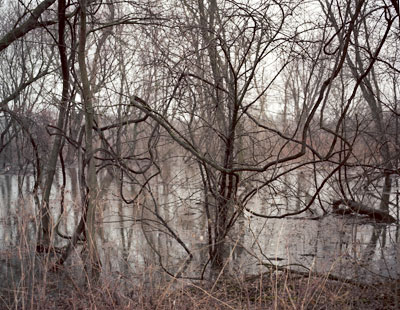 Meg Ojala
January 7 – February 20
PROCESSED: APPRENTICE SHOW
Virginia and Jennifer C. Groot Gallery
St. Olaf Art Apprentices Molly Baeverstad, Joey Fleming, Erica Naylor, Dylan Nelson, Trygve Wastvedt
Artist Reception: Friday, January 7, 5 – 8 p.m.
Gallery closed for Interim Break January 29 – February 6
February 26 – April 3
ARAism AND OTHER AFRICAN PATTERN ART
Araism Movement was established and formally launched on Saturday July 22, 2006 with an exhibition of paintings in Araism by the proponent of the technique, Mufu Onifade and five of his disciples: Olaniyi Omojuwa, Tope Oguntuase, Dotun Popoola, Abiola Mautin-Akande and Jonathan Ikpoza. This epoch-making event was held at Bruce Onobrakpeya's Harmattan Workshop Gallery , Victoria Island, Lagos , Nigeria . 
The event was able to re-launch the phenonmenon of ARA (Aesthetically Rich Art) andara (wonder) to the sensibilities of artists, arts writers, gallery owners, the arts community and the general public. In recent times, every watcher of unfolding events in Nigerian Contemporary cannot overlook or undervalue the emrgence and prominence of Araism technique – nay the relatively young Movement. Araism is a creative force of reckoning while the Movement serves as a medium of projection of the technique.
Araism restates its relevant position on contemporary Nigerian Art with its annual exhibitions meant to discover and project to the world, new creativity and disciplined disciples. http://www.araism.com/
"101 Nigerian Artists," a catalog of contemporary artwork, will be available for purchase at the opening, and in the St. Olaf College bookstore. Oluwambe Amodu is of the featured artists in the book.
Closed for Spring break March 19 – 27
April 17 – May 2
FIRST SENIOR SHOW
Closed for Easter Break, April 22 – 25
Opening Reception: Sunday, April 17, 2:00-4:00 p.m.
May 7 – 16
SECOND SENIOR SHOW
Opening Reception: Sunday, May 8, 2:00-4:00 p.m.
May 23 – 29
ALL SENIOR SHOW