September 5 – December 18, 2019
An exhibition with interdisciplinary artist and writer Coco Fusco
Swimming on Dry Land/Nadar en seco features video and installation work by interdisciplinary artist Coco Fusco. Over the past three decades, the Cuban-American artist has remained committed to issues related to the production of knowledge, gender, race, and power. Building on those themes, this exhibition explores the intersections of historicity, memory, absence, and the challenge that poetic license and critical vision represent for the Cuban revolution. Of her work Fusco notes, "Visitors to Cuba invariably arrive because they are obsessed with its past. For Cubans, however, there is an ongoing struggle, both to shape a vision of a postrevolutionary future and to address suppressed events from the past and present. My work is part of that effort." As Fusco grapples with Cuba's impact on her own political vision, she questions the country's mythological place in collective global consciousness.
EVENTS
Opening Reception | Flaten Art Museum
Friday, September 6, 5–7 p.m.  |  Curator's welcome at 5:30 p.m.
Coco Fusco: Haunted by History | St. Olaf Artist Series Lecture, Boe Chapel
Tuesday, October 29, 7–8 p.m. | Reception with the artist to follow, Flaten Art Museum 
ABOUT THE ARTIST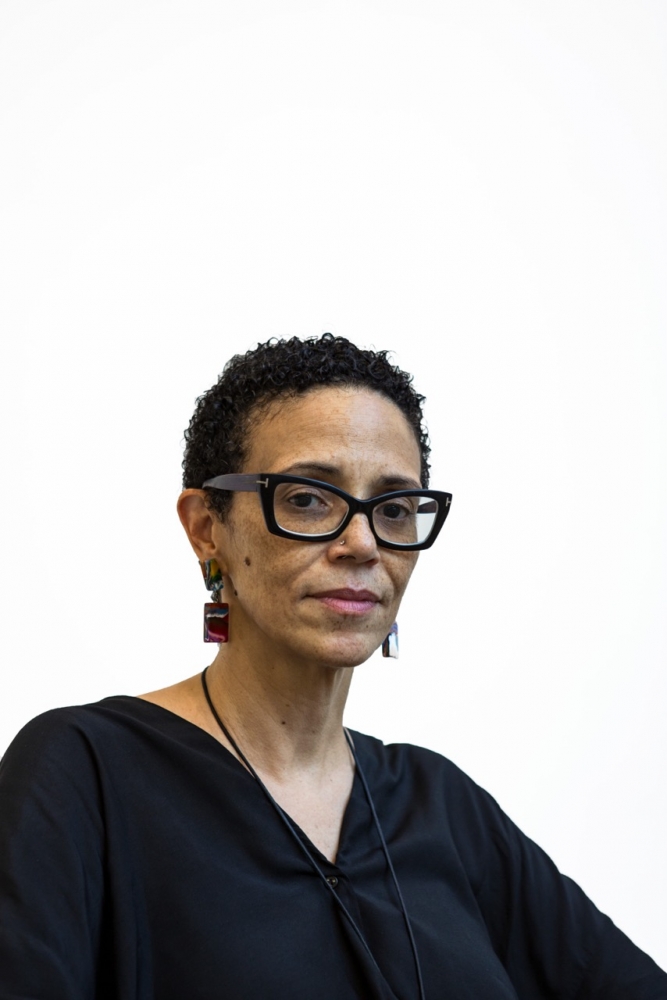 Coco Fusco is an interdisciplinary artist and writer based in New York. She is a recipient of a 2018 Rabkin Prize for Art Criticism, a 2016 Greenfield Prize, a 2014 Cintas Fellowship, a 2013 Guggenheim Fellowship, a 2013 Absolut Art Writing Award, a 2013 Fulbright Fellowship, a 2012 US Artists Fellowship and a 2003 Herb Alpert Award in the Arts.
Fusco's performances and videos have been presented in the 56th Venice Biennale, Basel Unlimited, Frieze Special Projects, two Whitney Biennials (2008 and 1993), BAM's Next Wave Festival, The Liverpool Biennial, the Sydney Biennale, The Johannesburg Biennial, The Kwangju Biennale, The Shanghai Biennale, Mercosul, VideoBrasil and Performa05. Her works have also been shown at the The Museum of Modern Art, The Walker Art Center, KW Institute of Contemporary Art and the Museum of Contemporary Art in Barcelona. She is represented by Alexander Gray Associates in New York. 
Fusco is the author of English is Broken Here: Notes on Cultural Fusion in the Americas (1995) and The Bodies that Were Not Ours and Other Writings (2001), and A Field Guide for Female Interrogators (2008). She is also the editor of Corpus Delecti: Performance Art of the Americas (1999) and Only Skin Deep: Changing Visions of the American Self (2003). Her latest book Dangerous Moves: Performance and Politics in Cuba was issued by Tate Publications in 2015, and a Spanish translation was published by Turner Libros in 2017.
Fusco received her B.A. in Semiotics from Brown University (1982), her M.A. in Modern Thought and Literature from Stanford University (1985) and her Ph.D. in Art and Visual Culture from Middlesex University (2007).
This exhibition is organized by Jane Becker Nelson with Christina Wiles and Christopher Tradowsky with generous support from the Glen and Shirley Beito Gronlund Exhibition Fund and the St. Olaf Artist Series.