February 9 – March 6, 2016
Opening Reception: Friday, February 19, 7–9 p.m.
Curator's Talk, March 3, 6:00 PM, with Taylor Davis '16, Groot Gallery
Groot Gallery
Curated by Taylor Davis '16
Presented in conjunction with the Guerrilla Girls Twin Cities Takeover
Look Again: Expanding Feminist Possibilities presents six women artists and one all-women collective whose works engage with feminist themes. Ranging across several disciplines and reflecting an array of theoretical concerns, the exhibition rejects homogeneity and embraces the multiplicity of form and meaning that can be found in feminist art. Think you already know feminist art? This exhibition invites you to look again.
Artists: Hend Al-Mansour, Sadie Benning, Mary Bergs, The Guerrilla Girls, Elizabeth Garvey, Jess Larson, Patricia Olson, and Kiki Smith
This exhibition is supported by the departments of Art and Art History and Women's and Gender Studies at St. Olaf College.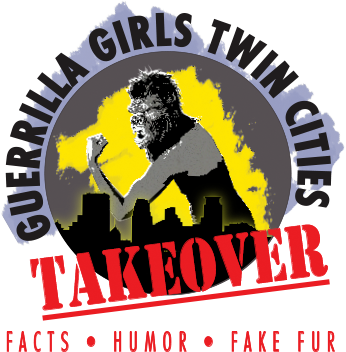 Look Again: Expanding Feminist Possibilities is organized as part of the Guerrilla Girls Twin Cities Takeover. From January to March 2016 the Takeover will include over twenty arts and cultural organizations in Minneapolis/St. Paul and surrounding cities. From small non-profit art centers to major cultural institutions in the region, these partners will be highlighting gender and racial inequalities, taking on stereotypes and hypocrisies, and promoting artistic expression by the often overlooked and underrepresented. Join the collective roar for change at www.ggtakeover.com.