John Saurer: Let it Loose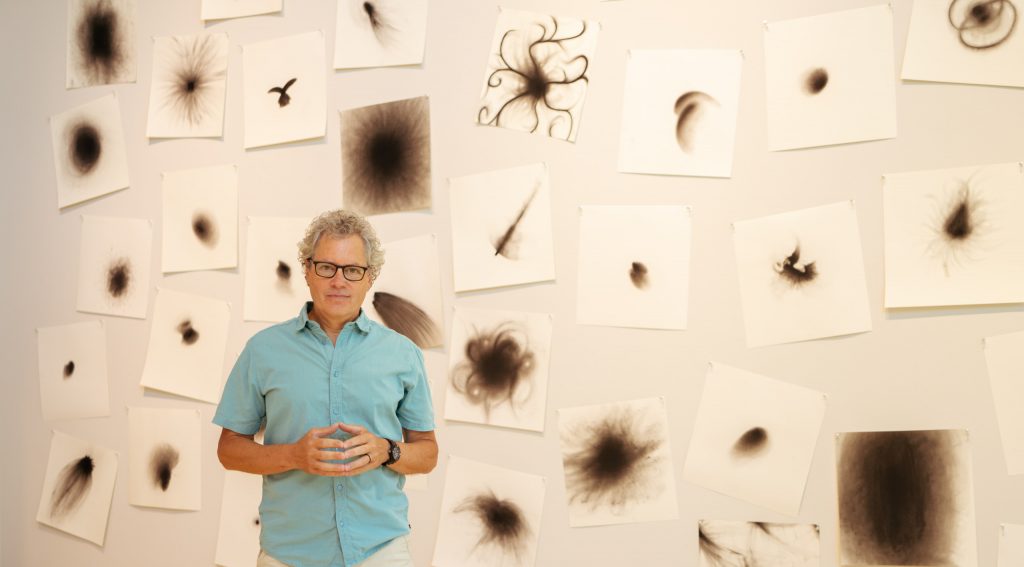 John Saurer: Let it Loose
September 8 – November 21, 2023*
John Saurer: Let it Loose celebrates St. Olaf College Professor of Art John Saurer's fruitful artistic career as he marks 29 years of teaching at the college. Saurer's work is notable in its technical variety, spanning sculpture, drawing, installation, and printmaking. Printmaking—Saurer's primary teaching area—has a unique capacity for reproducibility, an approach that echoes throughout Saurer's work in other media. Cast elements, repeated forms, and matrixes with individual components that create a larger whole express the artist's attraction to repetition, order, and technical refinement.
Featuring series made as early as 1995, this exhibition brings together a significant portion of Saurer's body of work for the very first—and last—time. The show's title, "Let it Loose," is drawn from a favorite Rolling Stones song, and expresses Saurer's desire to distribute this work to the community. With the Flaten Art Museum's help, Saurer is making all the work in the exhibition available, free of charge, to individuals and collecting institutions. Visitors are invited to reserve a work of art to be collected at the conclusion of the exhibition.
*Closed for St. Olaf's Fall Break October 14-17. Artwork in Groot Gallery on view through October 13.
Programs
Friday, September 15
Art Alumni Panel, 5-6 p.m. | Viking Theater, Buntrock Commons (Stream the event)
Opening Reception, 6–7:30 p.m. | Center for Art and Dance
Join artist John Saurer and alumni Dillon Davis '14, Margaret Lindahl '19, Paddy Mittag-McNaught '20, Katherine Norrie '99, and Anda Tanaka '12 in a conversation about creative practice and reciprocal mentorship, followed by an opening reception in the galleries. Free and open to the public.
Thursday, September 28
Lunchtime Artist's Conversation, 11:30 a.m. – 12:15 p.m. | Flaten Art Museum, Center for Art and Dance
Join John Saurer for a conversation that moves throughout the galleries. Stools will be provided. Bring your own lunch and stick around for a community meal in The Link. Free and open to the public.
Saturday, October 28
Spooky Prints! 10 a.m. – 12 p.m. | Center for Art and Dance 212, Shoger Printmaking Studio
Revel in full moon vibes and learn to make monoprints using a printmaking press. Free for ages 5-10 years old with adult companions, and current St. Olaf college students. Capacity is limited.
About the Artist
During his 29 years at St. Olaf, John Saurer has taught over 2,700 students in courses such as 2D and 3D Foundations, Lithography, Relief, Intaglio, Figure Drawing, Casting, Welding, Topics in Studio Art, and Senior Studies. His teaching extends beyond the studio, too. Saurer has led numerous off-campus study courses through St. Olaf's Smith Center for Global Engagement, including the New York Art Interim and Drawing from Nature in the Bahamas, and Alumni & Family Travel excursions.
Saurer earned his BA at Hope College and his MFA at Colorado State University. His many exhibitions include shows in Minnesota, Montana, Michigan, New York, Georgia, Ohio, North Dakota, Utah, Colorado, Iowa, and Rosario, Argentina. Saurer's awards and honors include Minnesota State Arts Board grants, Faculty Development grants, a Nygaard Foundation grant, and the Egon Schiele Prize. He has served as a member of the Minnesota State Arts Board, the MAEP Artist Panel at the Minneapolis Institute of Arts, the Gallery Committee at the Northfield Arts Guild, and juror for numerous exhibitions. His commissions include The Martha Miller Center for Global Communication (Hope College), The Behavioral Sciences Building (Colorado State University), and Gethsemane Lutheran Church (Hopkins, Minnesota).
Explore the exhibition guide here.
Credits: John Saurer with selected student drawings from First Day, photo by Caleb Wood '24.