May 7–28, 2017
Opening Reception: Sunday, May 7, 2017, 12–3 p.m.
Commencement Reception: Sunday, May 28, 10:30 a.m.–12:30 p.m.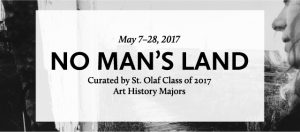 Lasting Legacy is an annual exhibition series that puts St. Olaf art history majors in contact with objects from Flaten Art Museum's collection. As students select and interpret a work of art, they offer fresh perspectives on objects from a variety of cultures, time periods, and media.
No Man's Land, the newest exhibition within the Lasting Legacy series, explores the numerous ways in which humanity has perceived their connection to the land around them. This year's senior art history majors delve into Flaten Art Museum's collection in order to interpret and challenge this relationship. With works by Edvard Munch, Gary Gutierrez and Linda Forslund '86, the exhibition demonstrates the interchanging states of harmony and dissonance between humanity and the earth. The various paintings, prints, and sculptural objects speak to situations in which land has been exploited, taken, and neglected.
The exhibition is located in the Object Study room, just west of the Flaten Art Museum in the Center for Art and Dance.