Hair care as protection and display of power, pink as the color of radical politics, consumption as relational practice… Liberatory Adornment explores how contemporary artists mobilize femininity to claim beauty, care, and abundance for Black and Latinx people. By departing from the masculinist aesthetics of U.S. militarism and the Black and Chicanx movements of the 1970s, artists Pamela Council, Yvette Mayorga, and Kenya (Robinson) generate alternative visualities to address the urgent social issues of the contemporary moment. The works in this exhibition invite us to appreciate the paths for personal and collective freedom that are available in the everyday via beauty rituals, domestic decor, confection, glitter, gold, and rhinestones. Junk culture transforms into sacred symbology and girlhood memory is tapped for political consciousness, creative self-healing, and cultural/ancestral homage.
Beyond their shared aesthetic modes, what brings the works in Liberatory Adornment together are their playfully dead-serious investigations of nation, sexuality, consumer desire, and violence as they manifest in the context of U.S. racial capitalism. The politics of how perceived difference shapes social, cultural, and economic value is implicated at every level of these artists' practices and is investigated via (often bodily) materiality, domestic and personal adornment, and consumer/object relations (mass-marketed toys, brand name sneakers, beauty products, and "urban" fiction). Rather than articulate appeals for representation and inclusion, the works in this exhibition transform the meanings, economies, and iconographies of racialized gender through femininity and generate new imaginings of freedom.
Liberatory Adornment is curated by Jillian Hernandez, PhD. 
---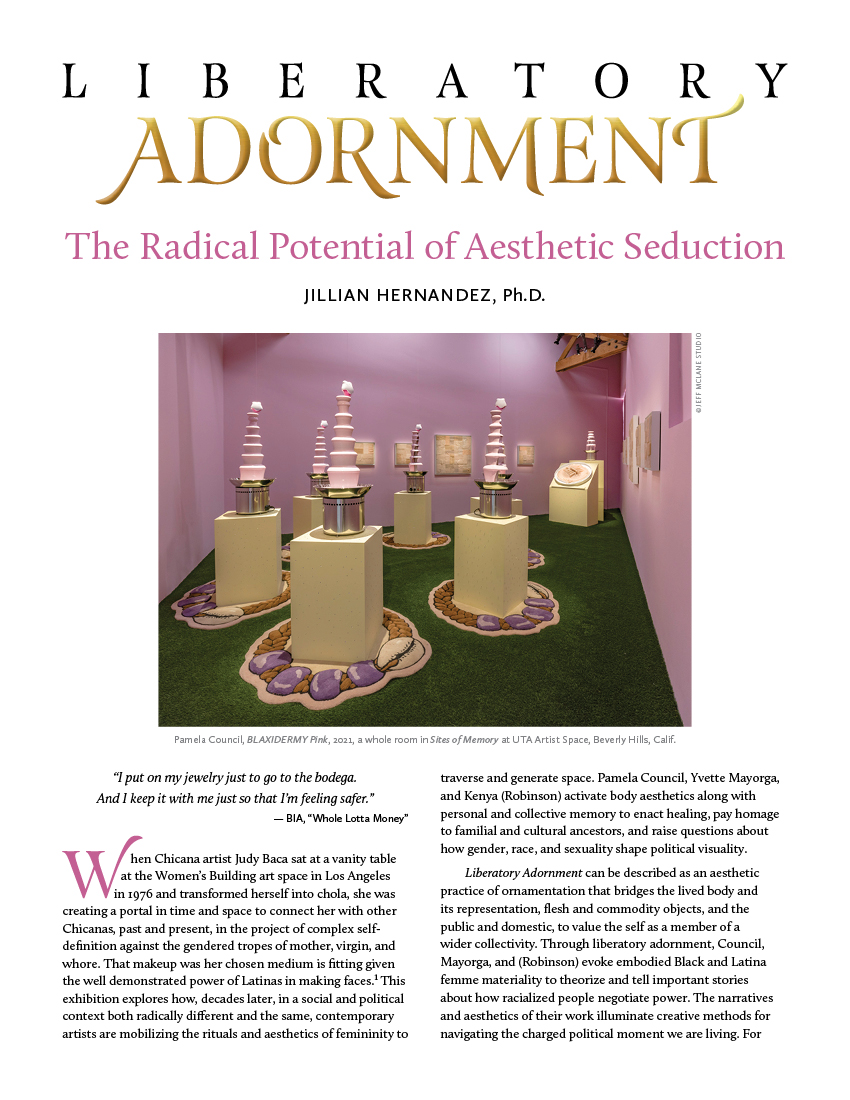 Click to view Jillian Hernandez's essay Liberatory Adornment: The Radical Potential of Aesthetic Seduction.
---
Programming
Friday, November 5
4 p.m. CST Instagram Live with Pamela Council | @flatenartmuseum
Join Liberatory Adornment curator Jillian Hernandez and artist Pamela Council as they discuss the artist's new public art project in New York's Times Square A Fountain for Survivors, an 18-foot fountain embellished with more than 350,000 acrylic nails.
5 p.m. CST Video Premiere and Roundtable | Viking Theater | Archived Video Footage Available
Following a screening of Kenya (Robinson)'s BLACK OF ENTITLEMENT (2021), the artist will be joined in a roundtable conversation with Rini Yun Keagy, moving image artist; Arneshia Williams, St. Olaf Visiting Assistant Professor of Dance; and Tesfa Wondemagegnehu, St. Olaf Assistant Professor of Music; moderated by curator Jillian Hernandez, Associate Professor of Gender, Sexualities, and Women's Studies Research at the University of Florida.
6:30 p.m. CST Reception | Flaten Art Museum, Center for Art and Dance
All are invited to a reception at the Flaten Art Museum immediately following the screening and roundtable. 
Masks are required for these events.
---
Digital Resources
Watch Femme Figurations, a roundtable discussion with artists Pamela Council, Yvette Mayorga, and Kenya (Robinson), and curator Christiana Ine-Kimba Boyle on how the aesthetics of femininity informs their practice. Moderated by Jillian Hernandez.
---
About the Artists
Pamela Council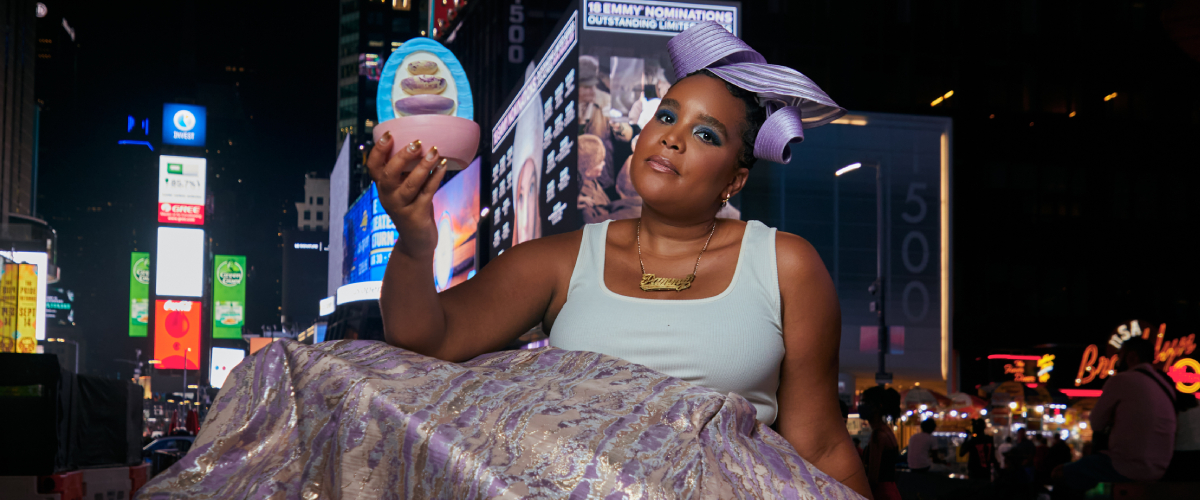 Pamela Council is a New York-based interdisciplinary artist creating fountains for Black joy. Guided by material, cultural, and metaphysical quests, Council's practice embodies a darkly humorous, maximalist, and inventive Afro-Americana camp aesthetic called BLAXIDERMY. Through this lens, Council uses sculpture, print, design, architecture, writing, and performance to shed light on under-examined narratives and to make tributes, offerings, and dedications.
Council has created commissions, exhibitions, performances, or presentations for the New Museum for Contemporary Art, United States Library of Congress, Schomburg Center for Research in Black Culture, Studio Museum in Harlem, Nike, and MoCADA. Council has been Artist-in-Residence at MacDowell Colony, ISCP, Red Bull Arts, Bemis Center, Mass MoCA, and Wassaic Project. A recipient of the Joan Mitchell Painters and Sculptors Grant, Toby Devan Lewis Award, and Newark Creative Catalyst Award as a studio member of Project for Empty Space, Council holds a BA from Williams College and an MFA from Columbia University.
Kenya (Robinson)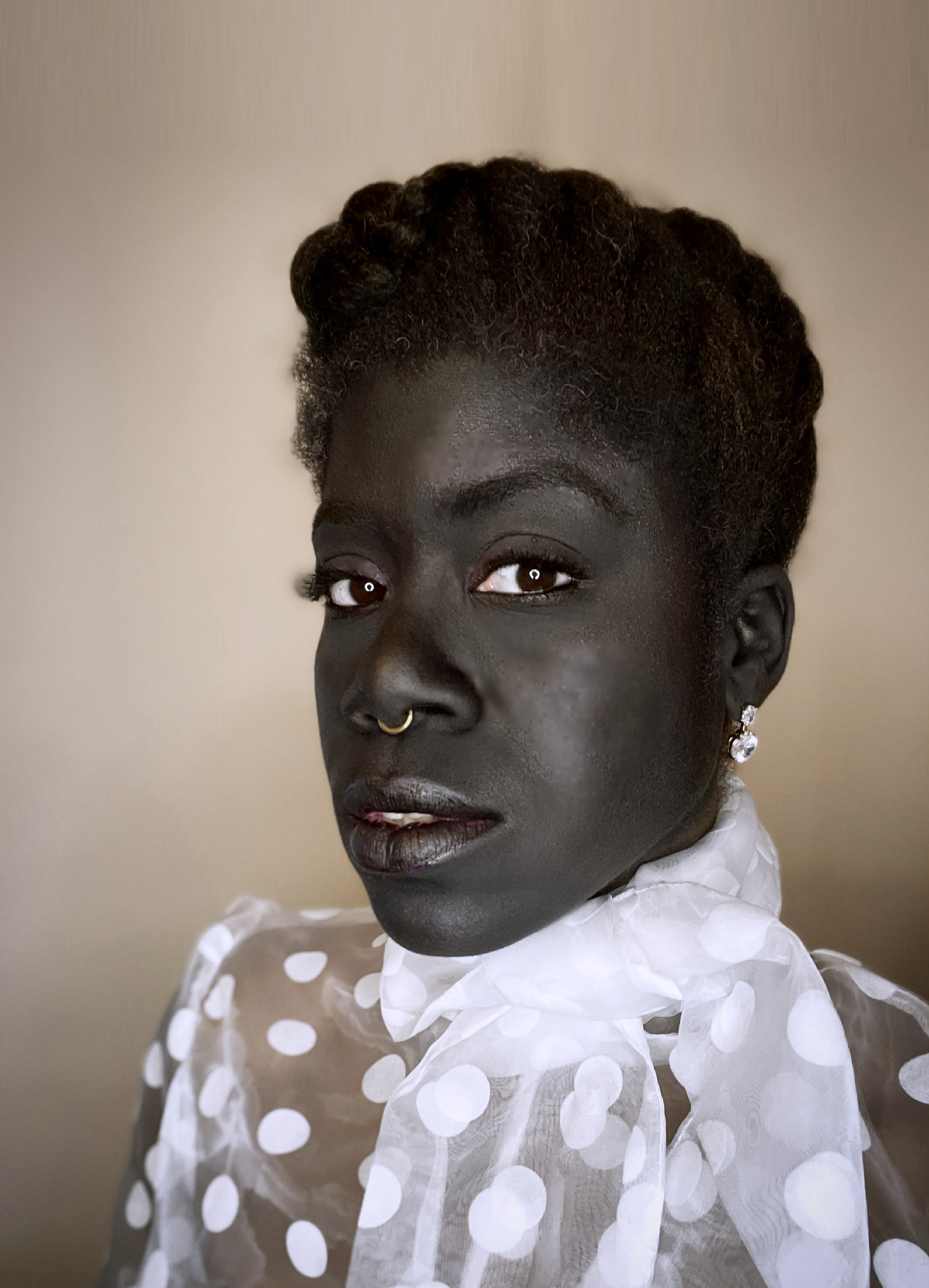 Kenya (Robinson) (born 1977) is an American multimedia artist whose work includes performance, sculpture, and installation. A native of Gainesville, Florida, (Robinson)'s work depicts themes of privilege and consumerism, exploring perceptions of gender, blackness/whiteness, and ability. Combining a variety of audio-visual elements and live performance, (Robinson)'s work has been shown at the Museum of Modern Art, The Kitchen, The Museum of Contemporary African Diasporan Arts, and the 60 Wall Street Gallery of Deutsche Bank. Her sculpture, Commemorative Headdress of Her Journey Beyond Heaven, was acquired by the Smithsonian Museum of African American History and Culture for its permanent collection in 2014. (Robinson) has been a contributor to the Huffington Post, Modern Painters, and the Opinion section of The New York Times. In 2016 (Robinson) was awarded a Creative Capital Grant for her project CHEEKY LaSAHE: Karaoke Universal, and is currently working on an animated series titled TOONSKIN, while developing BLIXEL, a stock image collection featuring people of visibly African descent.
Yvette Mayorga

Yvette Mayorga is a multidisciplinary artist based in Chicago, Illinois. Her work interrogates the broad effects of militarization within and beyond the US/Mexico border and intervenes in the colonial legacies of art history. She fuses confectionary labor with found images to explore the meaning of belonging.
Her work has been exhibited nationally and internationally at the Vincent Price Art Museum, DePaul Art Museum, El Museo del Barrio, the Center for Craft, the Museo Universitario del Chopo, LACMA's Pacific Standard Time:LA/LA, NXTHVN, Art Design Chicago, the Chicago Artists Coalition, the National Museum of Mexican Art, GEARY Contemporary, EXPO, and Untitled Art Fair. In 2020 her project, Meet me at the Green Clock, was commissioned by Johalla Projects as part of the exhibition Andy Warhol–From A to B and Back Again, at the Art Institute of Chicago. Her work is included in the critically acclaimed exhibition ESTAMOS BIEN: LA TRIENAL 20/21, El Museo del Barrio's inaugural large-scale survey of contemporary Latinx art.
Her practice has been featured in publications such as Artforum, Artnet, Art in America, Art News, Galerie Magazine, Hyperallergic, NewCity, Teen Vogue, The Guardian, and The New York Times. Her works are part of the permanent collections of the DePaul Art Museum, El Museo del Barrio, and the John D. and Catherine T. MacArthur Foundation. She has participated in the Fountainhead Residency and BOLT Residency, and is a recipient of the MAKER Grant. She holds an MFA in Fiber and Material Studies from the School of the Art Institute of Chicago.
---
Jillian Hernandez
Curator Jillian Hernandez's scholarship crosses the fields of art history, performance, gender, ethnic, Latinx, and Black studies, and is informed by her work as a community arts educator, curator, and cultural producer. Her book Aesthetics of Excess: The Art and Politics of Black and Latina Embodiment, published by Duke University Press, traces how the body practices and art making of Black and Latinx women and girls are intertwined, and how their creative work complicates conventional notions of cultural value and sexual respectability. She is an Associate Professor in the Center for Gender, Sexualities, and Women's Studies Research at the University of Florida. 
---
Related Press 
The New York Times, Acrylic Nails Get the Fine Art Treatment
https://www.nytimes.com/2021/10/26/style/acrylic-nails-pamela-council.html
National Public Radio, Times Square's first fountain is covered in acrylic fingernails
https://www.npr.org/2021/10/17/1046850220/times-squares-first-fountain-is-covered-in-acrylic-fingernails
Star Tribune, 4 Twin Cities art shows to help you keep that fall feeling
https://www.startribune.com/four-twin-cities-art-shows-to-help-you-keep-that-fall-feeling/600109002/