September 10 – November 8, 2015
Opening Reception: Friday, September 25, 7–9 p.m.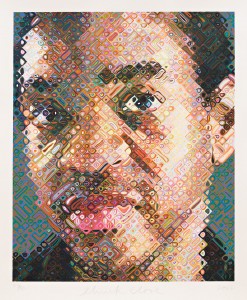 Fine art publisher Pace Prints issues work by some of the world's most celebrated contemporary artists. Lesser-known are the master printers, whose technical expertise allows these artists to achieve the precise effects desired in their prints and whose innovations push the boundaries of the medium. This exhibition explores the intertwined relationship between artist and master printer through a collection of more than 20 prints including etchings, lithographs, monoprints, silk screens, woodcuts, and new technologies that synthesize digital tools and traditional approaches. Contemporary artists such as Ghada Amer and Reza Farkondeh, Chuck Close, Tara Donovan, Sol Lewitt, Claes Oldenberg, Kiki Smith, and James Turrell have partnered with Pace, collaborating with master printers to solve thrilling technical puzzles and challenge the boundaries of contemporary printmaking. Curated by Bill Hall, Master Printer, Pace Prints; Justin Israels, Master Printer, Pace Prints; John Saurer, Associate Professor of Art, St. Olaf; Jane Becker Nelson, Director, Flaten Art Museum.
Opening Reception and Gallery Talk
Friday, September 25 | 7–9 p.m. | Gallery Talk beginning at 7:30 p.m. | Center for Art and Dance, Flaten Art Museum
Join Justin Israels, Master Printer, Pace Prints, as he reveals the techniques and tales behind the prints in this exhibition. Refreshments will be served.
Free Ink Day, hosted by Highpoint Center for Printmaking
Saturday, October 24 | 10 a.m.–2 p.m. | Center for Art and Dance 212, Shoger Printmaking Studio
Learn printmaking from the pros at this free, hands-on printmaking workshop! Highpoint Center for Printmaking of Minneapolis brings Free Ink Day to St. Olaf to offer this family-friendly event for printmakers of all ages. Learn to make portrait-inspired monoprints using a press. Bring your creativity and get inky! All materials provided.
Image: © Chuck Close, courtesy Pace Gallery
Programming generously supported by the Arnold Flaten Endowed Fund.