September 1 – October 29, 2017
Ken Gonzales-Day is an interdisciplinary artist whose practice considers the historical construction of race. He supplements his photographs with research and writing that engage critically with history, art history, and Western conventions of race, blending historical tragedies with current events. Using photography and video, he explores trauma and resistance as experienced and embodied by racially oppressed populations in the U.S.
This exhibition is a concise survey of the artist's career, including works from the Erased Lynching, Searching for California Hang Trees, and Run Up series. His most recent work draws parallels between historical lynchings and high profile cases of police brutality affecting communities of color today. The core of the Run Up series is a cinematic restaging of the 1920 lynching of Charles Valento. Utilizing details drawn from the coroner's report and his own archival research, Gonzales-Day chose to focus on this particular event in order to draw attention to the police presence at the scene that tacitly condoned the extralegal violence.
A survey of Gonzales-Day's work brings up one of his most poignant questions: What is the difference between collective resistance and racially motivated violence? It is a question being asked after recent tragic events in cities around the country, such as Ferguson and Los Angeles, as well as St. Paul and Minneapolis. By presenting historical occurrences in conjunction with contemporary events Gonzales-Day collapses the historical distance and exposes the unchanging reality of racialized violence in the United States. Exploring the dichotomy between presence and absence, Gonzales-Day draws attention to the selective vision of American history and the perception of people of color as expendable. He combines scholarly research and a photo-journalistic sensibility with rich aesthetics to create jarringly haunting portraits of historical trauma present in both the people and the land of the United States.
EVENTS
Opening Reception and Curator's Introduction
Friday, September 8, 2017, 5–7 p.m. | Remarks 5:30 p.m.
Workshop: Limitless Healings
Thursday, September 21, 2017, 11:15 a.m. – 12:45 p.m.
Performance: Futuristic Moves
Thursday, September 21, 2017, 5–6 p.m.
Public Lecture: Seeing Minnesota's Indigenous Histories, Ramona Stately
Wednesday, October 11, 2017, 3:30-4:30 p.m., Viking Theater
Center for Innovations in the Liberal Arts (CILA) Faculty/Staff Lunch
Thursday, October 19, 2017, 11:45 a.m. – 1:15 p.m.
Public Lecture: Seeing Absence, Ken Gonzales-Day
Friday, October 20, 2017, 3:15–4:15 p.m., Viking Theater
The Reading Room
September 1 – October 29, 2017
ABOUT THE ARTIST
Ken Gonzales-Day received a Painting (Art History minor) BFA at Pratt Institute and an MFA in photography at University California, Irvine. Gonzales-Day is a Professor of Art and Humanities at Scripps College. He has received many prestigious awards and museums fellowships, including the Terra Senior Fellow, Terra Foundation, Giverney, France; COLA Individual Artist Award, Los Angeles; Art Mattes Grant, New York City; Visiting Scholar/Artist-in-Residence, Getty Research Institute, Los Angeles; Senior Fellow, American Art Museum and National Portrait Gallery of the Smithsonian Institution, Washington D.C.; Fellow, Rockefeller Foundation Study and Conference Center, Bellagio, Italy; Van Lier Fellow, ISP, Whitney Museum of American Art.
His work also is in numerous permanent collections, including Smithsonian American Art Museum; Art Gallery of New South Wales, Sydney; Getty Research Institute; L'Ecole des beaux-arts, Paris; Los Angeles County Museum of Art; Los Angeles County Art Commission; Eileen Harris Norton Foundation; and Norton Museum of Art.
Ken Gonzales-Day: Shadowlands is curated by Christopher Atkins, Curator of Exhibitions and Public Programs at the Minnesota Museum of American Art.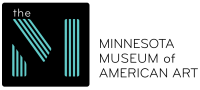 This exhibition is generously supported by the Glen H. and Shirley Beito Gronlund Annual Exhibition Series Fund, St. Olaf College, and made possible by the voters of Minnesota through a Minnesota State Arts Board Operating Support grant and an Arts Access grant, thanks to a legislative appropriation from the arts and cultural heritage fund. This project is also supported in part by an award from the National Endowment for the Arts.