February 19 – April 17, 2016
Opening Reception: Friday, February 19, 7–9 p.m., remarks at 7:15 p.m.
Artist-led walk to Waterford: Saturday, April 16, 11 a.m., departing from Flaten Art Museum

Andy Sturdevant's installation The Via Northfield, commissioned by Flaten Art Museum, builds on the artist's ongoing exploration of history, place, and walking in Minnesota. In September 2015, Sturdevant walked from Minneapolis to Northfield over the course of two days. The forty miles between the two cities crosses nature trails, industrial corridors, suburban developments, cornfields, dirt roads, strip malls, six-lane county highways, historic sites, soybean farms, cemeteries, freeway interchanges, and several Target stores – quintessential southern Minnesota sights. With its wall-sized map, interpretive publications, and specimens of interest, the gallery functions not only as an archive of Sturdevant's singular journey, but as a waypoint and visitor's center for the pedestrian experience. Visitors will also have the opportunity to contribute their own pedestrian reports to the exhibition – stories of travel on foot up and down the Via Northfield corridor, from south Minneapolis to Eagan to Greenvale Township.
In the News:
Andrew Miller, Exhibit chronicles artist's walk from Minneapolis to Northfield, Sun This Week, February 8, 2016.
Sonja Nelson, Gallery Documents Overlooked Pedestrian Experience, Manitou Messenger, February 26, 2016.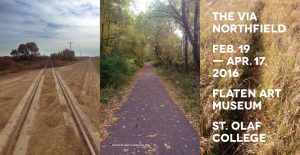 This exhibition is generously supported by the Glen H. and Shirley Beito Gronlund Annual Exhibition Series Fund, and is organized in conjunction with Carleton College's Festival of Walking & Art.
The museum is closed March 19 – 28, 2016 for Spring Break.
Photo credit: Small Multiples.