On view October 1–November 22, 2020
Visits restricted to current students, faculty, and staff, in accordance with campus guidelines. 
Curated by Assistant Professor of Art History at St. Olaf College, Hannah Ryan, with curatorial assistance from Amanda Rose '21
Both born and raised in the Lower Ninth Ward of New Orleans, married couple Chandra McCormick and Keith Calhoun have documented the culture of Louisiana together and separately for over forty years, with an unflinching dedication to social justice, particularly in their African American community. 
Like their neighbors, their lives were forever changed by Hurricane Katrina. When the storm surged and the levees failed, Chandra and Keith were forced to evacuate to Texas, leaving their home and studio. The studio was full of negatives, prints, rolls of film, the sum of their lives' work. They moved what they could into plastic bins and elevated these to higher surfaces. When they were allowed to return months later, they found total destruction and waterlogged negatives. In a flash of brilliance, they put the damaged negatives in garbage bags and stored them in a freezer. Five years later, they opened them back up and realized that the freezer had halted the deterioration process in its tracks, abstracting the images with astounding beauty.
Since then, they have experimented with printing these works, and poignantly, they no longer consider them damaged. The prints of the damaged negatives feature imprints of mold, and shadows of other images. In addition, the colors from the Kodachrome film separated and resettled in unusual ways.
McCormick stated "The mold, cracked film cases, and restoration created abstractions of our initial images… The images represent different forms of light that guide and sustain us through trials and tribulations". By capturing the altered state of the negatives accurately in their prints, McCormick and Calhoun draw attention to a community that is still facing significant hardships.
This exhibition is the first to focus on their abstract works, photographs taken throughout their long careers, altered by disaster in 2005, and printed between 2010 and 2020. Further, it will include a section of photographs they are taking right now, as their vulnerable community of the Lower Ninth Ward faces new crises of the coronavirus pandemic, social unrest, and the start of hurricane season. Thus, this exhibition will explore how these artists have paid radically sustained attention to their community. Speaking to crisis, resilience, and recovery, this show will encourage viewers to rethink conceptions of damage.
---
Click to view TK Smith's essay Embracing the Infinite Mother.
---
Programming
Virtual Studio Visit with Chandra McCormick and Keith Calhoun (For current St. Olaf students)
Thursday, October 8, 11:30 a.m.–12:45 p.m. CST | Join Live (pw: flaten)

Conversation with Chandra McCormick and Keith Calhoun
Thursday, October 8, 5–6 p.m. CST | Join Live

Lecture with TK Smith: Abstraction as a State of Being: Identity, Fragmented Archives, and the Photographs of Chandra McCormick and Keith Calhoun
Thursday, October 22, 5–6 p.m. CST | Join Live
Programming with the artists is made possible through generous support from St. Olaf College's Division of Academic Civic Engagement and The Taylor Center for Equity and Inclusion, the Departments of Art and Art History, Environmental Studies, Religion, Race and Ethnic Studies, and the Leraas Fund and Fine Arts Dean's Fund.

---
Sources for Further Learning
Explore the Exhibition Teaching Guide.
Harlan, Becky. "Warped and Waterlogged, a Damaged Photo Collection Takes on New Life." National Geographic, October 22, 2015. 
Delmez, Kathryn E., ed. Louisiana Medley: Photographs by Keith Calhoun and Chandra McCormick. Nashville: Frist Center for The Visual Arts, 2018.
Lee, Spike, When the Levees Broke: A Requiem in Four Acts, 2006.
Solnit, Rebecca, A Paradise Built in Hell: The Extraordinary Communities that Arise in Disaster, 2010.
Landphair, Juliette. "The Forgotten People of New Orleans: Community, Vulnerability, and the Lower Ninth Ward.," Journal of American History 94, Special Issue (December 2007): 837–45.
Willis, Deborah. "Self-Portraits From Black Photographers Reflecting on America: Looking Inward and Outward." The New York Times, June 19, 2020, sec. Arts. 
---
About the Artists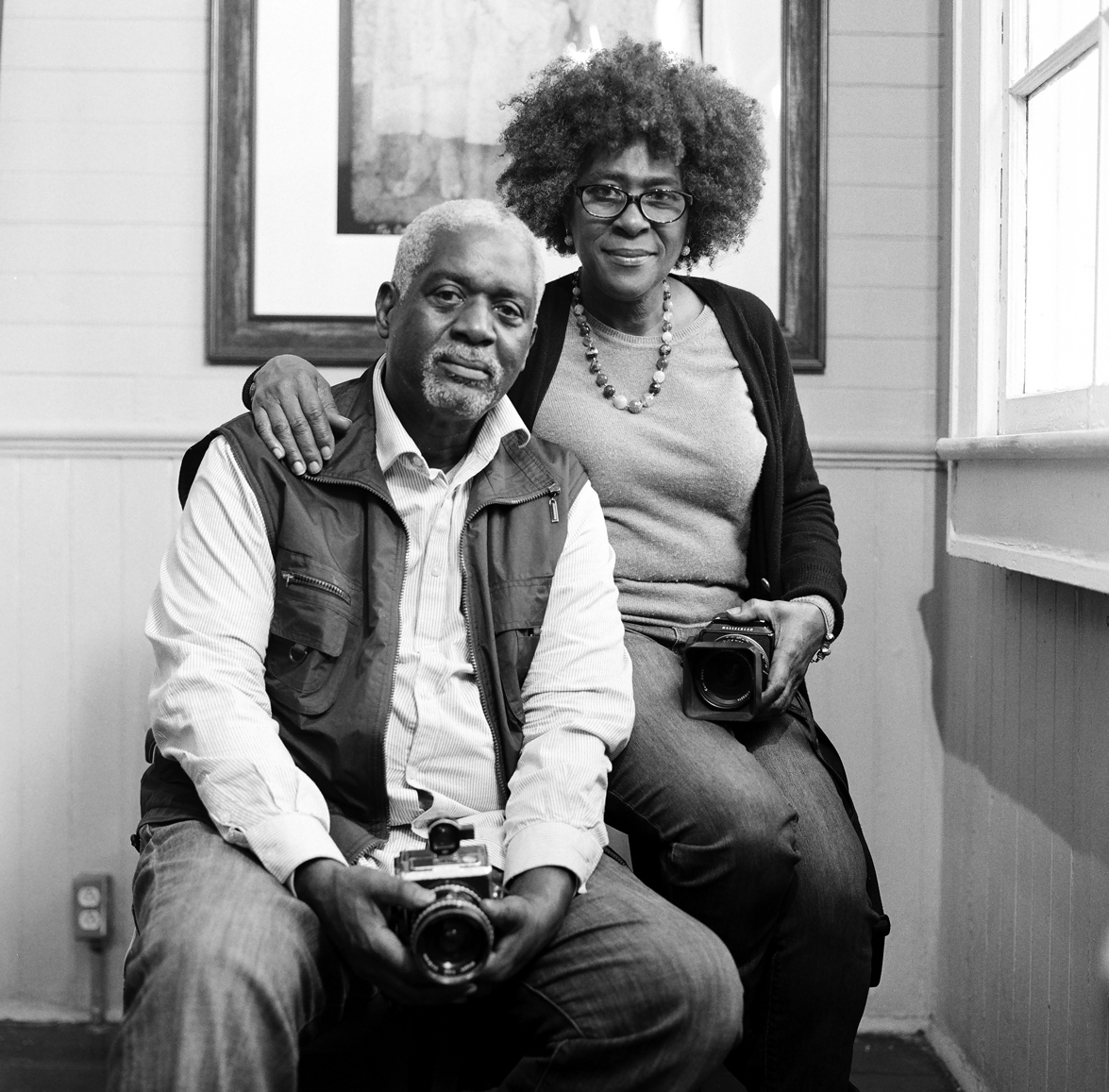 Since the early 1980s, photographers Keith Calhoun and Chandra McCormick have chronicled the African American experience in New Orleans and the surrounding Louisiana parishes. Working collaboratively, they preserve the unique traditions and deep-rooted attributes of Louisiana culture. Their images bear witness to both the celebrations and struggles of everyday events, with attention to the profound sense of place felt by Louisianans. Calhoun and McCormick were born in New Orleans. They are both from the Lower 9th Ward, a neighborhood that, prior to Hurricane Katrina in 2005, boasted the largest concentration of African American homeowners in the United States. Their photographic archive was nearly destroyed by Hurricane Katrina, yet their work has proved resilient.
Calhoun and McCormick have documented the soul of New Orleans and a vanishing Louisiana: the demise of manual laborers in the sugar cane fields of Louisiana, the dockworkers and longshoremen on the New Orleans waterfront, the sweet potato harvesters, and the displacement of African Americans after Katrina. They have photographed the traditions of Black church services and religious rituals; community rites and celebrations, such as parades and jazz funerals. As part of their labor series their documentation has covered the cruel conditions of the Louisiana State Penitentiary at Angola, a former "slave-breeding" plantation named for the African nation from which the enslaved people who were considered by slaveholders to be "the most profitable."
Calhoun and McCormick's images have appeared twice in Aperture, Angola Bound, a collaboration with Aaron Neville and Dr Deborah Willis, Spring 2006; Aperture, Heroes Of The Storm: Five Years After Katrina, Fall 2010; Their work has been shown widely, including (A group) exhibition and the book, Reflections in Black: A History of Black Photographers, 1840 to the Present. Smithsonian Institution, Anacostia Museum, 2000 Washington, DC.; They have been exhibited at venues including the Brooklyn Museum, New York Feb. 16, 2001 (group exhibition), Committed to The Image, New York; Local Take, African American Portraiture In Louisiana, April 19, 2008, The Louisiana State Museum, Arsenal Building New Orleans; The Peace Museum, (solo exhibition) Soul Of The City, Feb. 2006. Chicago; New Orleans Museum of Art, Born By The River, 1988, New Orleans; The New Orleans Museum of Art, He's The Prettiest: A Tribute to Big Chief Allison "Tootie" Montana's 50 Years of Suiting and Masking Consecutively as a Black Indian Chief, 1997, New Orleans; "Essential Lens", Lives (video), Annenberg Learner, 2014, New Orleans; PBS NewsHour "An Art Exhibition Aims to Help City Heal", 2008 L9 Center For The Arts, New Orleans; NewYork; Slavery: The Prison Industrial Complex (solo exhibition), The Ogden Museum of Southern Art, New Orleans as part of Prospect.3: Notes for Now (2014-2015); The International Art Exhibition, La Biennale, ALL THE WORLD'S FUTURES, May 4, 2015 – November 2015 Venice, Italy; Art Spaces, The Ogden Museum of Southern Art, 5, 2015 New Orleans; "Angola Prison and the Shadow of Slavery", The New Yorker, August 2015; Artsy Magazine, "New Orleans Photographer Who Captured the City before Katrina", August, 2016; Frist Museum, Slavery, The Prison Industrial Complex, A traveling exhibition, Feb. 2016, thru 2019, Youth Community Photography workshop, and exhibition; Slavery, The Prison Industrial Complex, Art + Practice, Sept. 2017, Hilliard Museum, 2018, Lafayette, Louisiana; Baltimore Museum of Art, Slavery, The Prison Industrial Complex, Youth Community Photography workshop, and exhibition, 2019; Florida State University, Rising Water: Artists Working in Response to Hurricanes, Exhibition, 2020; MoMa PS1, Exhibition, Marking Time, 3, 2020, New York City.
Calhoun and McCormick have given MFA Portfolio reviews at Duke University. They have also given various artist talks including Aperture Magazine, Artist Presentation and talk, 2006 New York; CBS Sunday with Randall Pinkston, 1998, New Orleans; Columbia University, Rite To Return, Artist Presentation and Panel Discussion, 2007; Artist Talk, 2018, Durham North Carolina; Harvard University, Artist Talk, Harvard Museum Collection 2019, Boston, Mass; University Central Florida, Artist Talk, Presentation, 2019.
References
Edwards, Susan H. "Louisiana Medley." In Louisiana Medley: Photographs by Keith Calhoun and Chandra McCormick, edited by Kathryn E. Delmez, 15–30. Nashville: Frist Center for The Visual Arts, 2018.
Harlan, Becky. "Warped and Waterlogged, a Damaged Photo Collection Takes on New Life." National Geographic, October 22, 2015. https://www.nationalgeographic.com/photography/proof/2015/10/22/warped-and-waterlogged-a-damaged-photo-collection-takes-on-new-life/.
Images
Keith Calhoun, Treme, 1997 circa 2010, archival pigment paper
Keith Calhoun, Mother with Child, 1996 circa 2010, archival pigment paper