Kierkegaard House Foundation Fellowship
The Kierkegaard House Foundation considers applications once a year. The deadline for applications is November 1 of the year before the beginning of the Fellowship term, which is normally September 1. We expect that we can announce awards no later than December 15th. Scholars from the United States and from around the world are invited to apply. Also, when space is available, housing for appropriate periods of time for qualified scholars is often available. We encourage you to apply to be a Visiting Scholar in the Kierkegaard Library. More information can be found here: https://wp.stolaf.edu/kierkegaard/visiting-scholars
Fellows sponsored by the Foundation receive a stipend of $1,500 per month and guest housing at the Kierkegaard House typically from the beginning of September through the end of August. Shorter stays will be considered. As the board seeks to support a balance between emerging and established scholars, both pre-doctoral and postdoctoral candidates are invited to apply.
In addition to the usual scholarly qualifications, the Foundation looks for applicants who will bring Kierkegaard into conversation with St Olaf undergraduate students and with the wider college community. At the conclusion of the fellowship, the Foundation will receive a written report from the Fellow that summarizes their work completed at the Hong Kierkegaard Library.
The criteria the Board uses in selecting KHF Fellowship winners can be found in the following
expandable list.
Significance of the project for Kierkegaard studies
Scholarly quality of the research project description
Contribution to the strengthening of the Kierkegaard scholarly community
Relevant linguistic competencies
Match between library resources and applicant's research proposal as well as between length of time required for the project and length of fellowship period
Maintaining a reasonable balance between awards to established scholars and to emerging scholars
Scholarly need
Opportunity for the scholar to interact with the wider college community
APPLICATION PROCESS
To apply:
All application materials for the KHF Fellowship 2024-2025 must be submitted via email to Eileen A Shimota, Assistant Director, at shimota@stolaf.edu by Wednesday, November 1, 2023. Please list "KHF Fellowship" in the subject line.
1-2 page cover letter with the proposed dates of residence and a brief personal narrative about the applicant's background and how it relates to the proposed project.
An updated curriculum vitae, including information about language competence relevant to the research project.
A 3-5 page description of the research project, including plans for the use of library resources and a timetable for the completion of the project. Attach a bibliography.
Two letters of recommendation sent directly to Eileen Shimota from the recommender.
If available and appropriate, a brief list of relevant writings by the applicant submitted electronically by links or attachments.
Current KHF Fellowship recipient: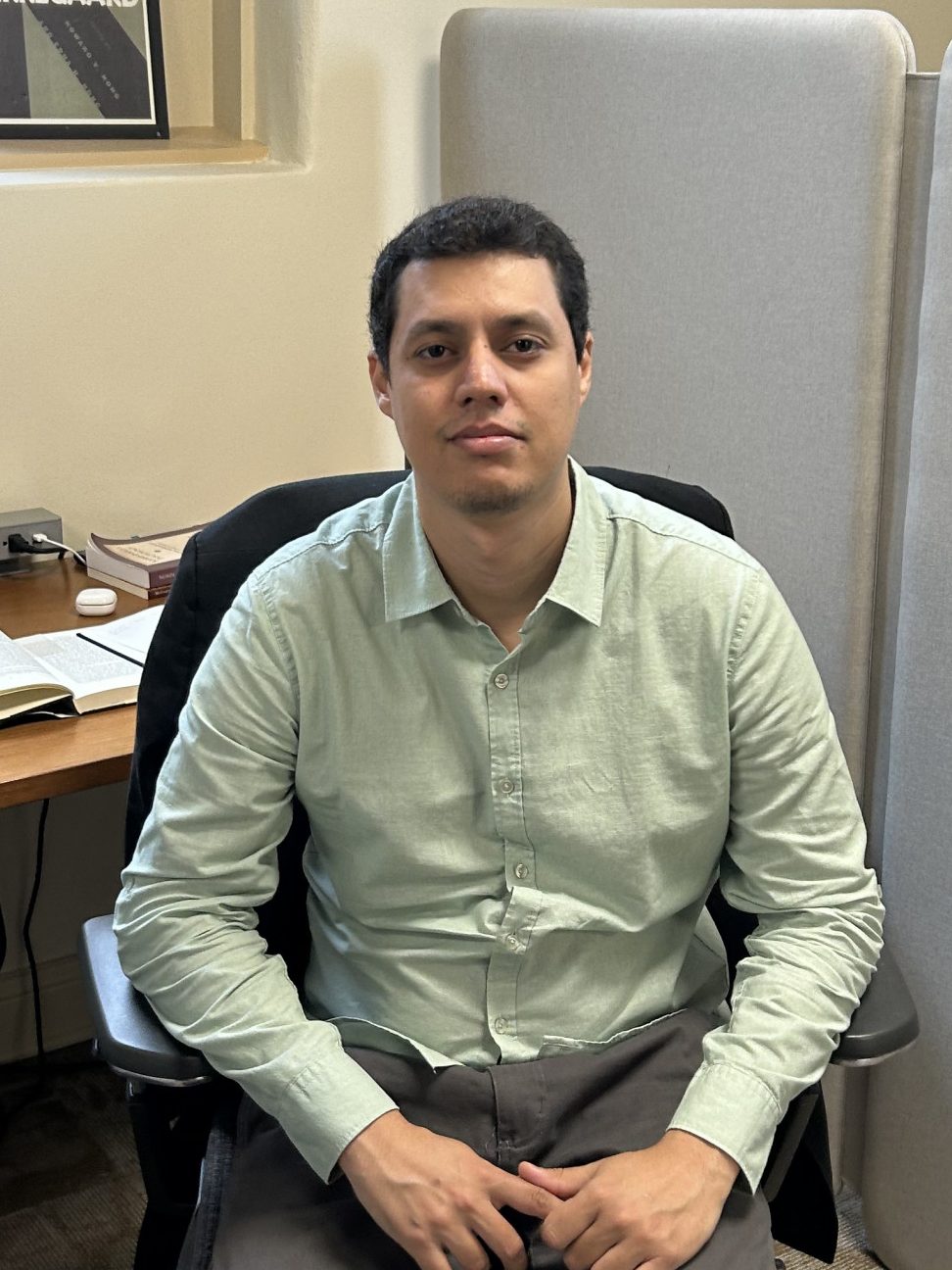 Meet Presley Martins, a Kierkegaard enthusiast from Passo Quatro, Brazil. Through the KHF Fellowship, Presley will live in Northfield and reside in the Library from September to August 2024. In his year on campus, Presley is hard at work researching the relationship between faith, love, and hope in Kierkegaard's writing. He feels that in order to fully understand faith, love, and hope we must understand the three in relation to each other.
Martins loves the opportunity to connect with other scholars and students interested in discovering more about Kierkegaard. One of our new scholar's favorite things about his residency at the Kierkegaard Library is having the exciting ability to work with all of the resources the library provides, including the HKL Rare Book Room. The hundreds of texts and materials hosted here are rare or fragile, and require a climate-controlled environment. Included in the Rare Book Room are hundreds of books published during Kierkegaard's lifetime (pre-1856), including first editions of his own texts. Contact shimota@stolaf.edu if you would like to visit the Rare Book Room.
Former KHF Fellowship Recipients:
All Kierkegaard House Foundation Fellows since the year 2004 can be found in the following
expandable list.
Presley Martins (9/1/2023-8/31/2024), Brazil
Troy Welling Smith (2021-2022), USA
Charles Djordjevic (2019 – 2020), USA
Lucas Piccinin Lazzaretti (2018-2019), Brazil
Andres Albertsen (9/1/2017 – 8/31/2018), Argentina
Claus Juel Henriksen (6/1/2017 – 12/31/2017), Denmark
Nassim Bravo Jord

án (9/1/2016 – 8/31/2017), Mexico

Luisa Fernanda Rojas Gil (

9/1/2016 – 8/31/2017

), Columbia

Nigel Hatton (5/1/16 – 8/31/16), USA
 Martijn Boven (9/1/15 – 2/2016), The Netherlands
Will Williams (6/1/15 – 7/31/15), USA
Christina Danko (9/1/14 – 5/31/15), USA

Andras Nagy (9/1/14 – 6/1/15), 

Hungary

Silvia Vignati

(9/1/13 – 3/31/14), Italy/Germany/Denmark

Carson Seabourn Webb

(9/1/13-8/31/13), USA

Deidre Green

(3/1/13-8/31/13), USA

David Lappano

(3/1/13-8/31/13),  Canada/UK

Carl Hughes

(9/2/12-8/31/13), USA

Michael Tilley

(9/1/11/-8/1/12), USA

Irina Kruchinina

(7/1/12 – 2/28/13), Russia

Adam Buben

(7/1/11 – 7 /31/12), USA

Peder Jothen

(1/1/11-6/30/11), USA

Wojtek Kaftanski

(1/1/11 -6/30/11), Poland

Varughese John 

(5/1/10-4/30/11), India

Richard Purkarthofer

(1/11/10-12/31/10), Austria, Germany, Denmark

Antony Aumann

 (7/1/09 – 6/30/10), USA

Jamie Turnbull

(1/1/09 – 12/31/09), UK

Simon Podmore

 (2/1/08 -1/15/09), UK

Tamara Marks

(9/1/07-7/31/08), USA

Patrick Stokes

(7/18/07 – 12/18/07), Australia

Soren Landkildehus

(1/7/07 –1/31/08), Denmark, UK

Myron Penner

(1/1/07 – 5/31/07), Canada, UK

John Poling

(9/1/06 –  4/30/07), USA

William McDonald

(7/7/06 – 11/12/06), Australia

Merigala Gabriel

(6/24/06 – 5/31/07), India

Maria Jose Binetti

(5/21/06  –  11/15/06), Argentina

Narve Strand

(5/15/06 – 12/20/06), Norway

Toshi Hachiya

(9/1/05 – 8/31/06), Japan

Roy Sellars

(9/1/05 – 8/31/06),  UK

Almut Furchert

(6/1/05 – 5/15/06), Germany

Leo Stan

(6/1/05 – 6/30/06), Romania, Canada

Oscar Parcero Oubinya

(9/10/04 – 6/19/05), Spain

Dolors Perarnau Vidal (

9/10

/

04 – 6/19/05), Spain

John Lippitt

(9/1/04 – 8/31/05), UK

Patricia Dip

 (5/24/04-9/20/04), Argentina
Prior to this period (1998 – 2003), The Kierkegaard House Foundation provided what was referred to by Howard Hong as "residencies for visiting scholars." This involved providing rooms at the Heath Creek apartments or at the Hongs' home as needed for scholars using the Kierkegaard Library.
In 1999, Howard Hong reported on 9 "residencies" for Kierkegaard scholars. Some were very short-term; some were longer stays. These stays did not involve formal fellowship stipends from the Foundation.