Howard and Edna Hong
Howard and Edna Hong graduated from St. Olaf College in 1934 and 1938 respectively. Howard earned a Ph.D. from the University of Minnesota in 1938 and was on the faculty of St. Olaf College, Department of Philosophy, for 40 years formally retiring in 1978. Together the Hongs have advised and supported generations of students.
From the late 1930's on, the Hongs developed a passionate interest in the works of Søren Kierkegaard. This interest grew over the years. After Howard's retirement, the Hongs devoted themselves to the task of providing a new English translation of Kierkegaard's writings.
In order to understand and translate Kierkegaard, it was essential to become richly acquainted with the works which informed Kierkegaard's thought. In the course of their translation efforts, the Hongs collected an enormous body of literature which includes writings from Kierkegaard's contemporaries and the thinkers who influenced him as well as interpretive studies about Kierkegaard. Their private collection was donated to St. Olaf College in 1976 as the foundation of the present Howard V. and Edna H. Kierkegaard Library.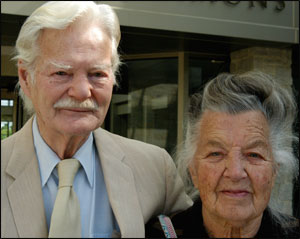 The Hongs' first large-scale Kierkegaard project was the seven-volume Søren Kierkegaard's Journals and Papers. In 1968, the Hongs won the National Book Award for their translation of Volume 1 of this set. Howard and Edna translated Kierkegaard's Writings, the 26-volume edition of the complete works, completed in 2000.
Howard and Edna Hong received honors and awards during the course of their work including Knight of the Order of Dannebrog in Denmark in 1978. In 1992, Howard received an honorary D.Th. degree from the University of Copenhagen.
Edna received the Wittenberg Award in 1993 from the Luther Institute in Washington, D.C. for her outstanding service to church and society. The Hongs were the first recipients of the Minnesota Humanities Commission's annual Public Lecture Award. Edna was a prolific author who was highly regarded for her poetic and insightful novels, religious writings, historical fiction, and children's books.
The obituaries for Howard Hong and Edna Hong can be found on their respective links. A transcript of Jamie Lorenzen's eulogy delivered at the memorial service for Howard Hong can be read online by clicking on the following: From the Interesting to the Simple.
Relevant Articles:
"Kierkegaard in America: An Interview with Howard and Edna Hong"
By: Bo Elbrønd-Bek, SCANDINAVIAN STUDIES. Vol. 68, No. 1 (Winter 1996), pp. 76-97
"The Hong Kierkegaard Library: A Research Collection at St. Olaf College"
By: Juliet Rumble, SCANDINAVIAN STUDIES. Vol. 79, No. 3 Fall 2007), pp. 253-274