UPCOMING EVENTS

Please join us……
– Professor of Philosophy Patrick Stokes, Deakin University, Melbourne, Australia –
Title: "To Eternity by Telegram: Time and Judgement in The Sickness unto Death"
 —   Tuesday, September 29th, 7 pm  —

Professor Nigel Hatton, associate professor of literature at the University of California, Merced
Title: "Kierkegaard and the Ethics of Advocating on Behalf of Others."
—  Thursday, October 22nd, 7 pm —
link: forthcoming
after the event, the recorded version can be searched at:
Each event is part of the Poul Lubcke Memorial Lecture Series…
past EVENTS
Because of COVID-19, the Hong Kierkegaard Library was closed for summer 2020. To continue the summer tradition of a scholarly community, we hosted the "Poul Lübcke Summer Lecture Series." Recordings for the various talks can be found on this page late September.
The Utech Seminar: "Kierkegaard: Writing a Life" was held on July 9 & 10th. The recording for this talk will also be posted in late September. Over the course of two lectures Dr. Clare Carlisle discussed the intimate connection between life and writing; Kierkegaard's relationship to writing; and her own experience writing Kierkegaard's life.
Watch the  Julia Watkin Memorial Lecture, Spring 2020, May 14th, 7 pm
Title: "Kierkegaard's Critique of Nationalism Reconsidered" delivered by Thomas J. Millay, a Lecturer in the Religion Department at Baylor University, Senior Research Fellow at the Hong Kierkegaard Library, St. Olaf College, and the author of You Must Change Your Life: Søren Kierkegaard's Philosophy of Reading, forthcoming from Cascade Press.
View our archive of past lectures
Antony Aumann
Carl Hughes
Jamie Lorentzen
Paul Houe
David Lappano
Professor Patrick Stokes
Professor Anthony Rudd
Professor Vincent McCarthy
Professor Sergia Hay
REFLECTIONS ON PREVIOUS SUMMER PROGRAMS
Summer 2019
This summer, we had the privilege of hosting a wide range of scholars, from undergraduate students to seasoned veterans of our library's halls. Although each of these scholars came from different corners of the world, they shared a common passion for  Søren Kierkegaard, the great Danish existentialist. Janaki Challa, a graduate of New York University ('14), spent her time at our library exploring the artistic and literary uses of Kierkegaard in popular culture… read more
 and is currently working on a book of creative essays dealing with anxiety, coming of age, and Kierkegaard. Barney Riggs received his BA in Philosophy at the University of West England, his MA from the University of Copenhagen, and used his time at the Library to further his work on his PhD by studying Kierkegaard's concept of busyness.
The scholars at the Library also gave seminars on their research, such as the case with Thomas J. Gilbert's series of remarkable lectures on the Acoustical Illusion. Some of these seminars became ethical explorations, such as with Patrick Derdahl's segment on Redoublings and Reduplications, while others delved into the modern-day implications of Kierkegaard's writings, which we heard in Clay Snell's Kierkegaard's Thought on Education and Teaching. Thank you to everyone who participated for a wonderful summer!
Whether you are a current student, alum, or experienced scholar, the Kierkegaard Library has a place for you. Drop by for a visit, or check out our website to learn more!
PAST EVENTS

2019-20 Academic Year
Full Schedule of Events –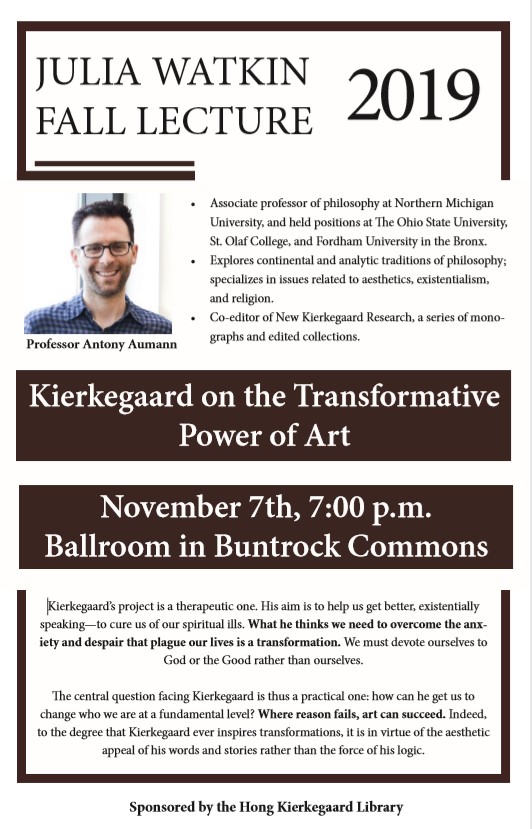 FALL JULIA WATKIN MEMORIAL LECTURE – November 7, 2019:
The Kierkegaard Library is proud to announce our speaker for the Julia Watkins Lecture this fall. An author with his eyes set on Kierkegaard and Nietzsche, Antony Aumann is an associate professor of philosophy at Northern Michigan University and previously taught at St. Olaf College.
Aumann's research explores both the continental and analytic traditions of philosophy, and he specializes in issues related to aesthetics, existentialism, and religion. Aumann is a recipient of Northern Michigan University's 2017 Excellence in Teaching Award and the co-editor of New Kierkegaard Research, series of monographs and edited collections.
2018-19 Academic Year
LEARN ABOUT A CAREER IN WRITING – Tuesday – May 7th, 2019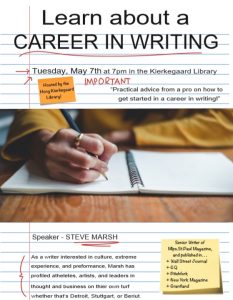 As a writer interested in culture, extreme experience, and performance, Steve Marsh will reflect on his background as a Senior Writer of the Mlps.St.Paul Magazine and offer students practical advice on how to get started in a career in writing.
He has been published in the Wall Street Journal, GQ, Pitchfork, New York Magazine, and Grantland for his articles on athletes, artists, and leaders in thought and business on their own turf, whether that's Detroit, Stuttgart, or Beriut.
SPRING JULIA WATKINS MEMORIAL LECTURE – Friday – May 17th, 2019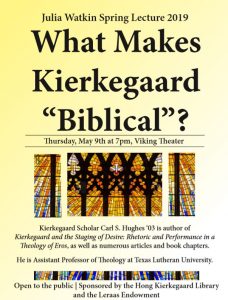 St. Olaf alum Carl S. Hughes from the class of 2003 will lecture on the topic of "What Makes Kierkegaard 'Biblical?'" in Viking Theater on the 17th of May.
As an established Kierkegaard scholar, Professor Hughes will offer attendees a unique perspective on the nature of the great Danish philosopher. He has published several works on Kierkegaard, including Kierkegaard and the Staging of Desire, and he currently teaches at Texas Lutheran University.
All are welcome to attend.
FALL JULIA WATKINS MEMORIAL LECTURE –  November 8th, 2018:
A senior research fellow of the Hong Kierkegaard Library, Jamie Lorentzen will lead the Julia Watkins Lecture this Fall on the topic Crashing into One's Self: Decisive Encounters with the Wisdom of Kierkegaard & the Value of First Person Responses. Attend for an enlightening evening of Kierkegaardian conversations! The Lecture will start at 7 pm in St. Olaf's Viking Theater.
CASUAL KIERKEGAARD CONVERSATIONS – November 1st, 2018:
The Casual Kierkegaard Conversations return! Students with an interest in Kierkegaard are encouraged to attend this spooktacular close reading of Kierkegaard's At a Graveside this Thursday from 11:30 – 12:30 pm in the Library lounge. No prior knowledge required. Snacks will be provided!
PHILOSOPHY OVER PIZZA – October 25th, 2018:
The Hong Kierkegaard Library is hosting a Thursday night pizza event for all St. Olaf students interested in philosophy. Over several boxes of pizza, students will have the opportunity to discuss world matters and philisophical affairs.
WHAT IS YOUR "WHY"? – September 20th, 2018: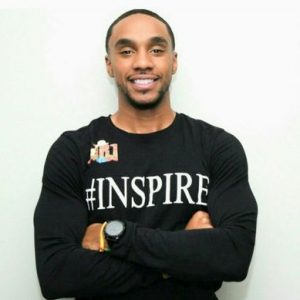 "Why am I here?" is one of the biggest questions we can ask. On September 20th at 7 pm in CAD 305, Antonio Jennings will speak on the importance of service and how to serve within your passion to get to your "why? This Ole Alumn  lives to inspire others to exceed their own expectations.
Antonio Jennings is the founder of the Each1Reach1 foundation and works as a motivational speaker, minister, community activist, and author. For more information, visit Antonio Jennings' official webpage.
WELCOME RECEPTION – September 18th, 2018:

Tuesday, September 18th held an afternoon reception of engaging conversation and delightful company with the 2018-2019 International Visiting Scholars in the Norway Room in Buntrock Commons!
For more information on the Visiting Scholar's program and participants, view the official International Visiting Scholars webpage on the Hong Kierkegaard Library website.
WELCOME BACK OLES! – September 6th, 2018:
With the start of a new academic year upon us, let us all reflect on the St Olaf Mission Statement:
St. Olaf College challenges students to excel in the liberal arts, examine faith and values, and explore meaningful vocation in an inclusive, globally engaged community nourished by Lutheran tradition.
We wish you well with all of your academic endeavors!
        – HKL
A REFLECTION ON THE EIGHTH INTERNATIONAL KIERKEGAARD CONFERENCE 
Held June 13 – 17, 2018 at St. Olaf College, sponsored by the Hong Kierkegaard Library
This slideshow requires JavaScript.
The sun disappears beneath the horizon line, enshrouding the St. Olaf Hill in darkness, marking an end and a beginning. For some, in the quaint town of Northfield, it is merely the end of a seemingly-ordinary Friday; for others, however, it is the end of a summer full of research, friendship, and growth. Since the beginning of June of this year, scholars from across the globe have traveled numerous miles to join a vibrant, intellectual, and caring community of Kierkegaard Scholars. Whether they are here simply for the 8th International Kierkegaard Conference or for the entirety of the summer, our scholars have found a home away from home, a community otherwise obscured in the wake of all other academia.
The summer started off with the International Kierkegaard Conference where both renowned and aspiring scholars shared papers on the topic, "The Wisdom of Kierkegaard: What Existential Lessons have you Learned from Him?" After the five-day conference came to an end, the 150 scholars dropped to a smaller number, a little over 50, 13 of which were Young Scholars. While the remaining Kierkegaardians conducted their research over the remainder of the summer, the Young Kierkegaard Scholars program was a two-week series of seminars that allowed for undergraduate students from across the nation to research with Professor Marino and either prepare for graduate school or buff-up their CV.
"Whether they are here simply for the 8th International Kierkegaard Conference or for the entirety of the summer, our scholars have found a home away from home. . ."
In the midst of this commotion, every Tuesday and Thursday the Hong Kierkegaard Library hosted summer seminars in which the Summer Scholars were able to present and answer questions about their questions. Whether it was a part of their dissertation or an independent study, this provided a comfortable space for them to talk about their meaningful work. For example, one stupendous seminar lecture was given by the venerable Dr. Richard Purkarthofer who spoke about the Hong Kierkegaard Library Rare Book Room and the various book bindings of our pre-1856 collections.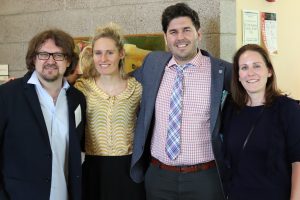 Overall, this was rather an eventful summer for the Library. There were many blissful highlights that we were able to share with our Kierkegaardian family: the opening dinner for the conference where College President David Anderson made the commencement speech, and the publication of Professor Marino's new book, The Existentialist's Survival Guide. As this fruitful summer comes to an end, we have been glad to create many memories with old and new friends alike.
– Mattias Kostov, HKL student worker