SØREN KIERKEGAARD NEWSLETTER
The library also publishes the Søren Kierkegaard Newsletter, an independent publication
started by Robert Perkins in 1978. Issues are produced twice a year and include articles on subjects of interest to Kierkegaard studies and book reviews of recent Kierkegaard-related publications.
The newsletter is now produced only in an electronic format and may be downloaded (pdf). Announcements of new issues are sent to subscribers via email. Printed copies will be mailed upon special request. Current and past issues are posted on our website.
For information on contributions, contact Gordon Marino.
KIERKEGAARD'S WRITINGS
The translation and publication of Kierkegaard's Writings by Howard and Edna Hong was centered in the Library for a number of years. This effort was completed in May of 2000 with the publication of Cumulative Index to Kierkegaard's Writings, volume XXVI. To obtain copies of Kiekegaard's Writings, please contact the St. Olaf Bookstore or Princeton .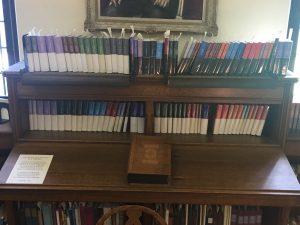 THE REED
The Reed: An Interdisciplinary Journal of Existentialism "tries to include various takes on Existentialism (creative writing, literary criticism, visual art, psychological analysis, philosophical and religious discourse) while maintaining a cohesive and intellectual tone."
If you are an undergraduate interested in submitting a work for publication to The Reed, please send an email attachment to thereed@stolaf.edu. Submissions of writing or artwork from students at any undergraduate institution are welcome.
NEW ACQUISITIONS
The library is continually adding publications to the collection. We encourage the donation of books and articles on Kierkegaard and related thinkers to add to our collections and to share with other libraries and scholars. Gifts are so indicated with a special donor bookplate. View a list of the most recent acquisitions.