Led by Jon Naito, Associate Professor of English, and Mina Kinukawa, Scenic Designer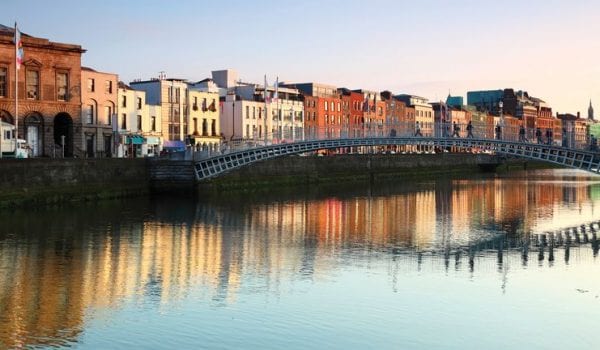 On this custom-designed program we'll circle Ireland and learn about the cultures and history that have shaped Irish writing, and, most importantly, visit many of the places that have made Ireland fertile ground for writers and other artists.
We will walk the streets of James Joyce's Dublin while reflecting on the places and people and sights and sounds that he immortalized. We will visit the tower where Yeats composed some of his most famous poems—and which became an emblem of his artistic vision—and Sligo, where he spent his summers as child and came to rest many decades later.
In addition, as we leave the Republic of Ireland for Northern Ireland, we will learn about the Troubles and the work of the most recent Irish writer to be awarded the Nobel Prize, Seamus Heaney.
As we follow in the footsteps of these and other writers, we will also take time to learn about the fascinating history of Ireland and experience several of its many landscapes. Our itinerary will include opportunities to explore Dublin, Belfast, and Galway, as well as visits to the Hill of Tara and Newgrange in County Meath and the Aran Islands and the Cliffs of Moher in County Clare.
This tour is now full. Please add your name to the waitlist and we'll get in touch right away if a space opens up.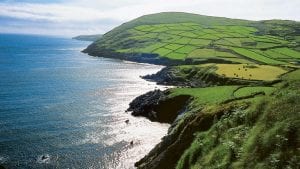 Jaw-dropping natural landscapes
You'll enjoy green rolling hills, rugged seaside cliffs, windswept rock formations, and more.
Lively cities
Known for its stunning natural landscapes, Ireland also offers a pleasing mix of the historic and modern in its cities.
Music and festivals
The Irish are known worldwide for their many events and festivals along the year, especially in summer.
History
We'll visit castles, forts, and archaeological sites dating back thousands of years.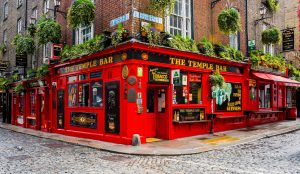 Guinness and Whiskey
There are few better ways to get to know a place than through it's food and drink. We'll not only imbibe, we'll learn about important cultural traditions surrounding famous Irish drinks.
The Locals
The Irish people truly make Ireland special! As a visitor to their shores, you'll experience their fun sense of humor and warm hospitality.
adapted from nordicvisitor.com
Jonathan Naito is as an Associate Professor and Chair of the English Department. Born and raised in the Detroit area, he received his B.A. from Reed College and his Ph.D. from UCLA. His research and teaching focuses on British, Irish, and postcolonial literature since 1900. He is particularly interested in the work of Samuel Beckett, and he has delivered talks on Beckett in Ireland, South Africa, and Japan. At St. Olaf, he has led the off-campus Theater in London program and he helped to create the Race Matters learning community.
Mina Kinukawa is a scenic designer who was born and raised in Tokyo. She worked for theaters in Portland, Los Angeles, San Diego, Denver, Detroit, and Milan, Italy before moving to Minnesota. In Minnesota, she has worked with theaters such as The Jungle, Park Square, Mu Performing Arts, Full Circle Theater, Steppingstone Theatre, Penumbra Theatre, Pangea World Theater, Stages Theatre company, and Interact Center. She also worked on several film productions while living in Los Angeles. She received her BFA in Theatre Design and Production from University of Michigan, Ann Arbor, and her MFA in Scenic Design from the University of California, San Diego.
The tour starts in Dublin and circles around Ireland, ending in Shannon. You can view — and download or print, if you wish — the most current full-text itinerary or condensed, easy-to-read itinerary.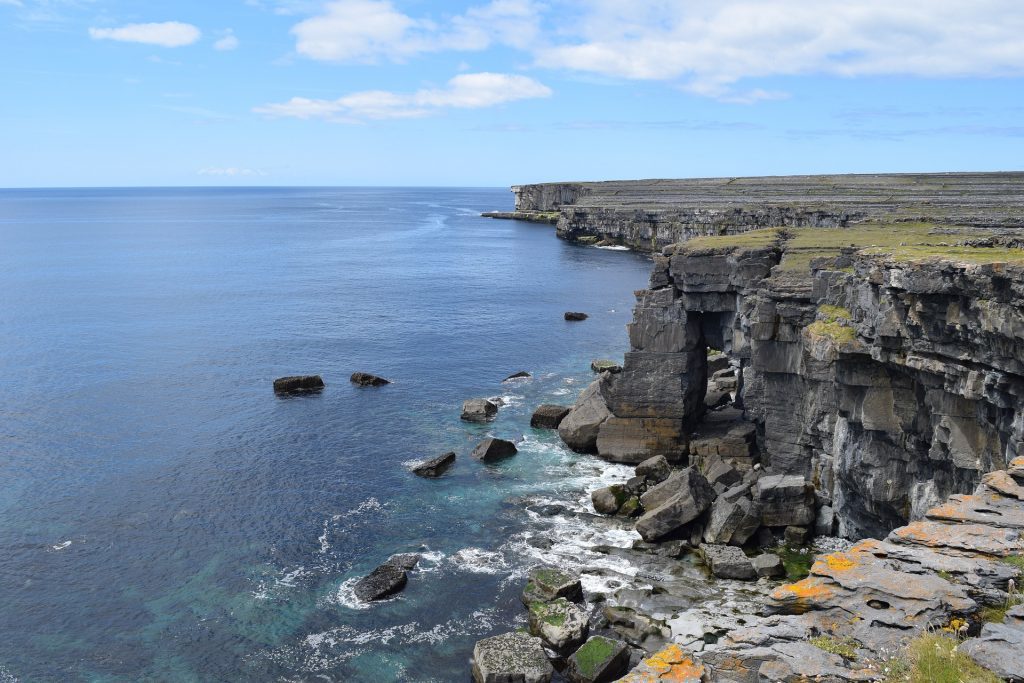 This program requires you to be able to walk a great deal each day, at a moderate pace. Excursions include walking on unpaved surfaces, uneven pavement, stairs, and hills, and a great deal of standing. Good balance is required. The program is not recommended for travelers with difficulties walking. For all excursions and transfers where coaches are involved, travelers have to board coaches with 3-6 steep steps.
Walking tours are at least 1½ to 2 hours, often over uneven pavement or on unpaved paths.
Many cities/villages have small sidewalks, uneven surfaces and rail tracks.
The program is not appropriate for very slow walkers or travelers who use canes or walkers or who need any wheelchair assistance.
You should plan on seeing your family physician or a travel doctor at least four to six weeks prior to departure, preferably earlier, to talk about routine vaccinations. For more information on travel health, visit cdc.gov or who.int.
UPDATED COVID INFORMATION
St. Olaf recommends you be fully vaccinated against COVID-19, including any recommended boosters for your age or health group, before departure. You should plan on seeing your family physician or a travel doctor at least four to six weeks prior to departure, preferably earlier, to talk about recommended vaccinations for this destination. For more information on travel health, visit cdc.gov or who.int.
From 6 March 2022, all COVID-19 travel restrictions are removed [by the Irish government]. You no longer need to complete a passenger locator form. You also no longer need proof of vaccination or recovery, or a COVID-19 test. This information is certainly subject to change before our departure. We will keep you up-to-date on changing COVID-19 requirements.
Masks may continue to be recommended or required in certain spaces, so you should be sure to pack a few quality masks like N95 or KN95.
The travel insurance included with your program fee covers illness overseas, including covid. You can read more, including the full FAQ and a Summary document, on our Travel Insurance page.
Inclusions and exclusions vary from program to program. Please read the following information carefully.
The program fee is $4,898 per person and includes discussions led by Jon Naito and assistance by Mina Kinukawa • a full-time tour manager/national guide • accommodations, meals, entrance fees, and activities listed in itinerary • private vehicle transportation, except airport transfers on arrival and departure in Ireland • guide audio headset throughout the program • tips/gratuities to drivers, guides, and at group meals • some limited medical coverage while overseas. The supplement for single occupancy is $306.
Exclusions: Airfare to and from Ireland is not included. Participants are solely responsible for all expenses not specifically included in the program fee. Examples of excluded expenses are: Airfare between your home town and Ireland • Airport transfers in the US and Ireland • Any passport fees • Any recommended immunizations or vaccinations • Baggage insurance • Trip cancellation insurance above $2,000 lifetime coverage • Housekeeping tips • Porter tips, if you choose to engage them at hotels • Laundry • Dry cleaning • Phone charges • Room service or other items of a personal nature • Expenses incurred during free time or non-group activities • Meals not specifically included on program itinerary • Items not specifically listed above as included.
A $500 per person deposit is required upon registration. See the full Payment and Refund Schedule below.
Because of ongoing uncertainty surrounding COVID-19, it is possible that a program could be postponed. In such a case, while we will strive to make full refunds when we can, there are certain expenses that may not be refunded to either St. Olaf or the participant.
This schedule is based on payments St. Olaf College must make to program vendors to guarantee group rates. We highly recommend that you purchase additional trip cancellation insurance at the time of registration to recover your payments should you need to withdraw from the program.
Deposit due:                          $500 upon registration
Refund if you cancel:          Full refund ($500) until October 14, 2022. If the deposit is made after October 14, 2022, there is no refund.
Interim payment due:        $2,000 by October 15, 2022
Refund if you cancel:          $1,000 until April 30, 2023
Final payment due:             May 1, 2023
Refund if you cancel:          None, unless the program is full and your place can be resold
Cancellations must be in writing.
Fill out the Traveler Information Form
Dive into the Resource List and Trip Information Sheet.
Read the Terms & Conditions and Release & Waiver.
Review the latest information on recommended immunizations, visit the Centers for Disease Control (CDC).
Check your passport: no entry visa is required for Ireland or the UK. However, you should look at your passport now and ensure that it has at least 6 months' validity past the program return date. Should you need to renew, visit the U.S. Department of State for instructions.
Start to Prepare for your adventure by checking out a variety of resources, including frequently asked questions, general health information, included travel insurance, safety overview, and more.
Purchase your flights — this program is an official GO. ​We strongly recommend you consider adding trip cancellation insurance to that purchase​, and be sure to check the fine print for the cancellation scenarios that are covered with that premium​. Here are some additional notes:
— The program starts and ends in different cities.​
— You should time your travel to arrive in Dublin by mid-afternoon on Thursday, July 13, 2023. We will start the program with a welcome and introductions at the hotel around 5:30/6:00 pm, followed by a group dinner.
— You can depart from Shannon Airport any time on Monday, July 24.
— If you would like to extend your stay either pre- or post-program, we'll be happy to ask the tour operator for additional nights at the group hotel. Just let us know.
See also our tips on Booking Your Flights.