Led by Dave Van Wylen '80, Professor Emeritus of Biology, St. Olaf, and Principal, Office of Possibilities, Hope College, and Pat Van Wylen '80, Retired Visiting Scholar Coordinator, St. Olaf
We'll start in Barcelona and explore this unique and vibrant. Then we head to the smaller town of Girona for a calmer stay while we take in mountains and the wine harvest. Next we'll fly west (saving a 9-10 hour drive) to experience Basque country, with its incredible scenery and excellent food. We'll stay in the charming village of Hondarribia before moving to San Sebastian, where we'll dive into a culture that revolves around good eating. We'll finish in Balboa, home of the iconic Guggenheim Museum.
We've built in multiple opportunities to be active, with hiking, biking, kayaking, and canoeing. (As we finalize the arrangements throughout the next year, we may be able to add in some horseback riding.)  We'll also include all of study travel's traditional learning components, exploring Spain's cultures, history, art, architecture, and local food and drink, including an experiential activity or two, such as a cooking class. As always, all activities are optional, and as per usual, we'll deliberately schedule free chunks of time so that you can explore your own interests, such as attending a concert, soccer game, boat ride, etc.
Keeping in tune with Mediterranean culture, where meals take place much later in the day than we're used to, we will include several group lunches, and keep most dinners on your own, so that you can decide how much and how late to eat.
This tour is now full. We encourage you to add your name to the waitlist.
This tour was custom designed to combine hiking, biking, and kayaking with a look at Northern Spain's culture, history, art, architecture, local food and drink, and more. It starts with several nights in Barcelona and ends in Bilbao. You can view, download, and/or print the current itinerary here.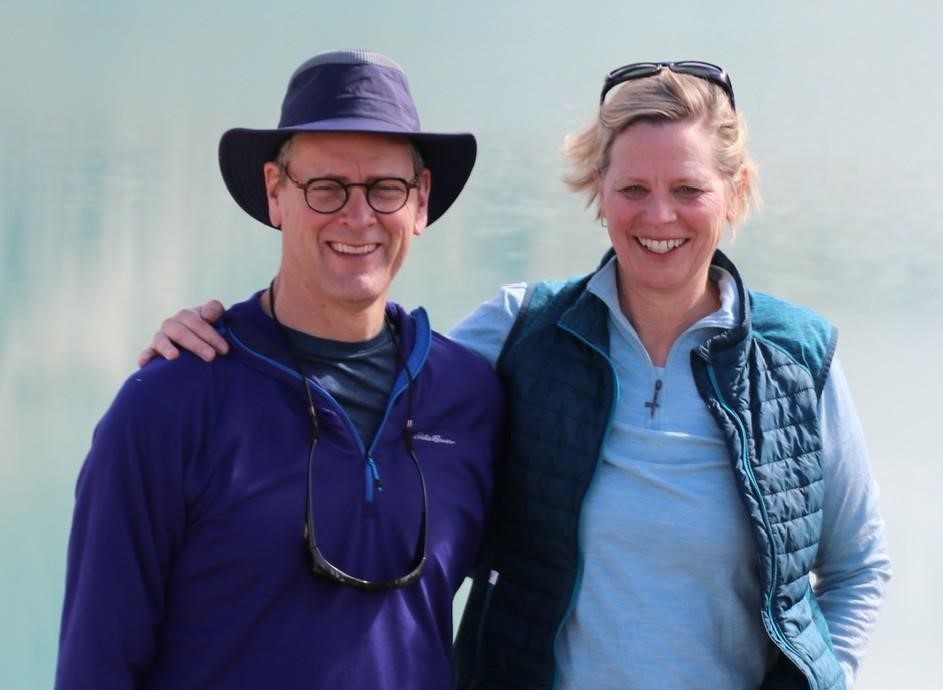 Dave and Pat Van Wylen are veteran group travel leaders, having led both student and adult study travel tours. Their first venture with adults was in 2015 when they led a sustainability-themed activity-based (mostly biking) tour in the Netherlands. More recently, they led tours in Patagonia in 2022 and in New Zealand in 2017 and 2019. With students, they have led semester abroad tours in Asia (1998), the Middle East (2008), and Australia (2013). Dave has also taught three January interims in Peru (Peruvian Medical Experience), six interims of Cardiac Surgery and Research at Emory University in Atlanta, plus a summer Tanzania Global Health experience. Pat assisted on most of these interims as well as on an interim Health Care and Culture course in Hawaii/Micronesia.
Dave (Biology) and Pat (International and Off-Campus Studies) worked for 21 years at St. Olaf before moving to Holland, Michigan, where Dave initially served as the Dean for Natural and Applied Sciences at Hope College and now directs Hope's Office of Possibilities. Pat coordinated Hope College adult travel trips and now runs her own business, A Little Assist, working with seniors.
Dave and Pat graduated from St. Olaf College. Dave later received his Ph.D. in physiology from the University of Michigan (Go Blue) and Pat completed master's degrees from the University of Michigan and the University of Virginia in health administration and exercise physiology. They are delighted to lead another learning and activity-rich St. Olaf adult study travel tour.
Read more about Dave and Pat leading and learning abroad
September's weather in northern Spain is ideal for exploring.
The scenery is spectacular, and we'll be out and about, soaking it up. The area is a hiker's heaven, with a wide variety of trails.
Learning about the distinct Catalan culture will enrich your perspective of Spain.
San Sebastián is considered a food capital, and throughout the region you can indulge in fresh seafood, local cheeses, and of course, pintxos, northern Spain's version of tapas.
The art and architecture, from Bilbao's Guggenheim to everything Gaudí in Barcelona, is unrivalled.
We're collaborating with our long-time tour operator, Venture Forth Iberia, headed by St. Olaf alumna Annette Johnson '89. Annette knows St. Olaf, and she knows Spain, making her the ideal partner to mold and guide this experience.
This tour is designed to be more active than the average study travel trip. The times of higher activity will be balanced by down times as well. Activities are encouraged, but you can choose to spend your time alternatively as desired.
To minimally partake in this tour, you should be capable of walking a minimum of one mile at a time over uneven terrain and up to five miles per day, of climbing stairs that may not have handrails, of keeping pace with an active group of travelers on long days of traveling, of dealing with the emotional highs and lows that can occur when experiencing a different culture, and of traveling with a group for several hours each day.
If you want to partake of all included activities, you should be able to hike several kilometers at one stretch, canoe and kayak, and ride a bicycle in unfamiliar territory. You always have the option of skipping a group activity and engaging in an alternative activity on your own.
Hotels will be tourist class (typically three or four star) with private baths and air conditioning. Wi-fi and laundry will likely be available at all locations.
Be sure to check the average temperatures and rainfall at our destinations for September. A couple of recommended web sites are weather.com or weatherbase.com. But keep in mind that you'll be looking at averages and that temperatures could easily fluctuate by 5-10 degrees (or more) warmer or cooler. We recommend bringing light layers that can be added or removed as needed.
You should plan on seeing your family physician or a travel doctor at least four to six weeks prior to departure, preferably earlier, to talk about recommended vaccinations for this destination. For more information on travel health, visit cdc.gov or who.int.
UPDATED COVID INFORMATION
U.S. citizens can travel from the United States to Spain if they show that they are vaccinated against COVID-19, or have a recovery certificate , or show a negative diagnostic test result (NAAT or RAT) performed either within 72hours prior to departure to Spain for a NAAT (e.g. – PCR test) or within 24 hours prior to departure to Spain for a RAT (e.g. – rapid antigen test). (Last updated JUNE 13, 2022.) Masks may continue to be recommended or required in certain spaces, so you should be sure to pack a few quality masks like N95 or KN95.
The travel insurance included in the trip price covers illness overseas, including covid. You can read more, including the full FAQ and a Summary document, on our Travel Insurance page.
Inclusions and exclusions vary from tour to tour. Please read the following information carefully.
Inclusions: The trip price is $7,494 per person. Based on double occupancy, it includes discussions led by Dave and Pat Van Wylen, assistance by a dedicated tour manager/national guide, internal flight from Barcelona to San Sebastian, audio system for guides and each participant,
accommodations, breakfast daily and group meals as listed on the itinerary, admissions for group activities (or equivalent substitutions) as listed on the itinerary, ground transportation during the tour, gratuities to group meal servers, guides, and drivers, and some limited medical coverage while overseas. The supplement for single occupancy is $950.
Exclusions: Airfare to and from Spain is not included. Participants are solely responsible for all expenses not specifically included in the trip price. Examples of excluded expenses are: airfare between your home town and Spain, airport transfers in your home town, any passport fees, any recommended immunizations or vaccinations, baggage insurance, trip cancellation insurance above $2,000 lifetime coverage, beverages at group meals, laundry, dry cleaning, phone charges, room service or other items of a personal nature, expenses incurred during free time or non-group activities, lunch and dinner, unless specifically included on program itinerary.
We have deliberately included a lot of physically active and experiential activities in this program. Such experiences that go beyond the usual city or museum tour and that require oversight and support add up. Our tour operator has carefully chosen personally curated hotels and restaurants in order to keep expenses down. I think you'll find this program is a great value for the robust experience that you'll have.
This schedule is based on payments St. Olaf College must make to vendors to guarantee group rates. We highly recommend that you purchase additional trip cancellation insurance at the time of registration to recover your payments should you need to withdraw from the tour.
Because of ongoing uncertainty surrounding COVID-19, it is possible that a tour could be postponed. In such a case, while we will strive to make full refunds when we can, there are certain expenses that may not be refunded to either St. Olaf or the participant.  
Deposit due:                          $500 upon registration
Refund if you cancel:          Full refund ($500) until January 14, 2023. If you register after January 14, 2023 there is no refund.
Interim payment due:         $2,000 on January 15, 2023
Refund if you cancel:           $1,000 until June 30, 2023
Final payment due:             July 1, 2023
Refund if you cancel:          None, unless the program is full and your place can be resold
Cancellations must be in writing.
Complete the Traveler Information Form
Read the Terms & Conditions and Release & Waiver.
Review the latest information on recommended immunizations: visit the Centers for Disease Control (CDC).
Check your passport: no visa is required for Spain for stays of 90 days or less. However, you should look at your passport now and ensure that it has at least 6 months' validity past the program return date. Should you need to renew, visit the U.S. Department of State for instructions.
Take time to prepare for your adventure by checking out a variety of resources, including frequently asked questions, general health information, included travel insurance, safety overview, and more.
Purchase your flights
: I am delighted to share that
our 2023 Spain 
tour is an official GO. We strongly recommend you consider adding flight cancellation insurance to that purchase, and also reviewing that coverage closely for inclusions and exclusions. Before you get started, you may wish to review our
Booking Your Flights
info for tips and suggestions. Here are some additional notes.
— The program starts and ends in
different cities
.
— You should time your travel to arrive in Barcelona by mid-afternoon on Saturday, September 9. We will start the program with an evening dinner reception at the hotel.
— Y
ou can
 depart Bilbao any time on Saturday, September 23.
— If you decide to arrive early in Barcelona or extend your stay in Bilbao, let me know, and we can request extra nights at the group hotel, if you like. This way, there's a better chance you won't have to move rooms between your additional nights and the night the group tour begins or ends.