Altered Skyline: Brenda Berkman's Thirty-Six Views of One World Trade Center
September 10 – October 15, 2021
Curated by Christina M. Spiker, Visiting Assistant Professor of Art and Art History
How do we process the individual and collective memories of national trauma? How can we frame these difficult histories while navigating a path towards healing and rebuilding? Brenda Berkman's chronological lithographic series leads us through this complex and ambiguous process. Acquired for the Flaten Art Museum's collection through a generous gift from Greg '77 and Lisa Nave Buck '77, and St. Olaf Art and Art History Department members Christie Hawkins and John Saurer, her prints were produced over the course of three years and document the gradual construction of the One World Trade Center in New York City from familiar points around the five boroughs and New Jersey. Berkman '73 served as a fire officer and first responder during the destruction of the World Trade Center on September 11th, 2001. As someone who lost both friends and colleagues on that day, she deftly weaves our collective memory of the Twin Towers and 9/11 with her personal observations of the changing NYC skyline.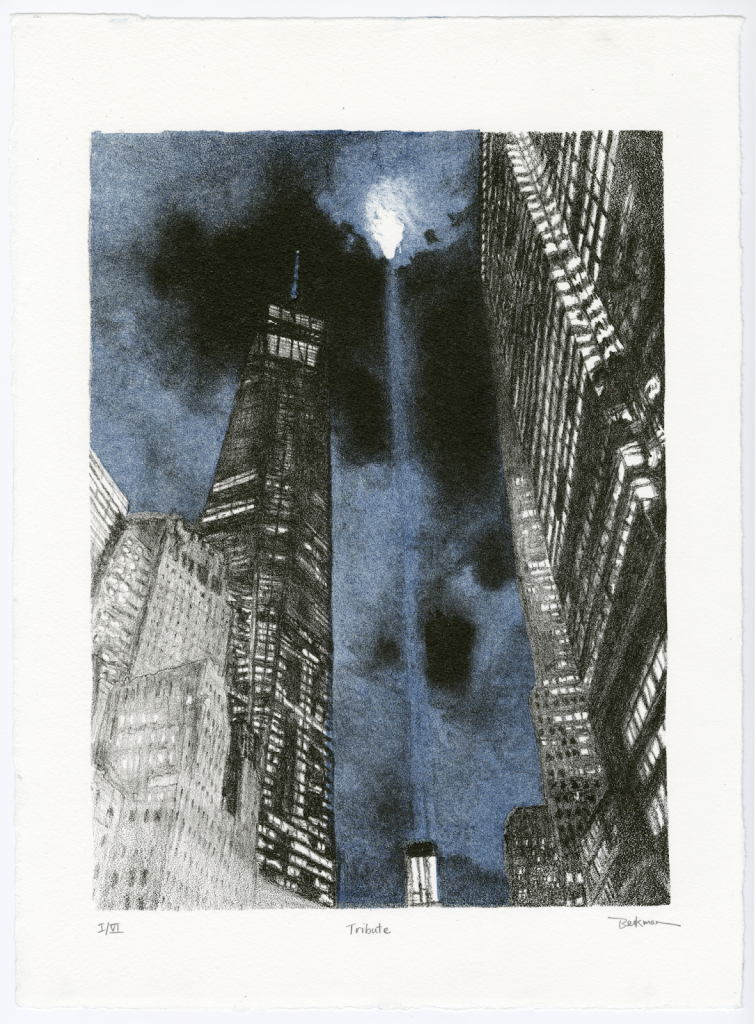 On the 20th anniversary of 9/11, this exhibition frames Berkman's series in relation to her aesthetic influences–Henri Rivière, Katsushika Hokusai, and Utagawa Hiroshige–to consider the role of cultural and architectural iconicity in the landscape. Each artist uses printmaking to navigate the shifting contours of their own environments in New York, Paris, and Tokyo. They share an investment in the way that iconic sites form the backdrop to our daily lives and routines. As we think backwards and forwards through these comparisons, Berkman's series enters into a broader cross-cultural dialogue that explores how we understand change and memory as reflected in our local environment.
View selected works from the exhibition here.
A full-color book about the lithographic series published in 2021, Thirty-six Views of One World Trade Center: Stone Lithographs by Brenda Berkman (ISBN: 978-0-578-95001-3), is available for browsing in the museum's galleries, and can be purchased online.
---
Programming
Please note: masks required for all in-person events.
Community Time Artist's Talk
Thursday, September 16, 11:30 a.m.–12:30 p.m. CST
Join Brenda Berkman '73 in Flaten Art Museum's north gallery for an artist's talk about rebuilding and healing through the creative process. 
Panel Conversation and Public Reception

Friday, September 17
4-5 p.m.
Reflections at the 20th Anniversary of 9/11
| Viking Theater

On-demand streaming available
A conversation with Brenda Berkman '73, artist and former FDNY firefighter; Jan Ramirez, Executive Vice President of Collections & Chief Curator, 9/11 Memorial Museum; John Saurer, Professor of Art and Art History, St. Olaf College; Christina M. Spiker, Visiting Assistant Professor of Art and Art History, St. Olaf College. 
5-7 p.m. Reception with the artist | Flaten Art Museum
---
Click to view Christina M. Spiker's essay Thirty-Six Views of One World Trade Center in Context: The Symbolic Power of Landscape.
---
About the artist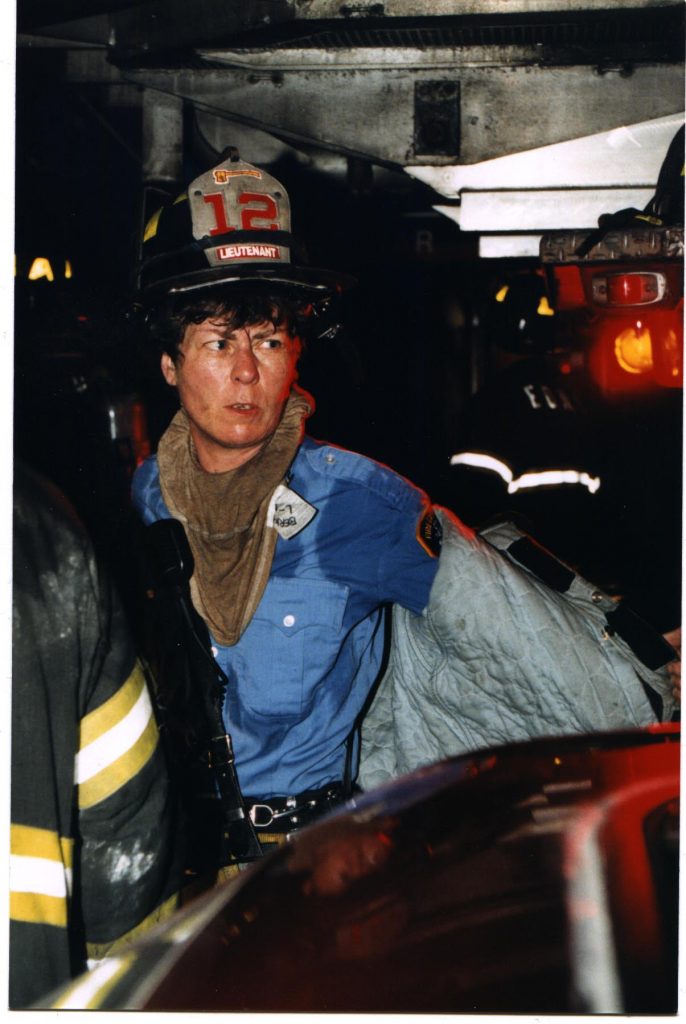 In 1982, Brenda Berkman won her landmark sex discrimination case against the New York City Fire Department (FDNY) and became one of the FDNY's first women firefighters. For 25 years, she served the City as a firefighter and fire officer, rising to the rank of Captain. Berkman was a first responder at the World Trade Center on September 11, 2001. Her career is featured in the PBS documentary Taking the Heat. Berkman continues to mentor girls and young women both in firefighting and other non-traditional work and is also a volunteer tour guide at the 9-11 Memorial. Her fire service career is the subject of the 2021 children's book Send a Girl! authored by Jess Rinker and illustrated by Meg Hunt.
On retiring from the FDNY in 2006, Brenda began to study printmaking at the Art Students League, where she quickly fell in love with stone lithography. Berkman has always been eager to collaborate with other artists. She created a collaborative art project commemorating the tenth anniversary of 9/11 involving 12 other artists. In 2013, she began the series of stone lithographic prints Thirty-six Views of One World Trade Center to commemorate the 15th anniversary of 9/11 and document the rebuilding of lower Manhattan. Drawing and printing hundreds of stone lithograph prints of 36 iconic views of the new One World Trade Center over the course of three years, Berkman's series has been collected by the 9/11 Memorial and Museum, St. Olaf College, and a private collector. View a short video about the 36 Views project and browse her artworks at brendaberkmanartworks.com.
Continuing to put her training in history (B.A. St. Olaf College; M.A. Indiana University) and law (J.D. NYU) to use, Berkman also serves on the Board of Directors of Monumental Women (MW), dedicated to honoring women and people of color in public spaces. On the 100th anniversary of the 19th Amendment on August 26, 2020, she coordinated the unveiling of MW's Women's Rights Pioneers Monument in the midst of the pandemic, the first statue of real women in the 167-year history of Central Park. This past August 26, 2021, Berkman was a co-creator of Monumental Women's Women's Rights History Trail — the first history trail in all five boroughs to focus on historical New York City women's vast and varied contributions to the City and to the world.