February 18–April 8, 2022
Flaten Art Museum

CONTENT NOTICE: This exhibition contains symbols of hate, historical material that describes civilian assassinations, and strong, threatening language. 

About the Exhibition 
Benny Nemer is a Montreal-born, Paris-based artist, diarist, and researcher whose practice mediates emotional encounters with cultural material. In The Making Known, Nemer attends to the ethical questions that arise from the Tetlie Collection of World War II Propaganda Posters. The collection is held by St. Olaf College and includes 147 posters and broadsides that circulated throughout France, Belgium, Luxembourg, Netherlands, Soviet Union and the Channel Islands as the Nazis attempted to pacify, persuade, and terrify occupied populations. The Making Known's central feature is an audio guide of the same name. Utilizing an epistolary format, Nemer addresses letters to Flaten Art Museum director and curator Jane Becker Nelson, Midwest Art Conservation Center paper conservator Dianna Clise, and poet and Jewish Holocaust survivor Paul Celan. The polyvocal audio guide is accompanied by a rich musical score created with St. Olaf's Chamber Singers, directed by Therees Tkach Hibbard. Recorded in March 2021 during Nemer's remote residence with the choir, the score vocalizes the menacing messages of selected broadsides in the Tetlie Collection in French, German, Dutch, and English. While the audio guide can be experienced online anywhere, Nemer's treatment of  Flaten Art Museum's north gallery creates a reflective listening space and a chance to see several recently conserved broadsides. Ethereal mobiles created from paper fragments and carnation petals suggest an alternative future for the broadsides that diverges from archival aspirations to interrupt the trajectory toward deterioration. Floral arrangements refreshed weekly reference official sites of remembrance throughout Paris–Nemer's current home and location of the events described on the broadsides–where brass rings on building exteriors hold memorial flowers that memorialize civilians who were arrested or executed during the Nazi occupation of France from 1940-44. Throughout the exhibition and audio guide, Nemer extends subjectivity to the Tetlie Collection. By treating the posters and broadsides as living, vibrant matter with histories, agency… even feelings, Nemer invites visitors to tend to the affective dimension of bearing witness to the physical traces of one of the darkest chapters in human history.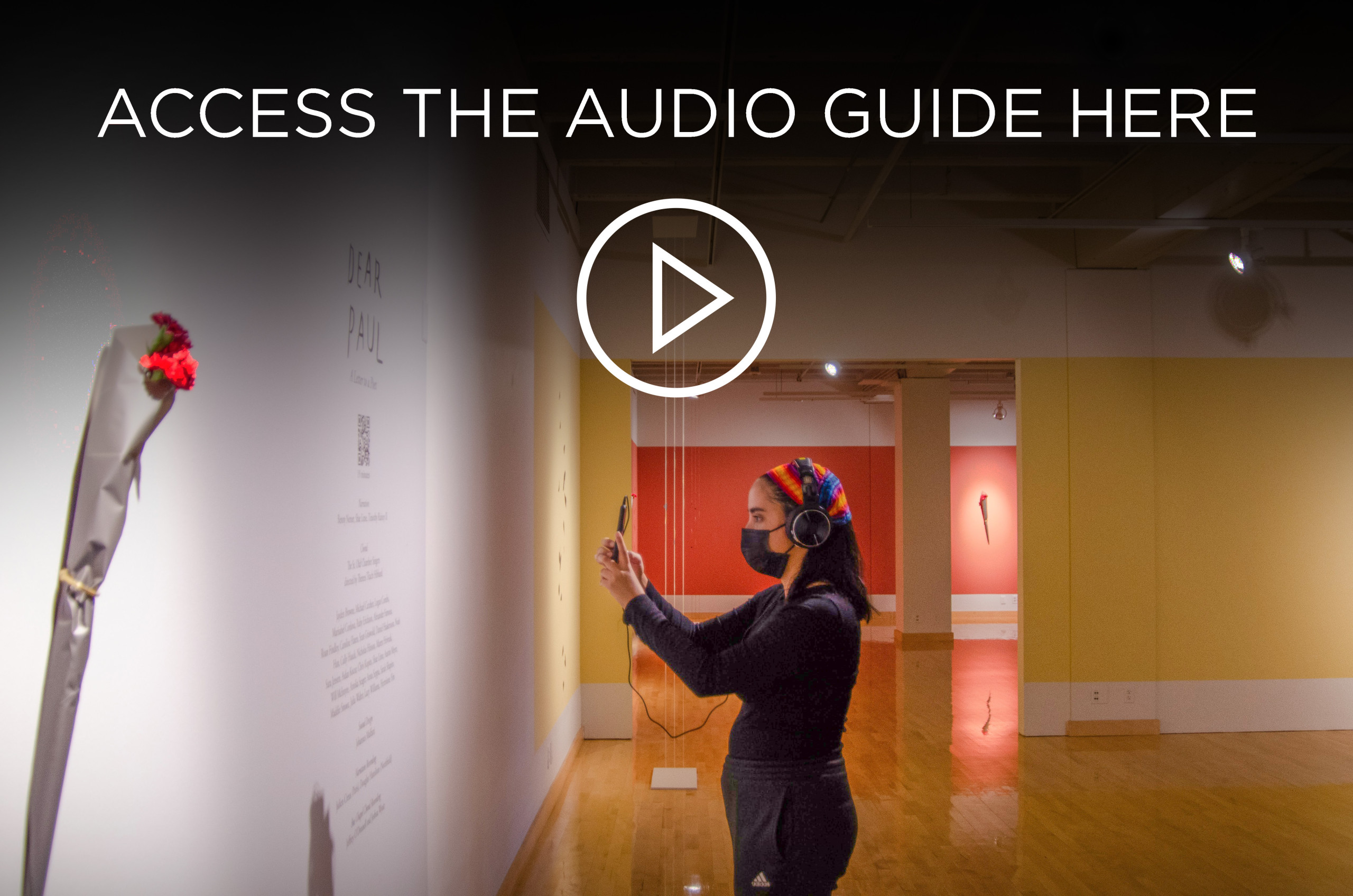 A transcript of the audio guide can be found here. Self-care resources are available at this link.
---
Programming
Monday, February 14
7 p.m. Benny Nemer: Arnold Flaten Memorial Lecture Series | Viking Theater and live-streaming
Due to COVID, this event is open to St. Olaf community members only.
Nemer's lecture will offer an overview of twenty years of professional practice; identifying core themes, impulses, and expressive strategies, with the goal of tracing the artistic lineages that lead to his project at the Flaten Art Museum, and giving a context for his work with the College's Chamber Singers. Nemer will screen excerpts of videos, play fragments of audio pieces, and show documentation of a range of performative projects, concentrating on how themes of calling, translation, mediation, and acts of repair appear throughout his body of work. He will also highlight the way his passion for queer history, pop music, and flower arranging play a role in the development of his artistic aesthetics.

Friday, February 18
5-7 p.m. Opening Reception | Flaten Art Museum
5:30 p.m.  Performance and Remarks | Flaten Art Museum
This event is open to the public. Visitors are required to be fully vaccinated and boosted for COVID-19. Masks are required indoors.
All are invited to a reception at the Flaten Art Museum, with curator's remarks and a performance by the St. Olaf Chamber Singers at 5:30 p.m.
Tuesday, March 15
4:30 p.m. Responses to The Making Known Exhibition with Rev. Heidi Neumark | Flaten Art Museum
Rev. Neumark and Steve Hunegs, director of the Jewish Community Relations Council, will respond to The Making Known as part of the Lutheran Center for Faith, Values and Community's All Community Read, Hidden Inheritance: Family Secrets, Faith, and Memory.
Thursday, March 24
11:45 a.m. Inherent Vice: Ethical and Technical Considerations in Conservation | Viking Theater and live-streaming

A conversation with Dianna Clise, Paper Conservator, Midwest Art Conservation Center.
French Film Series: France During the Occupation
7 p.m. | Tomson Hall 210
This series of French films focusing on France during the Nazi Occupation is presented in partnership with St. Olaf's French Program in the Department of Romance Languages.
---
Related Press
Star Tribune, For the first time in 70 years, Nazi propaganda posters on display at St. Olaf museum
https://www.startribune.com/for-the-first-time-in-70-years-nazi-propaganda-posters-on-display-at-st-olaf-museum/600157196/?refresh=true
Northfield News, New St. Olaf art exhibit explores historical anti-Semitic propaganda posters
https://www.southernminn.com/northfield_news/news/article_d89db6fc-9b24-11ec-a7dc-833d5f004b2b.html
---
About the Artist 
Benny Nemer (1973) is a Montreal-born artist, diarist and researcher. His practice mediates emotional encounters with musical, botanical, art historical, and queer cultural material, encouraging deep listening and empathic viewing. In his work you will encounter audio guides, bells, bouquets, ceramic vases, enchanted forests, folding screens, gay elders, glitter, gold leaf, love letters, imaginary paintings, madrigals, megaphones, mirrors, naked men, private libraries, sex-changing flowers, sign language, subtitles, woodwinds, wrapping paper, and the voices of birds, boy sopranos, contraltos, countertenors, and sirens.
---
Acknowledgments 
Learn more about our values and commitments surrounding the Tetlie Collection of WWII Propaganda Posters.
For significant support in the development of this exhibition, special thanks to the Jewish Community Relations Council of Minnesota and the Dakotas and members of the exhibition's Curatorial Advisory Committee: Christopher Chapp, Jimena Maida Colindres '23, Maggie Epstein, Theo Mattson Jr. '22, Hannah Niedermann '22, María Pabón, Dolores Peters, Timothy Rainey II, Jillian Sparks, Christina M. Spiker, Jorie Van Nest '22, Kari VanDerVeen, and Maria Vendetti. Conservation treatment of the posters on display was completed by Dianna Clise and Liz Sorokin of the Midwest Art Conservation Center in Minneapolis, Minn.
This exhibition is generously supported by the Glen H. and Shirley Beito Gronlund Annual Exhibition Series Fund at St. Olaf College, and this project was made possible in part by the Institute of Museum and Library Services (MA-30-19-0637). The views expressed in this exhibition do not necessarily represent those of the Institute of Museum and Library Services.