Featured Alumna: Mari Arneson '18
Mari Arneson graduated in 2018 with majors in German and Political Science. She first learned German in Germany through the Rotary International Youth Exchange and was inspired by that experience to continue learning German in college. Mari spent her junior year studying at the Universität Flensburg. When she returned, she embarked on a German Distinction project in which she elaborated on a research paper that she wrote for a political science course she took in Flensburg. For the project, Mari recounts, "I wrote and spoke about the U.S. and German judicial branches and their similarities and differences, and how culture impacted how the courts run and are viewed. This was especially apropos considering that the U.S. Supreme Court had recently gained a new Justice. … Through my German Distinction project I was able to really blend my interests and two majors." Working toward departmental distinction was both intense and fun: "…one of my best friends and I did our German Distinction projects. We'd be up super late at night with papers all around us trying to figure out, 'is it der, die, das, den, dem, des, denen, oder denim?!' We may have been a bit sleep-deprived."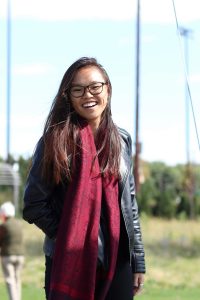 Mari spent her first year after graduation in the Lutheran Volunteer Corps, joining the communications staff of Immigrant Law Center of Minnesota, where she continues her career as communications manager. In her work with ILCM, her studies in the St. Olaf German program came in handy, though not in ways one might expect: "Sophomore year, Professor Randall had us create websites about German authors and this project gave me experience and knowledge in website creation and management that was and still is super helpful! German language didn't play a huge role in my job, but I did get to translate an official letter for a client from German to English!" When asked what advice she would give to students considering a German major or German Studies Concentration, she says, "Germany has so many amazing contributions from science to the arts. There is bound to be a connection to another of your interests if you're looking into double majoring/concentrating." Curious to learn more about Mari's experience? Reach out to her at https://www.linkedin.com/in/mari-arneson-07a165bb.
---
Department Newsletter
The fall 2022 edition of the German Department newsletter with updates about alumni is now available online! If you would like to add an alumni news item to the next newsletter, please send your news to Prof. Amanda Randall (randal2@stolaf.edu). Be sure to update your contact information with the Office of Alumni and Parent Relations.
---
What have recent St. Olaf German graduates been doing?
Through the Piper Center for Vocation and Career, students can find more information about life after graduation from St. Olaf. The Piper Center has prepared resources profiling recent alumni from the German program, including representative First Destinations and alumni contact information for career networking.
Scholarships, Internships, Assistantships:
Oliver Steissberg '23 Martin Luther Schule, Rimbach, Germany
Josie Goellner '22 Fulbright fellowship (environmental studies), Germany
Ingrid Nelson '21 Martin Luther Schule, Rimbach, Germany
Kristian Noll '21 International Parliamentary Scholarship, German Bundestag
Hanna Elstad '20, Martin Luther Schule, Rimbach, Germany
Benj Wollant '19, Fulbright fellowship (medical physics), Germany
Jamie Truax '19, Fulbright English teaching fellowship, Luxembourg
Alex Kim '19, Martin Luther Schule, Rimbach, Germany
Sophia Buchda '18, Martin Luther Schule, Rimbach, Germany
Suzie Hoops  '17, Fulbright Combined Fellowship, Linz, Austria
Daniel Heslep '17, Martin Luther Schule, Rimbach, Germany
Christopher Alexander '16, Martin Luther Schule, Rimbach, Germany
Sophia Magro '16, Fulbright fellowship (psychology/educational studies), Germany
Bethany Guse '16, USTA teaching assistantship, Austria
Katherine Henly '07, Fulbright teaching assistantship, Germany
Kathryn Sederberg '07, Fulbright teaching assistantship, Germany
Amber Griffioen '02, Fulbright teaching assistantship, Germany
Kristin Melby '02, Fulbright teaching assistantship, Germany; U.S. Embassy (Berlin); Atlantik-Brücke
Emily Ruggles '02, DAAD Scholarship, Germany
Leah Smith '02, Fulbright fellowship, Germany
Mariah Stember '02, Fulbright teaching assistantship, Germany; internship
Catherine Brown '01, Fulbright fellowship, Germany
Elizabeth Kracher '01, USTA teaching assistantship, Austria
Deborah Pagels '01, Fulbright fellowship, Germany
Claire Adamsick '00, Fulbright fellowship, Germany
Graduate School:
Hanna Elstad '20, Deutsche und Englische Linguistik, Leibniz Universität Hannover
Melanie Nevins '20, Medicinal Chemistry, U. of Minnesota
Martha Barth '19, Sacred Music, U. of Notre Dame
Brian Nevins '19, Physics, Michigan State
Haris Eminovic '17, National and International Administration and Policy, Universität Potsdam
Kirsten Young '11, Medicine, Des Moines U.
Kathryn Sederberg '07, German, U. of Michigan
Erik Grell '05, German, U. of North Carolina at Chapel Hill / Duke U.
Valerie Aggerbeck '02, Law, U. of Minnesota
Michelle Baker '02, Political Science, Monterey Institute
Amber Griffioen '02, Philosophy, U. Iowa
Kristin Melby '02, German and European Studies Program, Georgetown U.
Mariah Stember '02, Women, Gender and Sexuality Studies, U. of Kansas
Industry, Trade and Nonprofit:
Will Seaton '20, catastrophe modeler, Guy Carpenter
James Cleven '19, translation and quality assurance, EPIC, Madison, WI
Mari Arneson '18, communications specialist, Immigrant Law Center of MN
Katie Maxwell '17, communications coordinator, Faith in Place
Bethany Guse '16, WIDA Educator Outreach Specialist, Wisconsin Center for Education Research
Katherine Henly '07, events coordinator, Institute for Global Studies, U. Minnesota

Secondary School and University Teaching:
Heather Vikla '17, German Teacher, New Prague High School, New Prague, MN
Kathryn Sederberg'07, Assistant Professor of German, Kalamazoo College
Brenna (Gardner) Meunier '03, German Teacher, Sauk Rapids-Rice High
Kristin Melby '02, Dreilinden Oberschule, Wannsee, Germany
Peder Hanson '02, Kai En English Training Center, Shanghai, China
Amber Griffioen '02, Münster, Germany