A History and Description of the Holdings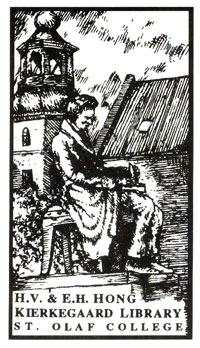 The Howard V. and Edna H. Hong Kierkegaard Library began as the private collection of its founders who used it to support their work translating the writings of Søren Kierkegaard from Danish into English. In 1976, the Hongs gave the Library to St. Olaf College with the understanding that it would exist as a study and publication center, a place where students and scholars of varied experience could come and have access to materials in an environment enhancing their intellectual work. The sixth floor of Holland Hall was the first home of the Library at St. Olaf. In 1992, the collection moved to its present location in the Special Collections area of the original Rolvaag Memorial Library building which was renovated for use by the Hong Kierkegaard Library.
The book collection numbers approximately 20,000 volumes and the periodical and newspaper article files include over 6,000 items with new acquisitions added regularly in all languages. The Library also maintains microfilm copies of Kierkegaard manuscripts held by the Royal Library in Copenhagen and materials in other formats such as microfiches, cassette tapes, CD's, and videos. All materials are non-circulating and remain in the Library.
The Library's collection grows in no small part through the generosity of scholars and donors. For more information, go to the Gifts and Support page.
---
Library Sections
Pre-1856: An important part of the collection is a replication of Kierkegaard's personal library, based on contemporary records, which consists mainly of Danish and German editions read by Kierkegaard. Titles are also included which Kierkegaard might have seen or owned before his death in 1855 (Pre-1856 indicates this section). These materials are all found in the Rare Book Room and are available for scholar use upon request. Scholars should see Gordon, Eileen, or one of the student workers to use a book from this section and books should be signed out and back in again when a scholar is finished using the book.
Kierk 1: Primary sources in all languages, i.e., Kierkegaard as author.
Kierk 2: Secondary critical materials with substantial sections about Kierkegaard.
Related Thinkers: Materials by and about related thinkers, including contemporaries of Kierkegaard, thinkers who influenced his thought, and later thinkers who were affected by Kierkegaard's ideas.
Dissertations: Donated dissertations by eminent scholars about Kierkegaard, his contemporaries, and the growing body of scholarship he has generated.
Reference: Reference materials regarding Kierkegaard studies, language study and translation, philosophy, religion, etc. Danica: works documenting Danish culture, literature, and history.
Article File: Includes original and copied articles arranged by author with local title and subject access for most titles. Includes articles about Kierkegaard and Kierkegaard studies, book reviews, some lectures, etc.
Newspaper Article File: Includes articles in the popular press about Kierkegaard, reviews of books, etc. Currently the file mainly consists of Danish newspapers from the past 40 years.
Archives: Includes documentary materials related to the history of the Library and Kierkegaard studies, as well as biographical materials about Howard and Edna Hong.