Education is the First Step in Prevention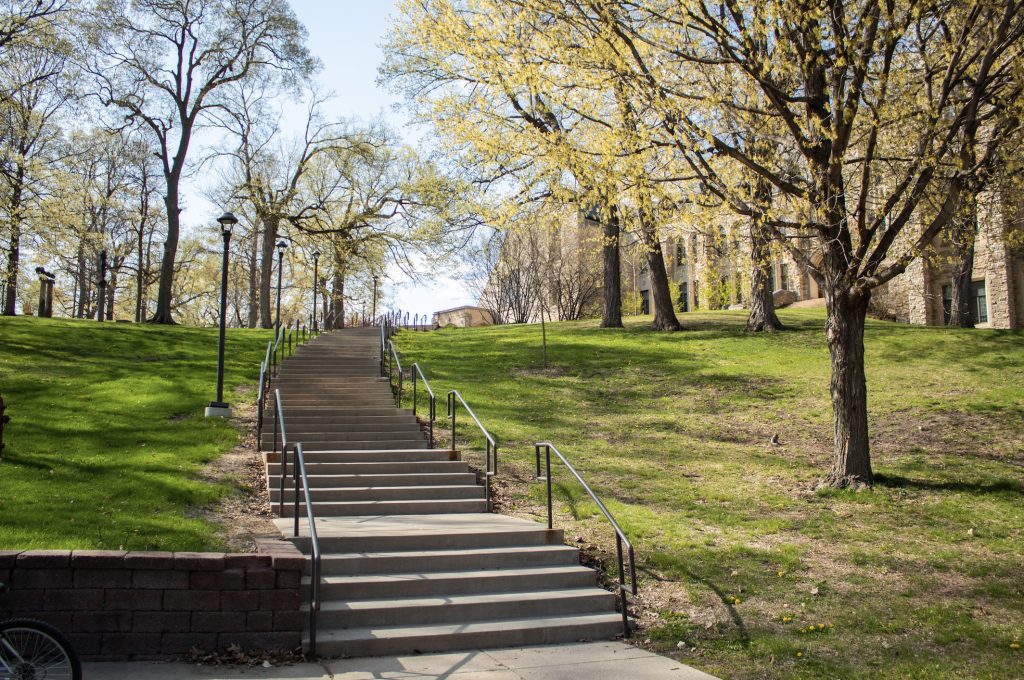 "No person in the United States shall, on the basis of sex, be excluded from participation in, be denied the benefits of, or be subjected to discrimination under any education program or activity receiving Federal financial assistance." — Title IX of the Education Amendments of 1972
A safe, non-discriminatory educational and work environment is consistent with St. Olaf's college-wide goals for student learning (STOGoals) and with our values in the workplace. Use the links below to complete employee training and to learn more about sex discrimination, sexual harassment and sexual misconduct, and strategies for prevention, recovery, and support.
This 26-minute recorded presentation provides an overview of the Title IX policy and process at St. Olaf. Viewers will learn more about Title IX law, sexual harassment and gender-based violence, definitions of prohibited conduct at St. Olaf, consent, the reporting process, and available resources.
A copy of this Quick Guide is distributed in the residence halls to all new and returning students at the beginning of the academic year, with information about how to prevent sexual violence and other forms of misconduct; how to report to the college; where to find resources for education, assistance and support; and how to contact the Title IX Coordinator and other members of the Title IX team.
To access the one-hour training module, Speak Up: Understanding and Preventing Sexual Violence, first make sure your Adobe Flash Player and your browser are updated, to ensure that the training displays properly and your participation is accurately recorded. Then select the link above and enter the requested information on the guestbook page (this information is used to track training completion). You are encouraged to retain a copy of your completion results and/or your email notification of training completion. If you have any difficulty accessing or completing the training, please consult these troubleshooting tips. If you would like any other assistance or confidential support during the process of completing the training, contact St. Olaf's Title IX Coordinator.
Required Referrals
All non-confidential St. Olaf employees are required to make referrals when incidents of sexual harassment, bias, or discrimination come to their attention. Use this Required Referrals FAQ Handout as an overview of your obligations as a non-confidential St. Olaf employee. Non-confidential student employees should watch this 18-minute training video about required referral obligations; non-confidential faculty and staff can access their 20-minute training video here. Please also review some sample syllabi and orientation statements faculty and staff can share with students they instruct or supervise to help students understand their role as supportive but non-confidential resources.
This website includes a variety of educational resources and information focused on sexual and gender-based violence prevention. This website is grounded in the public health approach to prevention and provides additional tools and information to help individuals deepen their ability to prevent sexual and gender-based violence.
A list of terms and concepts is available in the St. Olaf College Policy Prohibiting Sexual Harassment, including definitions of specific behaviors prohibited by the policy.
Information, scenarios, and suggestions to help bystanders intervene effectively to help prevent sexual assault, provided by the StepUP! Program, a partnership between the University of Arizona and the NCAA.
A nonprofit organization supported by the Division of Violence Prevention in the Centers for Disease Control and Prevention, providing research, position statements, statutes, training curricula, prevention initiatives, and program information.
Information from the Rape, Abuse, and Incest National Network (RAINN), sponsors of the National Sexual Assault Hotline, on a wide variety of topics, including understanding the effects of sexual violence, self-care suggestions to promote recovery, and recommendations for supporting someone who has experienced sexual violence.
An overview of Title IX of the Education Amendments of 1972 by the Office of Civil Rights in the U.S. Department of Education, which has oversight responsibility for implementation and enforcement.