Led by Dave Van Wylen '80, Professor Emeritus of Biology, St. Olaf, and Principal, Office of Possibilities, Hope College, and Pat Van Wylen '80, Retired Visiting Scholar Coordinator, St. Olaf, and Global Travel Program Coordinator, Hope College | March 15-28, 2022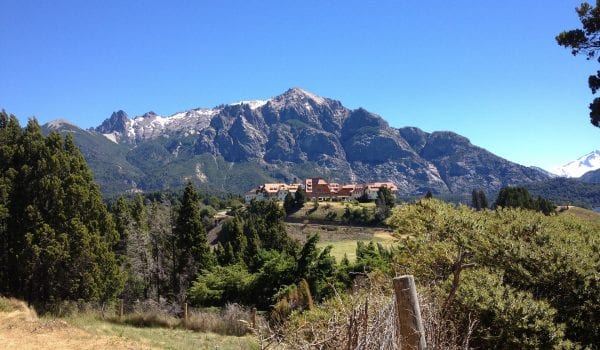 What better way to come out of COVID-related travel restrictions than an outdoor-oriented program in Patagonia?
Traveling within the Argentinian portion of Patagonia, we'll experience the landscapes of this breathtakingly beautiful part of the world. Local guides will lead daily activities, many of which take us off the beaten path and include exclusive opportunities along the way to hear from local experts.
We begin the adventure in Buenos Aires, one of the continent's most cosmopolitan and exciting cities. After an initial exploration the city and orientation to Argentine culture with a guide, there is time to explore on your own, made easier from our well-located hotel in Recoleta, an elegant neighborhood near the renowned Recoleta cemetery and the National Museum of Fine Arts.
Next, we fly to El Calafate and transfer to Chalten, the hiking capital of Argentina. Expert trekking guides will lead us on two days of trekking on some the most beautiful trails in the country, providing celebrated views of the iconic Fitz Roy massif.
Returning to Calafate, we explore "glacier country" while staying at an estancia (Argentine cattle ranch) on the outskirts of town. Our time in Southern Patagonia is concluded by a visit to the massive and breathtaking Perito Moreno glacier, arriving via the "back door" for an exclusive experience at this natural wonder.
Finally we are off to Northern Patagonia and the city of Bariloche, the "Switzerland of South America," with its sweeping views of the mountains and Lago Nahuel Haupi. Gorgeous, charming, quaint – Bariloche is special. While there, we hike the overlooks on the Campanario Hill and the Llao Peninsula, learn more about the history and unique culture of the area, and enjoy a fun (and delicious) visit to a micro-brewery run by friends of our tour operator, where we try our hand at empanada-making. We also enjoy an amazing day of kayaking on one of the lesser-visited lakes and a special lunch prepared over the open fire by a chef. The program closes with an authentic, local culinary experience.
Our tour operator for this program is Knowmad Adventures, led by Jordan Harvey and who were just named to the 2019 Travel + Leisure A-List … for the 7th year in a row! This is quite an accomplishment. Read more here.
View all the additional information below and email us to join the waitlist.
This program was custom designed to be active and experience the landscapes of this breathtakingly beautiful part of the world.
This itinerary is subject to change. Travel demands flexibility. We will strive to balance adaptability with remaining on schedule. Please trust that, when it is not possible to follow the plan laid out below, our program leaders will work to find substitutions that retain the quality of this Study Travel program. Various details may be added or changed due to information obtained while making reservations, or perhaps on site, especially because of the weather. Included group meals are indicated by B, L, D. Thanks go to our tour operator, Knowmad Adventures, for consulting on the itinerary and making the arrangements.
Tuesday, March 15                                  Depart USA
Depart from our home town on individually booked flights (not included in the program fee.)
Wednesday, March 16                           Arrive Buenos Aires (D)
Upon arrival, meet the Knowmad Adventures guide and transfer to the group hotel in the elegant, historic Recoleta neighborhood. This afternoon we'll have a guided walking tour of the city focused on the Recoleta and Palermo neighborhoods. Enjoy exploring many of the important sights and centerpieces of this wonderful city while learning about topics such as: the historic development, the immigration process, specific cultural topics (soccer, tango music), its architectural heritage, Peronism, and other interesting features of Argentine society. Experience the European flair that has given the city its fame as we stroll through these eclectic neighborhoods. Group dinner. Overnight at Loi Recoleta or similar.
Thursday, March 17                                 Buenos Aires (BLD)
Perhaps a slightly later start to the morning to recover from travel. Then we'll have another half-day tour of the city, visiting the historic San Telmo and La Boca neighborhoods along with other special areas of the city. We'll visit the mysterious Zanjon tunnels, discovered underneath a mansion in the San Telmo neighborhood only in 1985. Group lunch at a local restaurant before some free time and a group dinner. Overnight at Loi Recoleta or similar.
Friday, March 18                                       Buenos Aires – El Calafate – El Chaltén (BL)
Transfer to the airport for an included flight to the Southern Patagonian town of El Calafate. We'll be met by our new guide and will set out on the approximately 3-hour drive to the small mountain village of El Chaltén. We'll make a short stop at the La Leona Hotel and Historical Site, famous for hosting Butch Cassidy and the Sundance Kid for almost a month as they hid out after a bank robbery. We'll also stop briefly at the slopes of Mount Los Hornos, where we can explore the 70-million-year-old petrified tree trunks. Box lunch en route. Dinner on your own. Overnight at Chalten Suites or similar.
Saturday, March 19                                 El Chaltén & Los Glaciares National Park (BLD)
Today we'll enjoy a full day trekking adventure to the Laguna de los Tres vantage point for an absolutely stunning view of the complete Fitz Roy massif (weather permitting). Starting from Hosteria El Pilar, we will begin our ascent. Most of today's hike is of moderate difficulty through native lenga tree forests. After approximately 2 hours, the jagged peaks of Mount Fitz Roy and the Piedras Blancas glacier will come into view. From here, we will continue ascending towards Laguna de los Tres, until we arrive at the old moraine ridge with an extraordinary view of the gorgeous laguna and glacier. We will end the hike on foot, arriving at our accommodations. In the evening, the group will walk to a nearby local restaurant to celebrate the day of incredible hiking and vistas. Fitz Roy full hike details: 13 miles, approximately 8-9 hours, moderate to difficult hiking but with flexibility for those who do not wish to do the full hike. Box lunch, dinner on your own. Overnight at Chalten Suites or similar.
Sunday, March 20                                    El Chaltén (BL)
Enjoy another day in El Chaltén, one of Argentina's premier hiking regions. On this day we can choose to join our guides on a hike to Cerro Torre, the other flagship hike of Chaltén. This hike offers magnificent views of mountains, glaciers, and lagoons, and has flexible hiking designed for anyone who wants a shorter or longer trek. Alternatively if we prefer to explore independently we could choose to hike along well-marked alternate trails on our own; our guides can provide more information on these options. Cerro Torre full hike details: 13 miles, approximately 6-7 hours, moderate hiking but with flexibility for those who do not wish to do the full hike. Box lunch, dinner on your own. Overnight at Chalten Suites or similar.
Monday, March 21                                  El Chaltén – El Calafate (BD)
This morning we will be met at our accommodations by our guide and transferred on the approximately 3-hour drive to El Calafate, with a stop at La Leona along the way to break up the drive. Upon arrival in Calafate we will visit the Glaciarium, a beautiful museum where we will learn all about the history and science behind glaciers with special presentations and time with experts. Following our time at the museum, continue onward to our estancia accommodations. For lunch, dine a la carte at the on-site restaurant (paid on your own). This afternoon, the group will be split into two groups to enjoy a 1-hour horseback ride through valley to the shore of Lake Argentino, enjoying the beautiful landscapes along the way. We can also discover the traditional ranch, or simply relax. For dinner, enjoy a 3-course meal with our group at Galpon del Glaciar's on-site restaurant. Overnight Galpon del Glaciar or similar.
Tuesday, March 22                                  Perito Moreno Glacier (BL)
Today we'll enjoy a more off-the-beaten-path way of exploring Perito Moreno. First we'll travel to a remote estancia to experience a bit of ranch life and enjoy a traditional asado. After a group lunch we'll board a small vessel navigating toward the Perito Moreno Glacier and landing on Playa de las Monedas. Here we will take a short hike to gain sweeping views of the glacier, before boating on to the face of the glacier. Head onward to explore the footbridge walkways where we'll take in various scenic overlooks and witness the thundering of giant ice calvings. After our time at the glacier we will be transferred back to our accommodations. Dinner on your own. Overnight at Galpon del Glaciar or similar.
Wednesday, March 23                           El Calafate – Bariloche (B)
Today we will be picked up at our accommodations by our guide and transferred to the airport for the included flight to Bariloche. Upon arrival in Bariloche we will be met at the airport by our Knowmad Adventures guide and transferred to the hotel, with a brief introduction to the town. Lunch and dinner on your own. Evening free. Overnight at Cacique Inacayal or similar.
Thursday, March 24                                 Bariloche (BLD)
Today, we will complete a classic circuit of San Carlos de Bariloche in a fun, active way. While visiting the most important viewpoints of the area like Campanario Hill and Llao-Llao Hotel, our private guide will explain how this once little mountain village has turned into one of the most attractive cities in Patagonia. Along the route, we will appreciate the beauty of Lake Moreno and Lake Nahuel Huapi, as well as the Lopez and Capilla mountains. We will also do a nature-oriented hike through the hidden nooks of an impressive native forest. Enjoy views of the lake, Blest Sound and North Branch of Lake Nahuel Huapi framed by the Patagonian Andes. To end the excursion, we will visit a traditional microbrewery at the foot of Mount Lopez, where we can learn about the storied history of Swiss and Germans in the region and their fusion of cuisine and culture. Here we will learn how to make empanadas in a fun short cooking lesson, and enjoy a delicious lunch and beer tasting. We will also enjoy a chocolate tasting before heading back to our centrally-located accommodations to spend the afternoon at our leisure, perhaps independently exploring the nearby town center. In the evening, we will meet at the hotel to be transferred to one of Bariloche's excellent restaurants to enjoy dinner. Overnight at Cacique Inacayal or similar.
Friday, March 25                                       Bariloche (BL)
Embark on a full-day exploration to a remote Patagonian lake for some incredible kayaking and hiking. In the morning, we will be transferred to the southern shore of remote Lake Mascardi in the Nahuel Huapi National Park. From here we'll divide into two groups, one to paddle the turquoise waters and the other to go on a hike. Meet up again for an incredible picnic lunch grilled over open fire by a local chef. In the afternoon, the groups will switch activities, and following this active day we will return to our accommodations to spend the evening at leisure. Kayak details: easy to moderate kayaking on a lake, flexible with the ability to stop at multiple points. Hike details: easy to moderate, 1-2 hours flexible hiking. Dinner on your own. Overnight at Cacique Inacayal or similar.
Saturday, March 26                                 Bariloche (BD)
Free time to explore Bariloche. We recommend walking the streets of the charming town, sampling local cuisine, or enjoying the lovely lake views from our hotel. Explore the walkable Civic Center, perhaps learning more about the natural and cultural history of Bariloche at the Patagonia Museum and visiting the Cathedral of Bariloche, or continuing to explore the region's beautiful hiking areas (our guide can provide more details on these options based on our interests). In the evening, we'll be transferred to this evening's culinary experience. Learn about different Argentine culinary customs as we cook alongside one of Patagonia's most outstanding chefs, and enjoy the delicious dishes we've prepared together for dinner. Lunch on your own. Overnight at Cacique Inacayal or similar.
Sunday, March 27                                    Bariloche – Buenos Aires – USA (B)
Morning free, then transfer to the airport for an included flight to Buenos Aires. More information will be provided in order to book our onward flights. Upon arrival in Buenos Aires you will be responsible for independently connecting to your overnight, international flight home.
Monday, March 28                                  Arrive home
Most flights leaving Argentina yesterday will arrive in the US today.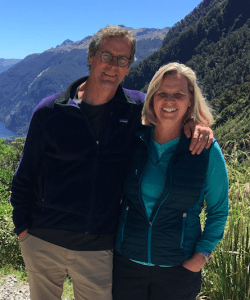 Dave and Pat Van Wylen are veteran group travel leaders, having led both student and adult study travel programs. Their first venture with adults was April 2015 when they led a sustainability-themed activity-based (mostly biking) program in the Netherlands. More recently, they led programs to New Zealand in 2017 and 2019. With students, they have led semester abroad programs in Asia (1998), the Middle East (2008), and Australia (2013). Dave has also taught three January interims in Peru (Peruvian Medical Experience), six interims of Cardiac Surgery and Research at Emory University in Atlanta, plus a 2010 summer Global Health in Tanzania experience. Pat assisted on most of these interims as well as on an interim Health Care and Culture course in Hawaii/Micronesia (2010).
Dave (Biology) and Pat (International and Off-Campus Studies) worked for 21 years at St. Olaf before moving to Holland, Michigan in 2015, where Dave initially served as the Dean for Natural and Applied Sciences at Hope College and now directs Hope's Office of Possibilities. Pat coordinated adult travel programs through Hope College and now runs her own business, A Little Assist, working with seniors.
Dave and Pat both graduated from St. Olaf College ('80). Dave later received his Ph.D. in physiology from the University of Michigan (Go Blue), while Pat completed master's degrees from the University of Michigan and the University of Virginia in health administration and exercise physiology. They relish physical activity, and are delighted to have this opportunity to lead another activity-rich St. Olaf adult study travel program.
Patagonia offers one of the world's most striking landscapes at very nearly the end of the world. On this program, you'll not only surround yourself with breathtaking beauty, you'll actively engage with it through hiking, horseback riding, and kayaking.
In between you'll encounter the culture. Start with the vibrant city of Buenos Aires, which seems to have a heartbeat all its own. Then, move on to traditional ranches and learn a bit of gaucho heritage, including their connection to the earth.
You'll enjoy authentic, local recipes on the ranches, plus the fusion of Swiss and German traditions with Argentinian food traditions. Let's not forget a chance to have a beer tasting and to sample the famed Argentinian wines.
Plus, check out this article written by Jordan Harvey, the owner of our tour operator, Knowmad Adventures. You'll be enriched, inspired, and recharged by your time in Patagonia.
And finally, you can join us stress-free knowing that you're traveling with one of Condé Nast Traveler's Top Travel Specialists! This elite award isn't handed out to just anyone. From the hundreds of tour operators and agents in the world, it's given only to the best. You're in good hands.
This program is designed to be more active than the average study travel program. The times of higher activity will be balanced by down times as well. Activities are encouraged, but you can choose to spend your time alternatively as desired.
To fully partake in this program, you should be capable of walking a minimum of one mile at a time over uneven terrain and up to five miles per day, of climbing stairs that may not have handrails, of keeping pace with an active group of travelers on long days of traveling, of dealing with the emotional highs and lows that can occur when experiencing a different culture, and of traveling with a group for several hours each day. You always have the option of skipping a group activity you think will be too strenuous and remaining back at the hotel or on the coach.
Hotels will be tourist class (typically three or four star) with private baths and air conditioning. Wi-fi may not be available at all locations.
Be sure to check the average temperatures and rainfall at our destinations for March. A couple of recommended web sites are weather.com or weatherbase.com. But keep in mind that you'll be looking at averages and that temperatures could easily fluctuate by 5-10 degrees (or more) warmer or cooler. We recommend bringing light layers that can be added or removed as needed.
You should plan on seeing your family physician or a travel doctor at least four to six weeks prior to departure, preferably earlier, to talk about routine vaccinations. For more information on travel health, visit cdc.gov or who.int.
covid response
As a condition of participation in this program all attendees must have received a COVID-19 vaccine and received a booster shot at least 2 weeks prior to attending the program. The Centers for Disease Control now say all adults can and should get a booster shot once they are six months past their second dose of the Pfizer or Moderna vaccines or two months past their single Johnson & Johnson dose. If, by departure time, you are not yet 6 months past your second dose or 2 months past your single J&J dose, you will not be required to have a booster. Because changing conditions may result in additional or different participation restrictions, we will strive to keep you promptly informed of any changes resulting from the ongoing pandemic.
Reasons to be optimistic:
Daily covid cases in Argentina have been steadily plummeting since June.
Our group is small, capped at 23 participants.
Except for flights, we have private transportation throughout the program.
Our activities and visits are primarily private.
Most of our activities are outside.
We have chosen top quality properties that have accepted covid protocols in place.
There is really good illness coverage provided with your program fee (see more below).
What happens if you develop symptoms or test positive for covid while traveling on the St. Olaf program?
we will expect everyone to follow the isolation and other protocols of the host country and will provide those to you, to the best of our knowledge, closer to departure, as they may be updated frequently in the next several months
our itinerary cannot be altered, so if it calls for the group to move to a new city/hotel, we will do so
group leaders cannot stay back with sick or covid-positive individuals
the injury and illness coverage provided with your program fee includes covid-related illness. Here is the language from the latest FAQs:
Is there coverage for COVID-19? (new as of 5/1/21)
Yes, participants diagnosed with COVID-19 would have the same coverage as if they had any other illness.
Is there coverage for pandemic quarantine? (new as of 5/1/21)
Yes, if the participant is required to quarantine while on a covered trip due to exposure to, or a confirmed case of a virus/illness due to epidemic/pandemic not requiring hospitalization, the policy would provide up to $5,000 of benefits for food and lodging. If the participant requires hospitalization, the basic emergency medical coverage would apply.
You can read more, including the full FAQ and a Summary document, on our Travel Insurance page.
Inclusions and exclusions vary from program to program. Please read the following information carefully.
Inclusions: The program fee is $6,858 per person. Based on double occupancy, it includes discussions led by Dave Van Wylen, assistance by Pat Van Wylen, a dedicated tour manager, accommodations, breakfast daily and group meals as listed on the itinerary, admissions for group activities, ground transportation during the program including airport transfers on arrival and departure days, gratuities to group guides, drivers, and meal servers, and some limited medical coverage while overseas. For single occupancy, add $1,350.
Exclusions: Airfare to and from Argentina is not included. Participants are solely responsible for all expenses not specifically included in the program fee. Examples of excluded expenses are: Airfare between your home town and Argentina • Airport transfers in your home town • Any passport fees • Any recommended immunizations or vaccinations • Baggage insurance • Trip cancellation insurance above $2,000 lifetime coverage • Beverages at group meals • Laundry • Dry cleaning • Phone charges • Room service or other items of a personal nature • Expenses incurred during free time or non-group activities • Lunch and dinner, unless specifically included on program itinerary.
See the Payment and Refund Schedule below for more information.
This schedule is based on payments St. Olaf College must make to program vendors to guarantee group rates. We highly recommend that you purchase additional trip cancellation insurance at the time of registration to recover your payments should you need to withdraw from the program.
Because of ongoing uncertainty surrounding COVID-19, it is possible that a program could be postponed. In such a case, while we will strive to make full refunds when we can, there are certain expenses that may not be refunded to either St. Olaf or the participant.  
Deposit due:                          $1,000 upon registration
Refund if you cancel:          $500 until November 14, 2021
Final payment due:             November 15, 2021
Refund if you cancel:          None, unless the program is full and your place can be resold
Cancellations must be in writing.
Some limited travel insurance is included in your program fee.
Review the latest information on recommended immunizations: visit the Centers for Disease Control (CDC).
Check your passport: no visa is required for Argentina for stays of 90 days or less. However, you should look at your passport now and ensure that it has at least 6 months' validity past the program return date. Should you need to renew, visit the S. Department of State for instructions.
Prepare for your adventure by checking out a variety of resources, including frequently asked questions, general health information, included travel insurance, safety overview, and more.
Hold the dates of March 15–28, 2022. Do NOT book your flights until we announce the program is a GO. Take a peek at our Booking Your Flights info for tips and suggestions.
This program is an official Go. Registered travelers should feel free to purchase your
international 
flights. We strongly recommend you consider adding flight cancellation insurance to that purchase. Here are 
the recommended flights:
Tue, Mar 15, 2022
Delta #426
Depart Minneapolis-St. Paul 4:45 pm
Arrival Atlanta 8:10 pm
Tue, Mar 15
Delta #101
Depart Atlanta 10:00 pm
Arrive Buenos Aires-Ezeiza 9:00 am on March 16
Sun, Mar 27, 2022
Delta #110
Depart Buenos Aires-Ezeiza 9:15 pm
Arrive Atlanta 6:45 am on March 28
Mon, Mar 28
Delta #466
Depart Atlanta 8:15 am
Arrive Minneapolis-St. Paul 9:51 am
A few notes:
–
–
 The 
above is a screen shot, which means the 
quoted price for the international flight was accurate at t
he time the flights were looked at
; 
it may not reflect the current pricing.
— 
At the end of the program, you 
will be arriving in Buenos Aires from Patagonia 
as a group 
on March 27th at 2:50 pm. This flight arrives in the Newbery (regional) airport, and then the group will be transferred out of the city to the Ezeiza (international) airport to fly home. 
Our tour operator 
recommend
s
 leaving a 5-6 hour cushion between arrival at the regional airport and departure from the international, because everyone will need to collect luggage, board the transfer, and then the drive ends up crossing the entire city and there's often traffic. So it's very important that international flights be booked no earlier than 8 pm at the very earliest, ideally at 9 pm or later.
— 
If you prefer longer layovers, you could book an earlier flight out of Minneapolis on March 15th, or a later flight out of Atlanta on March 28th. We strongly suggest, however, that all travelers try to purchase the listed Delta ATL-EZE flights, as that's what we'll be basing the group transfers on.
FYI, t
hese internal flights are included in your program fee and will be booked by our tour operator:
Friday, March 18 Buenos Aires – El Calafate
Wednesday, March 23  El Calafate – Bariloche
Sunday, March 27 Bariloche – Buenos Aires