August 26–September 3, 2023 or September 4–12, 2023
The Friuli region of northeastern Italy is one of the country's most beautiful regions, and one of Italy's best kept secrets. Just across the border, neighboring Slovenia is an unknown gem with stunning mountains, picturesque valleys, incredible food and wine … and very few tourists. Both regions have their own heritage of food, wine, and history that are unique in all of Europe.
We'll start at the lovely city of Belluno, using it as our base to explore. Perfectly situated in the southern Dolomites, Belluno's Renaissance architecture is overshadowed only by the dramatic mountain landscape surrounding it. It sits in a wonderland of green valleys, tumbling rivers, and impressive peaks. Then we'll move east into Slovenia, and begin to appreciate the wonderful Slovenian culture, scenery and people. From the vineyards of the Wine Road to the stately buildings of the capital, Ljubljana, from the lonely, windswept mountain villages to the take-your-breath-away scenery of Lake Bled, you'll be enchanted by this delightful country.
We're partnering with a tour operator that specializes in hiking and walking, Go Get Lost, and as with all their adventures, we'll be walking the trails, (all of them EASY) visiting the villages, sampling the wine, meeting the locals, enjoying the food, marveling at the incredible views, and slowly easing into the pace of life in these two wonderful areas.
Both departures are full. Contact us to add your name to a waitlist.
We've teamed up with a tour operator who knows that the best way to experience an area is to get out of the bus, put your feet on the ground, and get to know a place at a slower speed.
Slovenia especially is a little-known hiking gem, but so is the Friuli region of Italy that we'll be in. Both regions have their own heritage of food, wine, history, traditions, and norms that are unique in Europe.
This itinerary immerses you in your surroundings and helps you participate in the journey so that you can better appreciate the landscapes, histories, cuisines, cultures, and local perspectives.
This program was custom designed to get to know these two countries at 3 mph. We'll also meet the residents, sample the food and drink, and learn a bit about life in these less-oft visited places.
You can see the most up-to-date itineraries with these links: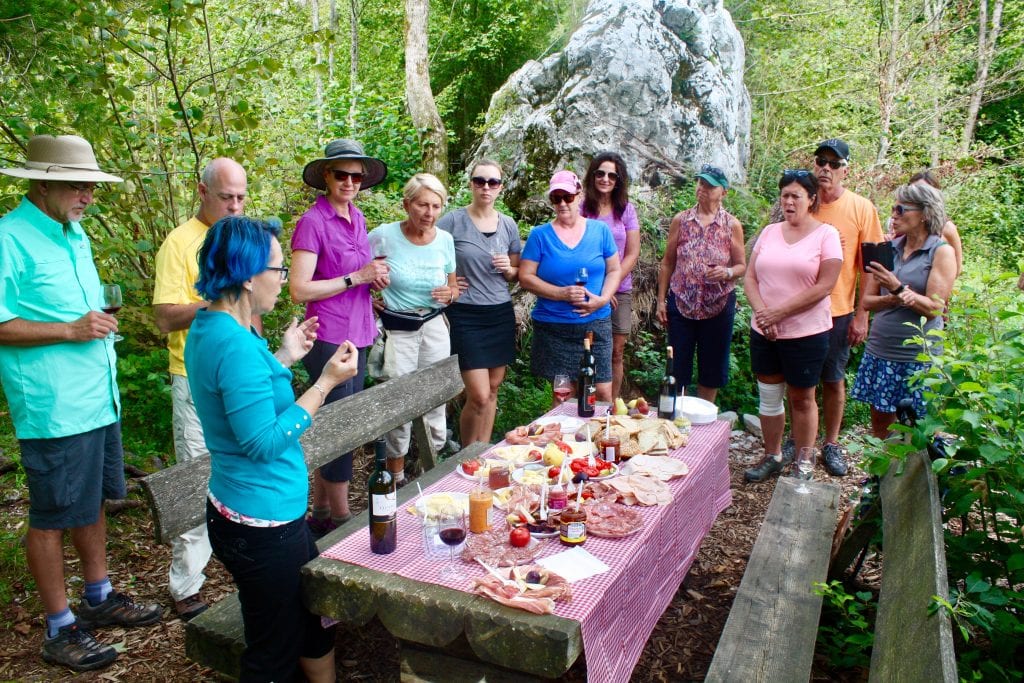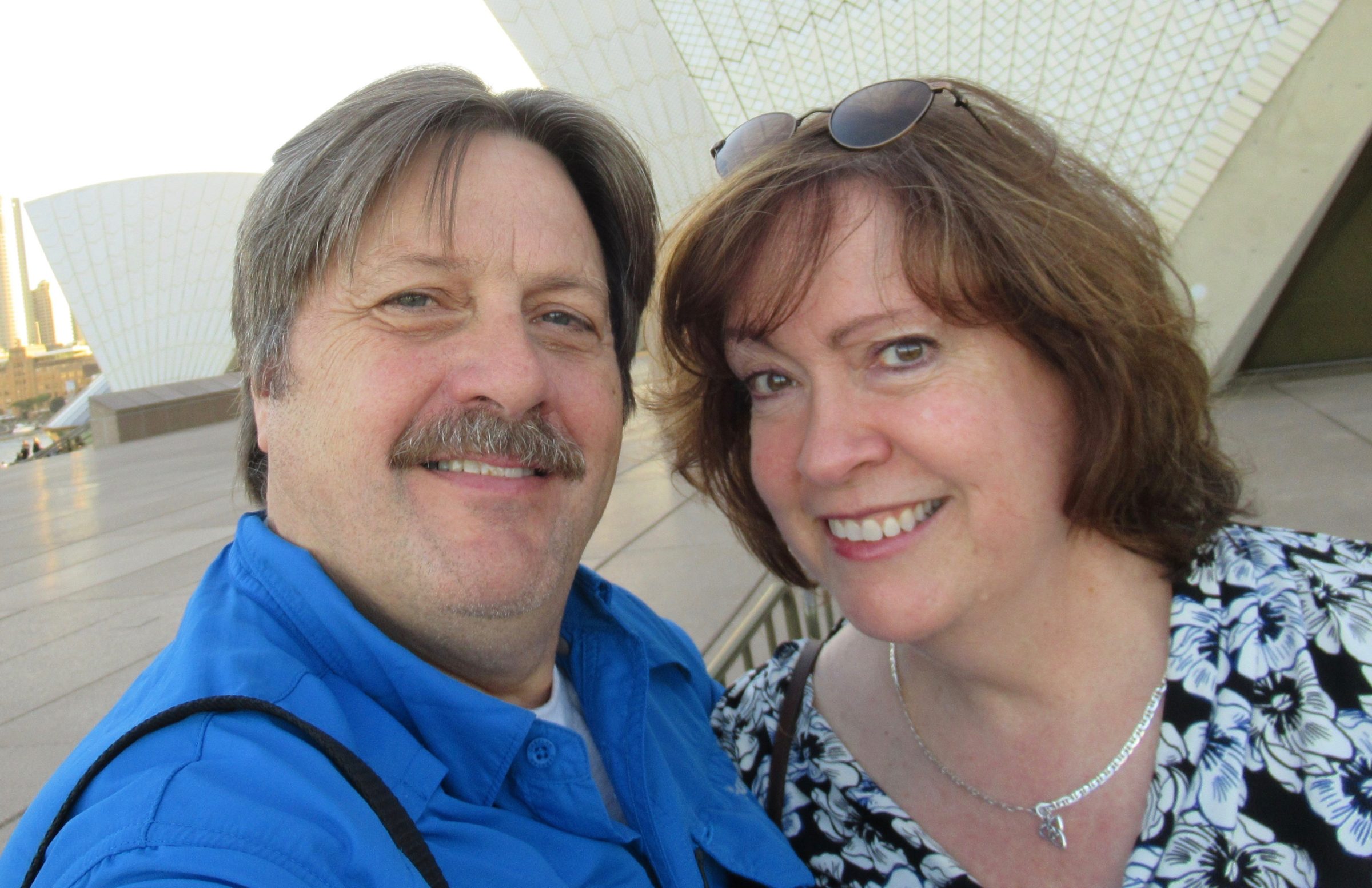 August 26–September 3 Program Leaders: Donna McMillan, Professor of Psychology, and Steven Bayne, Retired Political Science Professor, Century College
Donna McMillan is a Professor of Psychology at St. Olaf, and her teaching and research focus on understanding people, psychological well-being, and ways that both culture and our relationship to the natural world affect us psychologically.
Steven Bayne recently retired after teaching political science for more than 20 years in the Minnesota State College University System, particularly at Century College. Steve's interests include international relations, political theory, and history.
Donna and Steve love traveling, exploring, and learning, and they have been fortunate to sojourn to 25+ countries on five continents. They have hiked around Uluru in Australia, slid down a mountain in Switzerland (not on purpose), sailed on the Nile, and trained from Shanghai to Beijing. Together, Donna and Steve led St Olaf's 5-month-long Global Semester, taking 28 students around the world, and just before the pandemic hit, they led an Alumni & Family Travel program on a Tanzanian safari.
Donna has seven times taught an off-campus January Interim course on Environmental Psychology at Rocky Mountain National Park; she spent a semester as a visiting faculty member in Denmark; and she co-taught a course for the St. Olaf Band during their tour of New Zealand and Australia. All of this is to say that Donna and Steve are frequent and enthusiastic travelers, who look forward to exploring Italy and Slovenia with you!
During the program, Donna will help participants explore the connection of culture and place, and the psychological significance of nature.
This active land tour features daily hikes that are easy to moderate in difficulty. To fully enjoy the experience, participants should be in good walking condition and enjoy hiking. We will walk between 3 and 6 miles per day, with mostly flat or gently rolling terrain. Although steps and steep stretches may be encountered, they are not frequent. Surfaces are generally solid, but can have occasional stretches of loose stones or uneven surfaces. Walking times will vary between 2-4 hours.
Keep in mind that all of these ratings are for people who are fit, and are accomplished walker/hikers. The ratings apply to an average walker/hiker, not beginners and not experts. For example, a Moderate rating means that a fit walker will enjoy the route but not be challenged by it. If you don't have a history of fitness or walking (couch potato), then a Moderate route would be more like a Challenging route to you. The tour guide will assess your fitness level on the first day or two of the trip. They will then be able to counsel you on what the best route for you may be on certain days, or when a particular walk may be more than you can handle. For your safety and for the group safety, all decisions of the trip leader are final.
We recommend you be fully vaccinated against COVID-19, including any recommended boosters for your age or health group, before departure. You should plan on seeing your family physician or a travel doctor at least four to six weeks prior to departure, preferably earlier, to talk about recommended vaccinations for this destination. For more information on travel health, visit cdc.gov or who.int.
The travel insurance included with your program fee covers illness overseas, including covid. You can read more, including the full FAQ and a Summary document, on our Travel Insurance page.
Inclusions and exclusions vary from program to program. Please read the following information carefully.
The program fee for either set of dates is $4,054 per person. Based on double occupancy, it includes full-time tour guide plus local guides as relevant, accommodations, breakfast daily and group meals as listed on the itinerary, admissions for group activities, ground transportation during the program (except arrival airport transfer), gratuities to group guides, drivers, and meal servers, and some limited medical coverage while overseas. Add $495 for single occupancy.
Airfare to and from the program is not included. Participants are solely responsible for all expenses not specifically included in the program fee. Examples of excluded expenses are: Airfare between your home town and Europe • Airport transfers • Any passport fees • Any recommended immunizations or vaccinations • Baggage insurance • Trip cancellation insurance above $2,000 lifetime coverage • Beverages at most group meals • Gratuities to housekeeping staff • Laundry • Dry cleaning • Phone charges • Room service or other items of a personal nature • Expenses incurred during free time or non-group activities • Lunch and dinner, unless specifically included on program itinerary • Items not specifically listed above as included.
A $500 per person deposit is required upon registration. View the full Payment and Refund schedule below.
This schedule is based on payments St. Olaf College must make to program vendors to guarantee group rates. We highly recommend that you purchase additional trip cancellation insurance at the time of registration to recover your payments should you need to withdraw from the program.
Because of ongoing uncertainty surrounding COVID-19, it is possible that a program could be postponed. In such a case, while we will strive to make full refunds when we can, there are certain expenses that may not be refunded to either St. Olaf or the participant.
Deposit due:                          $500 upon registration
Refund if you cancel:          Full refund ($500) until September 30, 2022. If the deposit is made after September 30, 2022, there is no refund.
Interim payment due:        $2,000 by October 1, 2022
Refund if you cancel:          $1,000 until May 25, 2023
Final payment due:             May 26, 2023
Refund if you cancel:          None, unless the program is full and your place can be resold
Cancellations must be in writing.
Look through the Trip Information Sheet (applicable to both departures) and either Travel Planner 1 or Travel Planner 2.
See the Resource List.
Read the Terms and Conditions and Release and Waiver.
Review the latest information on recommended immunizations, visit the Centers for Disease Control (CDC).
Check your passport: ensure that it has at least 6 months' validity past the program return date. Should you need to renew, visit the U.S. Department of State for instructions. No visa is required for either country for stays less than 90 days.
Take time to Prepare for your adventure by checking out a variety of resources, including frequently asked questions, general health information, included travel insurance, safety overview, and more.
Book your flights: both of these departures are an official GO. We strongly recommend you consider adding flight cancellation insurance to that purchase, and that you carefully review what situations are covered under that coverage. You can find tips on Booking Your Flights and here are some additional notes.
The program starts and ends in different cities:
Group 1

— You should time your travel to arrive 
in Belluno, Italy by mid-afternoon on Sunday, August 27. We will start the program with an orientation at 6:00 pm, followed by a group dinner.

— 
​You should time your flights to depart from Ljubljana ​at 11:30 am or later on Sunday, September 3
. A group transfer is scheduled to arrive at the airport around 8:30 am.
— You should time your travel to arrive 
in Belluno by mid-afternoon on Tuesday, September 5. We will start the program with an orientation at 6:00 pm, followed by a group dinner.
— You should time your flights to depart from Ljubljana at 11:30 am or later on Tuesday, September 12
. A group transfer is scheduled to arrive at the airport around 8:30 am.