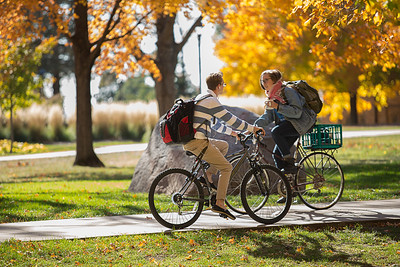 All bicycles on campus must be registered with the Public Safety Department and display a current St. Olaf bicycle permit. Bicycle permits are issued to students, faculty, and staff at no charge.
Once your bicycle is registered, you will receive instructions via email on where to pick up your permit. Bicycles failing to display a bicycle permit may be impounded.
Bicyclists must adhere to all traffic control devices while operated on public streets and campus roadways.  All bicyclists should wear a helmet and have a full set of reflectors on the bike. You must have a headlight on your bicycle if you are riding between sunset and sunrise. Bicyclists shall yield to pedestrians at all times and maintain a reasonable distance from vehicles, buildings and people.
All bikes must be parked in bike racks or areas designated specifically for bicycles to avoid interfering with vehicle traffic, pedestrian traffic and snow removal efforts. Bicycles must not be chained to handicap ramps, light poles, handrails, bus shelters, public seating fixtures, fences, trash receptacles, trees or parked in spaces provided for motor vehicles. The College is not responsible for stolen bicycles or bicycles damaged due to vandalism or grounds maintenance efforts. Bicycles may only be brought into your residence hall room or placed in storage only per residence life storage policies.
Bike theft can be a problem on all college campuses. Registration of your bicycle will help in the recovery of your bike if it is stolen. Additional steps you can take to protect your investment include:
always locking your bike to a bike rack when not in use
using a "U" lock to secure it to the rack
using a cable lock in addition to a U lock if your bike has quick release wheels
taking your bike seat to your room when not in use
If you believe your bicycle has been stolen or impounded, contact Public Safety at 3666.
Public Safety is authorized by College policy to impound a bicycle if the bicycle:
is parked in a manner that creates a safety hazard
is damaging College property
is secured to any item other than a designated bike rack
has been reported stolen to any law enforcement agency or
hampers the access to or use of any college facility
appears abandoned
If a locking device must be removed to impound a bicycle, Public Safety may remove the securing device using whatever reasonable means are necessary. The College is not responsible for any damage to the locking device or for its replacement.
Unlicensed bicycles left undisturbed in racks or other areas for seven days or more may be treated as abandoned and may be impounded. Bicycles will be posted with a notice for seven days prior to impoundment.
Registered bicycles left undisturbed in racks for one calendar year may be treated as abandoned. Public Safety will attempt to notify the owner prior to impounding.
Owners may claim impounded bicycles by calling Public Safety at ext. 3666. You will be expected to provide your name, your student/employee ID number, a description of the bicycle and the date you noticed it missing. Any bicycle not claimed within 60 days will become property of Public Safety and subject to sale at an annual bicycle sale or disposed of at the discretion of Public Safety.