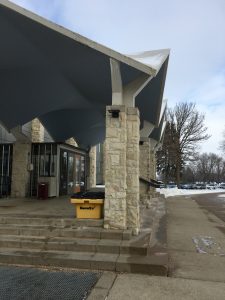 The Facilities Department remains vigilant and works hard to maintain clear roads and walkways, especially during winter weather events, but there simply will be times when you encounter snowy/icy conditions (for example, melted ice may refreeze over night and cause sporadic locations of slippery walkways).
Please understand that the top priority during a winter weather event is keeping the campus open for emergency vehicle (fire, ambulance) access, and that it might take some time to address localized slippery or blocked paths.
If you encounter an icy/slippery patch, please feel free to spread the sand/deicer mixture found in the yellow boxes that are located across campus.
If you experience/are aware of an unusually blocked or unsafe sidewalk or road (excessive snow or ice; fallen tree limb, etc.) then please contact Facilities (-3280) during normal business hours (7 am – 5 pm), or Public Safety (-3666) at all other times.