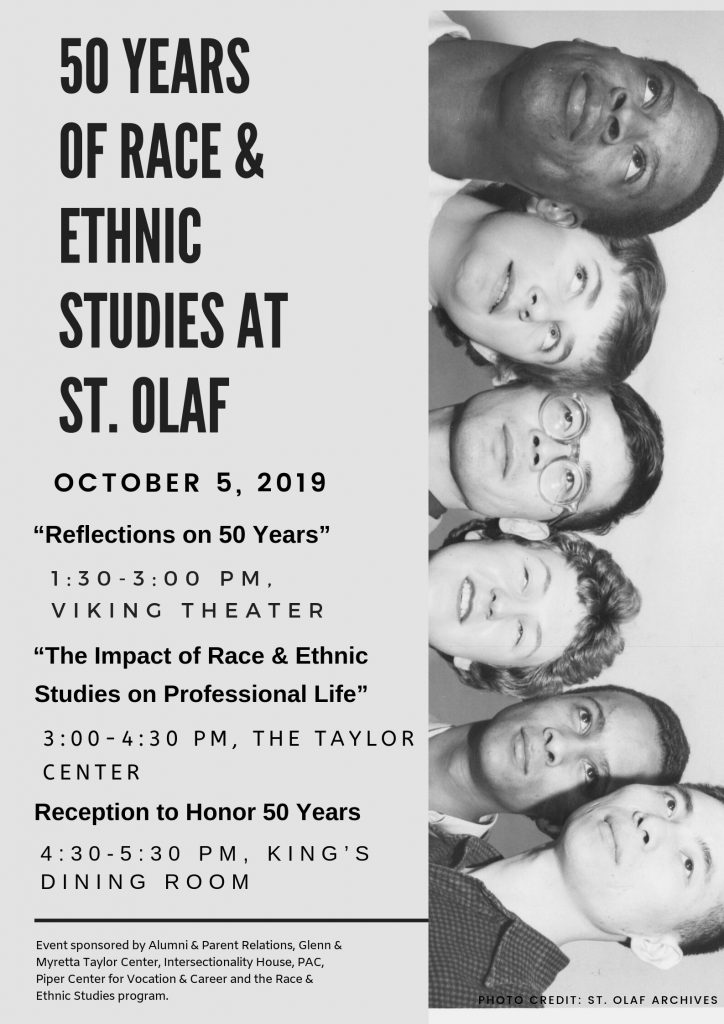 Established at St. Olaf College in 1969, Race and Ethnic Studies (abbreviated RACE) represents a multigenerational faculty and student commitment to the interdisciplinary study of race and ethnicity. Our program centers the concerns and experiences of people of color and proceeds from the recognition that race and ethnicity have been and continue to be crucial components within interlocking systems of oppression, as well as powerful sites of intersectional resistance.
In the United States, our work focuses on the social, cultural, and historical contributions and lived situations of African Americans, Native Americans, Asian Americans, Latinx, and Middle Eastern Americans. Migration — historical and contemporary, voluntary and involuntary — is an experience that unites many of these communities. Our program therefore encompasses coursework involving the cultures and nations outside of the U.S. from which such peoples are drawn; it can also include the study of racial and ethnic minorities in other nations. Globalization has brought greater urgency to recognizing that the economic, social, and political forces to which people of color are subjected are not limited to those that originate within the nations in which they reside. Thus we also attend to transnational coalitions, experiences, and phenomena relevant to people of color in the United States and elsewhere.
At St. Olaf College:
Research opportunities such as the senior project enable majors to pursue their questions about race, ethnicity, and social justice.
Off-campus study in Ecuador, Ghana, South Africa, the southern United States, and Chicago encourage critical comparative thinking about race and ethnicity.
Drawing upon methodologies from the fine arts, humanities, interdisciplinary studies, natural sciences, and social sciences, the RACE major or concentration is a popular complement to coursework in another program or department.