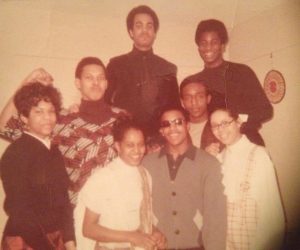 1967-68 St. Olaf students from the newly formed Cultural Union for Black Expression and other student organizations organize with the "Free University" to teach themselves topics not offered by the college curriculum. They develop and lead night courses such as Vietnam, Negro (Black) History, Arabic, and Urban Topics. This student initiative continues into the 70s and lays the groundwork for faculty curricular development. Professor of History Kenneth O. Bjork is an early advocate, calling for more scholarship about the experiences of people of color and how they must be the ones to lead this field. Disciplines like history, he argues, can aid in this endeavor.
1969 The National Endowment for the Humanities accepts a proposal by professor and chair of History Henry Fritz to establish American Minority Studies, an interdisciplinary program that awards a concentration. Professor Fritz, a scholar of Native American Studies, writes that the program will be "a counterpart for the domestic scene of our program in Asian Studies." American Minority Studies courses are also open to students from American Colleges of the Midwest-affiliated institutions.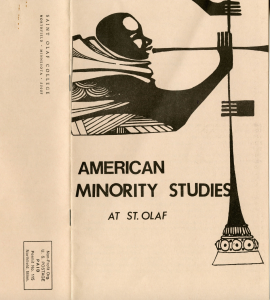 1974 Along with Latin American Studies, the program receives approval to offer a major.
1988-89 A Pew grant enables the program to convene a college faculty workshop titled "Teaching Race and Racism." The program renames itself American Racial and Multicultural Studies (ARMS).
2011-16 Funded by a provost's Academic Innovation Fund grant, ARMS convenes "Mapping Ethnic Studies," a faculty learning community, and renames itself Race and Ethnic Studies (abbreviated RACE). In 2016, supported by another provost's grant, RACE partners with Social Work and Family Studies to offer a college-wide faculty learning community titled "Teaching Race and Family."
2018 RACE co-sponsors "Reclamation: The 50-Year History of CUBE and the Black Action/Advisory Committees" curated by Art/Art History and Race and Ethnic Studies major Lamar Gayles '19. RACE also receives funding from St. Olaf's Mellon grant "To Include Is to Excel" for a three-year curricular enhancement project titled "Un-bordering Race and Ethnic Studies."
2019-20 Race and Ethnic Studies celebrates 50 years on the Hill, honoring trailblazers Deborah Anderson '72 and Ronald E. Hunter '70. Alumni friends from Oles for Racial Awareness, Change, and Equity along with small donors establish a program endowment.
archival research credit: Lamar Gayles '19