Upcoming Events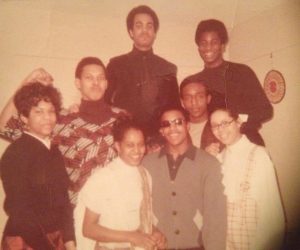 NARRATING BLACK EXPRESSION ON THE HILL: AN ART SHOW
February 8-26, 2018 Groot gallery
Curated by Shaquille Brown, this affinity narrative art show exhibits artworks made by current Black students, professors, and staff to celebrate Black History Month at St. Olaf. The opening reception will be on February 12 at 6 p.m. Co-sponsored by Race and Ethnic Studies.
PARENTHETICAL: CULTURAL UNION FOR BLACK EXPRESSION (CUBE) 50TH ANNIVERSARY EXHIBITION
March 2-22. 2018, GROOT GALLERY
Curated by CUBE co-president and Art History/RACE major Lamar R. Gayles, this oral history project and art exhibition chronicles 50 years of CUBE at St. Olaf College. Hosted by CUBE and co-sponsored by Race and Ethnic Studies.
SORAYA MEMBRENO: "These Are the Things No One Tells You: On Navigating PWIs and What Comes After"
March 9, 2018 at 5-6 p.m., Tomson 280
Soraya Memebreno is the Director of Community at BitchMedia in Portland, Oregon. Hosted by Students for Reproductive Rights and co-sponsored by Race and Ethnic Studies, Department of Sociology/Anthropology, Women's and Gender Studies, English Department, and the Leeras Fund.
RACE SENIOR PROJECT PRESENTATIONS AND RECEPTION
May 2018, Details TBA
Join the Race and Ethnic Studies community to celebrate our graduating senior majors' capstone projects. Reception following.
Past Events
CONFEDERATE STATUE CONTROVERSY
September 15, 2017 at 4-5 p.m., Holland Hall main floor crossroads
Professor Michael Fitzgerald (History), Assistant Professor Lisa Moore (Social Work and Family Studies), and Flaten Art Museum curator Jane Becker Nelson lead a conversation. Co-sponsored by the History Department.
KAREN TEI YAMASHITA: A READING AND DISCUSSION OF LETTERS TO MEMORY

September 20, 2017 at 5-6 p.m., Viking Auditorium
Karen Tei Yamashita's books include Letters to Memory, Through the Arc of the Rain Forest, Brazil-Maru, Tropic of Orange, Circle K Cycles, I Hotel, and Anime Wong–all published by Coffee House Press. I Hotel was selected as a finalist for the National Book Award and received the California Book Award, the American Book Award, the Asian/Pacific American Award for Literature, and the Association for Asian American Studies Book Award. Author book signing to follow. Co-sponsored by Asian Conversations and the Leeras Fund.
MAI NENG MOUA: A READING AND DISCUSSION OF THE BRIDE PRICE: A HMONG WEDDING STORY
OCTOBER 18, 2017 AT 4:30-5:30 P.M., Viking Auditorium
Author Mai Neng Moua '95 is a writer, the founder of the Hmong literary arts journal Paj Ntaub Voice, and the editor of the groundbreaking anthology Bamboo Among the Oaks. Her memoir The Bride Price: A Hmong Wedding Story is published by the Minnesota Historical Society Press. Author book signing to follow. Hosted by Asian Studies and Asian Conversations and co-sponsored by Race and Ethnic Studies.
AN EXHIBITION OF KEN GONZALES-DAY'S SHADOWLANDS

September 1-October 29, 2017 in Flaten Art Museum
This exhibition at St. Olaf's Flaten Art Museum is a concise survey of Ken Gonzales-Day's career, including works from the Erased Lynching, Searching for California Hang Trees, and Run Up series. His most recent work draws parallels between historical lynchings and high profile cases of police brutality affecting communities of color today. Hosted by Flaten Art Museum with programming co-sponsored by Race and Ethnic Studies.
FALL STUDENT ADVISING RECEPTION
October 23, 2017 at 3:30-4:30 p.m., Buntrock Commons 144
Meet the new RACE faculty advising team–Professors Vivian Choi, Kristina Medina-Vilarino, and Leon Narvaez–to learn about majoring or concentrating in Race and Ethnic Studies, discuss your RACE degree progress, or find out about upcoming curricular and event highlights for the year. Light refreshments. Open to all interested students.