EXHIBITION DATES 
The 2021 Senior Show will run April 30–May 29. Please note that these dates are subject to change due to campus Covid-19 guidelines.
GROUP SPOKESPERSON
A spokesperson, elected by the group during the first class session, will facilitate communication and organization between students, museum staff and the art dept. This individual should be detail oriented and responsible.
Spokesperson Responsibilities:
Immediately after the first class send an email to the seniorstudies@stolaf.edu email alias and identify yourself as spokesperson and provide your own contact info.

Act as liaison between the students and staff/faculty.

Keep classmates aware of deadlines regarding meetings, poster, & group projects.
TECH MEETING
Mandatory tech meetings will be held via Zoom to a) communicate with museum and technical staff about exhibition logistics and b) discuss individual installation issues. 
Artists with last names starting with A–M will attend Tech Meeting 1. Artists with last names starting with N–Z will attend Tech Meeting 2. Artists may sign off once their work has been discussed.
Before the meeting, each artist must complete the Tech Form. Name the document LAST NAME_FIRST NAME (eg: "WEEKS_MICHON.pdf" and email it to Patty Cohn (cohn@stolaf.ed).
PR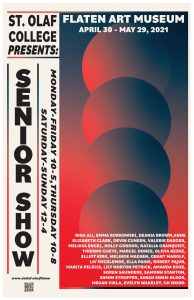 Exhibiting artists will collectively design and distribute promotional material for their exhibition. The museum will pay for color poster printing. (See the archive of posters from previous years)
By

Friday, April 9

, a rough draft of the poster concept must be shared with Jane Becker Nelson and 343 instructors.

The poster should include the following information:

Title of show

Names of artists (Medium of each artist is sometimes listed)

Location: Flaten Art Museum, Center for Art and Dance, St. Olaf College

Dates of show, including the year

Date and time of reception

Museum website (stolaf.edu/flaten)

The poster can be printed on campus at the print center, and charged to the museum. The group spokesperson (or poster designer) will ask museum staff for a budget number.

Print 100 posters.

Send a digital copy to Jane Becker Nelson and Patty Cohn for advertising. The Art Dept and museum will share on their websites, social media, and in College email newsletters. 

Students may post to social media as desired.

If individual artists make their own postcard, these should be mailed 2-3 weeks before the show opens. These are done at the artist's expense, either at the print center or off campus.

Online postcard printer options include: 4by6.com, modernpostcard.com, psprint.com.
MUSEUM DOCUMENTS (LABELS AND STATEMENTS)
Each artist must submit label information and an artist statement to the museum. Museum staff will print and install them near your work. A price list will be in the gallery that provides visitors with an itemized list of your work and sales prices. 
The following checklists provide step-by-step instructions for each element.
MATERIALS FEES
Send your tally form amount to Patty Cohn by May 4th.  We will bill your student account for that amount.
DELIVERY OF ARTWORK
Artists will deliver their work to the galleries between

1–3pm, Monday, April 19, 2021

.

Work must be ready to install (framed and wired, structurally sound, no wet paint, installation problems already resolved, etc.)

If framing, Google it – lots of videos online! 

Discretely label each object with your name and title (on the back, bottom, etc.)

Attach a temporary label with your name and the title securely TO THE FRONT of each piece. Museum staff will use this to match your labels and statement to your work.

Include sketches or written installation instructions as needed.

Include any unusual hardware.
PUBLIC RECEPTION
A reception for Senior Show artists and Art & Art History faculty and staff will take place outdoors on Sunday, May 2, 2021 from 1-3pm, as long as it is allowable under Covid-19 health guidelines at the time.
DE-INSTALLATION
You are responsible for removing your work on time.
All work must be removed between 5-7pm on Commencement Day
If you have a scheduling conflict with your de-installation, arrange for a friend to take your work down and remove it from the gallery.
POSSIBLE SENIOR STUDIES EXHIBITION SPACES:
Flaten Art Museum

Groot Gallery–go up, use vertical space

Center for Art and Dance Corridor – south AND north sides

Link wall – east side

Installation room

3D critique room

Green space outside of Groot Gallery

Digital screen – ask Patty Cohn in DC 200

Possible performance spaces – Link, Urness, Viking, Kelsey, dance studios, etc. Must get permission as-needed

2D critique room

Other campus spaces – must get permission as-needed