Mayo Innovation Scholars Program offers an opportunity for selected undergraduate students with academic background in any of the natural sciences, nursing, economics, management or media studies, mathematics, or with other relevant experience to evaluate projects submitted to the Mayo Clinic Ventures, the arm of Mayo responsible for evaluating potential business opportunities for discoveries and inventions created by Mayo Clinic physicians and researchers. This program is an initiative between a select group of Minnesota Private Colleges and the Mayo Clinic, with funding through the Medtronic Foundation.
Two teams of four students will represent St. Olaf College this year in the Mayo Innovation Scholars Program. The project team will be comprised of students representing a variety of science and economics backgrounds who demonstrate strong analytical and communication skills and success as an effective team member. The interim experience will be offered as an interdisciplinary course (ID 396) for 1.0 credit. The summer experience is a funded, non-credit internship. The interim team will also be mentored by an MBA graduate student (there is no MBA student participant in the summer program).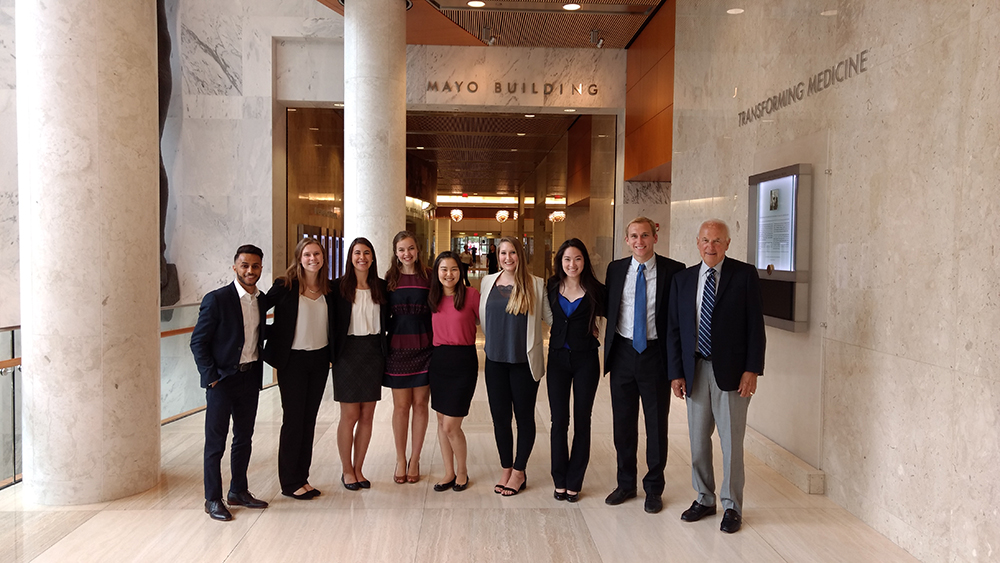 Project Description
Time: summer or interim
A stipend of $1000 for interim participants and $2000 for summer participants
Represent St. Olaf in teams of four at the Mayo Clinic
Information Sessions: Thursday, September 19th 6-7 p.m. OR Tuesday, September 24th, 6-7 p.m. in TOH 200
Application Deadline for Interim 2020: Sunday, October 6th, 2019 (11:59 p.m.)
Expectations
Teams will be expected to meet with the Licensing Manager at the Mayo Clinic Ventures in Rochester at the beginning of the project; 1-2 other visits to Rochester may be required. Additionally, teams will be required to attend an orientation (late October for the interim cohort). Teams will share the results of their research at Mayo at a day-long event (early March for the interim cohort). College transportation will be provided for required visits to Mayo.
Compensation
Interim participants will receive a $1000 stipend upon completion of the project.
Summer participants will receive a $2000 stipend.
---
How to Apply
Eligibility
Interim Program: Junior or Senior
Summer Program: Sophomore or Junior
Major or concentration in any of the natural sciences, nursing, economics, management or media studies, mathematics, or with other relevant academic background/experience
Strong academic record
Excellent written and oral communication skills
Ability to extend one's knowledge base to the topic at hand and to conceptualize and frame relevant questions
Previous experience in research preferred but not required
Evidence of effectiveness as part of a team
Understanding and respect for confidentiality
Willingness to commit time and energy to the project
Application Materials
Unofficial transcript – Log in to the SIS go to grades -> select all years/terms -> export as a PDF file (one way to do this is by going to a print screen and clicking on "view as PDF", or "view in preview")
Letter explaining interest in this initiative, describing background and specific experiences related to the project, and providing an example of a team on which the student has been an effective member
Name of one faculty member to be used as a reference, indicated in the letter
Application Process
Login to Handshake via the directions next to the login fields Search for "Mayo Innovation Interim Program" under the job and internship postings tab.
Save your resume, unofficial transcript & cover letter to a common location
Upload your resume "under resume", your transcript under "unofficial transcript", and your letter explaining interest under "writing sample" (all under the "Documents" tab on the blue menu bar).
On the right hand panel, select your resume, transcript & personal statement – click "Submit".
Interviews of Selected Students
A team of faculty and staff will conduct formal interviews after review of applications.  Final selection will be based on academic background and related experience with care taken to create the appropriate mix of backgrounds on each team.