The Norway Innovation Scholars Program offers an opportunity for selected St. Olaf's science and business students to complete research projects submitted by a biotech company. Four St. Olaf students are selected to participate in this experience modeled after the Mayo Innovation Scholars. The Norway Innovation Scholars will have the unique opportunity of spending four weeks in Norway performing market analysis, evaluating intellectual property issues, and creating a strategic plan.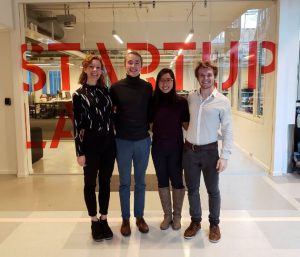 Budget
Cost per student will be approximately $3,000. This includes travel, housing, and food. The Piper Center will provide $2,000, and students will be responsible for approximately $1,000 (or less).
Impact/Outcomes
The program aims to provide firsthand experience to science and economics on how science and business intersect. Norway Innovation Scholars will gain meaningful experience in areas like: technology transfer, business development, marketing, design thinking, intellectual property, health insurance, market analysis, and regulatory affairs.
Norway School of Business Support
Magne Supphellen and Truls Liland, faculty members at the Hauge School of Management and NLA University College, have graciously volunteered to be the faculty advisors for this project.
Past Participants
Read about how past participants gained experience in business abroad.
---
How to Apply
Eligibility
Interim Program: Junior or Senior
Major or concentration in any of the natural sciences, economics, management or media studies, mathematics, or with other relevant academic background/experience
Strong academic record
Excellent written and oral communication skills
Ability to extend one's knowledge base to the topic at hand and to conceptualize and frame relevant questions
Previous experience in research preferred but not required
Evidence of effectiveness as part of a team
Understanding and respect for confidentiality
Willingness to commit time and energy to the project
Information Sessions: September 19th, & 24th 6-7pm RNS 300
Deadline for Interim 2019: October 1st, 2018
Application Materials
Unofficial transcript – Log in to the SIS go to grades -> select all years/terms -> export as a PDF file (one way to do this is by going to a print screen and clicking on "view as PDF", or "view in preview")
Letter explaining interest in this initiative, describing background and specific experiences related to the project, and providing an example of a team on which the student has been an effective member
Name of one faculty member to be used as a reference, indicated in the letter
Application Process
Login to Handshake via the directions next to the login fields Search for "Norway Innovation Scholars Program" under the job and internship postings tab.
Save your resume, unofficial transcript & cover letter to a common location
Upload your resume "under resume", your transcript under "unofficial transcript", and your letter explaining interest under "writing sample" (all under the "Documents" tab on the blue menu bar).
On the right hand panel, select your resume, transcript & personal statement – click "Submit".
Interviews of Selected Students
A team of faculty and staff will conduct formal interviews after review of applications.  Final selection will be based on academic background and related experience with care taken to create the appropriate mix of backgrounds on each team.
---