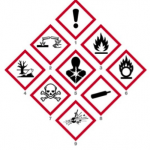 The OSHA Hazard Communication Standard (HCS) is now aligned with the Globally Harmonized System of Classification and Labeling of Chemicals (GHS).
The HCS requires all manufacturers or distributors of any product that contains chemicals to evaluate the chemical hazards of the product.
The identified hazards must be communicated on the container label and in documents called Safety Data Sheets (access to St. Olaf Safety Data Sheets).
Hazard Classes. The communicated hazards are assigned to one (or more) of nine health hazard classes and 16 physical hazard classes.
Hazard Categories.  Each Hazard Class is subdivided into Hazard Categories.

These Categories are ranked based on hazard severity, with Category 1 as the most severe.
Each Hazard Category has an associated Signal Word, Pictogram, Hazard Statement, and Precautionary Statement(s).
---
LINKS FOR: