WARNING!  Before you pour two different chemicals into your hazardous waste container YOU MUST CHECK TO MAKE SURE THAT THE WASTES ARE COMPATIBLE!!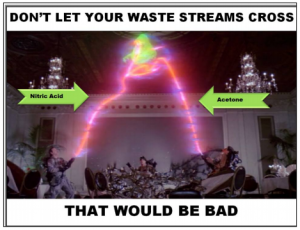 There have been a number of laboratory accidents and explosions at colleges and universities in recent years that involved the mixing of incompatible chemicals that have resulted in personal injury and physical destruction.  Some of these incidences occurred during experimental use while many other incidents involved the improper mixing of hazardous wastes.
Don't Know?  Don't Do It!  ASK if you are unsure if chemical wastes can be combined!
---
USE THESE INTERACTIVE WEBSITES TO DETERMINE IF CHEMICALS CAN BE MIXED
Use the Univ Minnesota Chemical Waste Registry and this chart.  Only chemicals whose DDCs fall in the same column can be stored next to each other.
Don't Know?  Don't Do It!  ASK if you are unsure if chemical wastes can be combined!
NITRIC AID – Use a Vented Lid; DO NOT MIX WITH Organic Solvents or Organic Acids
Do not mix Nitric Acid Waste with:

Acetic Acid; Acetic Anhydride; Acetone; Acetonitrile; Acrylonitrile; Alcohols; Aldehydes; Alkali Metals; Ammonia; Cyanides; Powdered Metals; other Organic Substances

"…Nitric Acid is the common chemical most frequently involved in reactive incidents, and this is a reflection of its exceptional ability to function as an effective oxidant even under fairly dilute conditions (unlike sulfuric acid) or at ambient temperature (unlike perchloric acid).  Its other notable ability to oxidize most organic compounds to gaseous carbon dioxide, coupled with its own reduction to gaseous 'nitrous fume' has been involved in many incidents in which closed, or nearly closed reaction vessels … have failed from internal gas pressure."  (Bretherick 1990)
Use a Vented Lid.  If you do have Nitric Acid mixed with other substances, then you must use the vented screw-top lids that we have in stock in RNS 341.
Some Examples of Recent Laboratory Accidents from Mixing Incompatible Chemicals