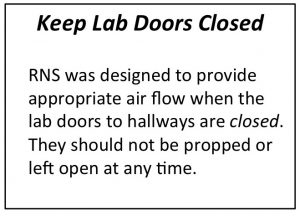 This page includes policies designed to help keep RNS a secure and safe place for our employees and students. These policies are not meant to stifle innovation, change, or new directions. They are in place to insure that all the subtleties and details have been carefully considered before putting anyone or anything — student, staff, faculty, facility, equipment — at any risk.
If you think you have a necessary exception to any building access policies, you must start a conversation with your Chair before initiating any deviation to the stated policy. Your Chair will consult the Associate Dean, Stockroom Managers, the Chemical Hygiene Officer, and Public Safety, as appropriate, for further discussion and approval.
Volunteers
Volunteers (i.e., no course credit or employment is involved) and their Supervisor must complete the Volunteer Registration Form.  Copies of this form must be given to Human Resources (original copy), the appropriate departmental office, the Supervisor, and the volunteer.
The volunteer and supervisor must abide by all the the RNS Building Safety Policies, and the volunteer must be trained in all appropriate safe laboratory procedures.

Minors in Laboratories or Other Hazardous Areas
St. Olaf College is committed to promoting the safety and well-being of students, youth and others who are entrusted to our care.  This policy is meant to protect both the safety of minors and of St. Olaf personnel.  The principles underlying this policy are: Minors may be more susceptible to certain toxic agents and chemicals, Minors may be less aware of the potential risks and hazards in laboratories, and Minors may require additional supervision and oversight.  A Child is a person under the age of thirteen (13); a Minor is a person under eighteen (18) years of age.
Any St. Olaf events with minors involved must be pre-approved.
All employees, students or departments must abide by the St. Olaf Protection of Minors webpage, including the submittal of all necessary forms, before hosting minors on campus or participating in a St. Olaf event off-campus with minors.

Step One is to submit a Request to Host Minors Form.  Whenever possible, the request should be submitted at least two weeks prior to the event.
If the event is approved, the following steps must be completed:

All employees or students participating in the event must complete the online Sexual Abuse Awareness Training prior to the event occurring.
One-on-one contact with minors is highly discouraged and will only be approved in special circumstances.  Any individuals with potential to have one-on-one contact with minors must have a background check performed by Human Resources with satisfactory results prior to the event occurring.

Cost of the background check must be paid for by the department hosting the event.
Background checks should be completed every five years or re-checked if an employee separated employment for more than one year, unless they are working consecutive short-term or temporary assignments, in which case the five year rule applies.

The Program Director/Instructor is responsible for collecting the Parent Permission and Registration Form and Child Behavior Agreement for every minor left in St. Olaf's care for their program.
If the minors are coming from a group, such as a school, the Group Guest Policies & Behavioral Expectation Agreement should be completed by the group instead of filling out a form for each child.  If the minors are attending an event and will be under the care of their parent or guardian, neither form needs to be completed.  The complete forms should be turned in to the Office of Student Activities or the Finance Office.
An appropriate number of adult supervisors will be at each event based upon the activity.  Whenever possible, allow for two individuals to be present for circumstances such as taking a minor to the restroom or taking a minor aside if they get hurt.

Minors enrolled in a St. Olaf class with a laboratory component are allowed in hazardous areas after meeting the above qualifications and after they have received the appropriate training in safe laboratory/shop procedures.

Even in such cases, due to legal restrictions, Minors are not allowed to handle:

Highly hazardous materials, including pyrophorics, explosives, large quantities (i.e., ≥ 4 liters) of flammable materials, or compounds having a rat oral LD50 less than or equal to 50 mg/Kg.
International Agency for Research on Cancer (IARC) Group 1 or Group 2A carcinogens.
Radioactive materials or radiation-producing machines.  Supervisors must apply to the Radiation Safety Officer for exceptions, and these exceptions must be documented in writing.
Minors not enrolled at St. Olaf are not allowed in St. Olaf laboratories or other areas where hazardous materials are present or hazardous activities take place (e.g., the wood shop) except under the following circumstances.  The Minor:

Is employed by St. Olaf or has been formally accepted as a volunteer worker; and
Is participating in a STO-sponsored program; – or –
Is visiting for academic purposes; and

Receives written approval from the PI/Lab Supervisor and Department Head.

In cases 1-3, the Minor must also:

Have been trained in safe laboratory procedures; and
Have adult supervision; and
Have a completed STO Volunteer Registration Form on file with Human Resources and the host department.
Areas with Controlled Substances.  Minors are not permitted in any setting where research involving controlled substances is being performed, even if they are enrolled students.
Vivarium.  Minors are not permitted in the Vivarium unless (1) all above requirements are met, and (2) their access has been reviewed and approved by the Animal Care and Use Committee (IACUC).
Minors under the guardian care of St. Olaf personnel are allowed in areas: 

If the room is designated as free of physical or chemical hazards; – or –
For the purpose of escorting a minor to/from an enclosed office/break room located within a laboratory or shop.

Visiting/Summer Groups
St. Olaf College is committed to promoting the safety and well-being of students, youth and others who are entrusted to our care.  Visiting/Summer Groups (i.e., groups that are not part of the regular FNSM program) must abide by the following:
Any individual who is supervising an activity that involves minors (a person under 18 years of age) at St. Olaf College must follow the policies put forward on the St. Olaf Protection of Minors webpage and other appropriate policies found in Minors in Laboratories or Other Hazardous Areas.
Before any activity can occur in an RNS laboratory space, the group's supervisor must meet with the appropriate RNS stockroom manager(s) and the CHO to ensure that no hazardous materials exist in the space.  If hazardous materials are present or hazardous activities take place (e.g., the wood shop) then all individuals must be trained in, and follow, the appropriate safety procedures before being allowed access to the room(s).
RNS Facilities Work Orders
We want the RNS laboratories to function smoothly and as constructed.  If something isn't working properly (e.g., a leaking faucet, broken light switch) then please fill out a Facilities Work Order Request or tell the Stockroom Manager or CHO.
When filling out the Work Order, choose "Maintenance" in the Job Type pull-down menu.

Lab Renovations
Before undertaking any laboratory renovations, or before you submit any grants that might require laboratory renovations, you must first consult with (1) the Associate Dean of FNSM, (2) your Department Chair, (3) the CHO, and (4) the Assistant Director of Facilities, Engineering Services.
Grant-related projects that involve laboratory renovations or permanent connections to RNS utilities need to be reviewed by the Assistant Director of Facilities before submitting your application.  This review may help avoid painful problems trying to decide who pays for construction and utilities after the new equipment is on site.
Please read and heed the information on the Facilities "Project Assistance" webpage.

Connecting to RNS Utilities
Facilities personnel are responsible for all "permanent" connections to RNS utilities.  Individuals who are not licensed in a particular trade may inadvertently make improper connections that can then result in others getting injured or in damage to RNS.

If you do not have a license to be an electrician do not do any wiring.
If you do not have a plumbing or pipe-fitting license do not tie into any of the water or gas lines.