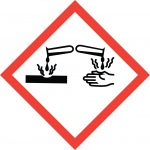 Definitions and Other Important Information
Hazard Communication Standard (29CFR 1910.1200):

Skin Corrosion is the production of irreversible damage to the skin; namely, visible necrosis through the epidermis and into the dermis, following the application of a test substance for up to 4 hours.  Corrosive reactions are typified by ulcers, bleeding, bloody scabs, and, by the end of observation at 14 days, by discoloration due to blanching of the skin, complete areas of alopecia, and scars (OSHA, 29 CFR 1910.1200, App A).
Serious Eye Damage is the production of tissue damage in the eye, or serious physical decay of vision, following application of a test substance to the anterior surface of the eye, which is not fully reversible within 21 days of application (OSHA, 29 CFR 1910.1200, App A).
Corrosive to Metals means a chemical which by chemical action will materially damage, or even destroy, metals (OSHA, 29 CFR 1910.1200, App B).
GHS Definitions, Hazard Categories, Signal Words, and Hazard Statements are summarized in this table.
Detailed descriptions are found in Appendix A of 1910.1200.

EPA: Has a pH <2.0, or > 12.5  (EPA, 40 CFR 261.22).
How Damage Occurs. Corrosives erode the skin, so such injuries may be very slow to heal.  Ingestion can cause immediate injury to the mouth, throat, and stomach and, in severe cases, can lead to death.  Eyes are particularly vulnerable to injury, and inhalation of vapors or mists can cause severe bronchial irritation or damage.
Classes of Corrosives. There are many classes of compounds that exhibit corrosive properties, and corrosive substances exist as solids, liquids and gases.  Strong acids, strong bases (also called caustics), strong dehydrating agents, strong oxidizing agents, halogens, and nonmetal chlorides tend to be the most common corrosive chemicals in science laboratories.
Corrosive liquids such as bromine, sulfuric acid, sodium hydroxide solutions, and hydrogen peroxide solutions tend to be especially dangerous since their action on skin occurs very rapidly.
Alkali metal hydroxides (especially potassium hydroxide and sodium hydroxide) are very dangerous when allowed to come into contact with tissue, especially the eyes.  They are less painful than the strong acids, but damage may extend to greater depths because the injured person may not be aware of the seriousness of the incident.
Corrosive gases or dusts from corrosive solids can seriously damage the respiratory tract.  Typical examples of corrosive gases include halogens (e.g., chlorine), ammonia and nitrogen dioxide.
Solids such as sodium hydroxide, phosphorous and phenol can be very dangerous when allowed to come in contact with the skin, and dusts from corrosive solids can also seriously damage the respiratory tract.
Dehydrating Agents such as sulfuric acid, sodium hydroxide, phosphorous pentoxide, calcium oxide, and glacial acetic acid can cause severe burns to the eyes or skin because of their strong affinity to water.
Hydrofluoric Acid is recognized as a "Particularly Hazardous Substance" – follow all rules and procedures.
Nonmetal Chlorides such as phosphorous trichloride and corresponding bromides react violently with water and are a common cause of laboratory accidents.
Halogens (in addition to being toxic) are corrosive on contact with skin, eyes, and the linings of the respiratory system.  Because they are gases they pose a greater danger, especially by inhalation, of coming in contact with tissue.
Standard Operating Procedures
Minimize skin and eye contact by wearing chemical splash goggles, gloves that are resistant to the corrosive, and a lab coat.  If appropriate also use a face shield or other protective apparel.
Avoid inhalation of corrosives by working in a fume hood or other containment device when handling volatile corrosives (e.g., ammonia is a severe bronchial irritant).
Always add acids to water, never the reverse.  Add the agent to the water slowly, since splattering might occur when some types of corrosives are added to the water too quickly.
Selecting Containers.

All containers and equipment used for storage and handling of corrosives must be corrosion resistant.
Attempt to purchase corrosives in plastic-coated containers, so that if they are dropped, the most likely result should be only a small leak through the plastic coating instead of a dangerous splashing.

Moving Containers among Labs.

Move corrosives in a hand-held bucket or (if numerous containers) on a chemically-resistant cart that has proper secondary containment.
Do not allow others to ride in the elevator when moving corrosives between floors unless they are wearing appropriate PPE.

In areas where corrosives are used and stored, an eyewash and safety shower must be readily available.
Incompatible classes of corrosives must not be mixed.
Hydrofluoric Acid.  Never handle or use Hydrofluoric Acid unless all following requirements have been met:

You have been given the proper training.
You have the proper knowledge and spill-response agents (calcium glauconate cream & calcium carbonate).
All personnel with whom you are working have also received the proper spill-response training.
NITRIC AID – Special Considerations when Combining with Organic Solvents or Organic Acids
Do not mix Nitric Acid with (or be very careful):

Acetic Acid; Acetic Anhydride; Acetone; Acetonitrile; Acrylonitrile; Alcohols; Aldehydes; Alkali Metals; Ammonia; Cyanides; Powdered Metals; other Organic Subtances

"…Nitric Acid is the common chemical most frequently involved in reactive incidents, and this is a reflection of its exceptional ability to function as an effective oxidant even under fairly dilute conditions (unlike sulfuric acid) or at ambient temperature (unlike perchloric acid).  Its other notable ability to oxidize most organic compounds to gaseous carbon dioxide, coupled with its own reduction to gaseous 'nitrous fume' has been involved in many incidents in which closed, or nearly closed reaction vessels … have failed from internal gas pressure."  (Bretherick 1990)
Use a Vented Lid.  If you do have Nitric Acid mixed with other substances, then you must use the vented screw-top lids that we have in stock in RNS 341.
Storing Corrosives
(See List of Incompatible Chemicals)
Incompatible corrosives must be physically segregated (i.e., if two jars of incompatible chemicals break simultaneously, the chemicals must be stored in such a way so that the spilled chemicals cannot come in contact with each other).  The best method is to store incompatible chemicals in separate secondary containment trays and on separate shelves so that one chemical cannot spill on top of an incompatible chemical.

Store corrosives in secondary containment trays.
Always physically segregate acids from bases – use 2° containment trays if jars are on the same shelf.
Always physically segregate inorganic acids from organic acids (some inorganic acids, such as Nitric Acid, are oxidizers and will react with organic acids).

Some examples of other inorganic acids are Hydrochloric Acid, Hydrofluoric Acid, Sulfuric Acid, and Phosphoric Acid.
Some examples of Organic Acids are Acetic Acid, Butyric Acid, Formic Acid, Picric Acid, and Acrylic Acid.

Always store Nitric Acid separately.

Perchloric Acid, Picric Acid and other strong oxidizing agents (e.g., chromic acid) require special handling and Prior Approval before even purchasing.  These substances must be stored in glass (unbreakable) or other inert containers.
Segregate oxidizing acids from flammable and combustible materials.
Segregate acids from chemicals that can generate toxic gases on contact, such as sodium cyanide and iron sulfide.
Segregate acids from active metals such as sodium, magnesium, and potassium.
Segregate acids from solvents such as toluene and xylene.
Large bottles (4L) must be stored in acid cabinets..
Emergency Procedures
In areas where corrosives are used and stored, an eyewash and safety shower must be readily available.
Chemical on Face

YELL for Help!  If the goggles have protected your eyes, DON'T TAKE YOUR GOGGLES OFF JUST YET!

Immediately go to the eyewash station and first rinse your face quickly with the goggles still on, then remove the goggles and continue to rinse your face.
Continue to flush the affected area with tepid running water for 15 minutes. 

If you were not wearing goggles, you may not be able to see well enough to get to the eye wash station on your own.

YELL for Help! and cooperate with anyone who comes to your aid.

Call for paramedics or (for lesser injuries) have Public Safety drive the victim to the Northfield Hospital Emergency Room.

Chemical splashes of strong corrosives or dewatering agents (e.g., ethanol) can result in chemical burns or other eye damage and are to be treated with the utmost concern and speed.
Do not wait for symptoms (such as pain) to develop.

Chemical on Body

YELL for Help!  
Immediately flush the affected area with tepid running water for 15 minutes.  Chemical splashes of strong corrosives can result in chemical burns and are to be treated with the utmost concern and speed.
Use the sink faucet if: a hand or only a portion of the lower arm is affected.
Use the safety shower if: an extensive part of an arm or leg or any part of the torso is affected.
Remove all affected clothing. Now is not the time for shyness.

Once the victim is in the safety shower being drenched with water, help him/her remove the affected pieces of clothing and jewelry.  The victim may not be capable of removing their own clothing; they may need your help.
Have all others leave the room except for perhaps 1-2 people who can stay behind to hold fire blankets up to allow the victim some additional privacy while they continue to be flushed with water.

No Ointments. Do not apply ointments, baking soda, or ice to the affected skin.

Hydrofluoric Acid Exposure. Hydrofluoric acid is an extremely corrosive liquid that can cause severe injury via skin and eye contact, inhalation, and ingestion.  HF readily penetrates the skin and causes decalcification of the bones.  Laboratory workers must know the first-aid procedures for HF exposure before beginning work with HF.  In the event of contact with HF, first-aid must be started within seconds.  Do NOT allow affected area to touch your body!!

Calcium gluconate gel (2.5% w/w) must be readily accessible in work areas where any potential HF exposure exists.
Immediately flush the exposed area with tepid water, remove contaminated clothing, and call 9-911.
Apply the calcium gluconate gel after 5 minutes of flushing with water.  If the calcium gluconate gel is somehow unavailable, continue flushing the exposed areas with water until medical assistance arrives.
If ingested, immediately call 9-911 and the Poison Control Center (9-1-800-764-7661).
If the vapor is inhaled, move the victim to fresh air and call 9-911.