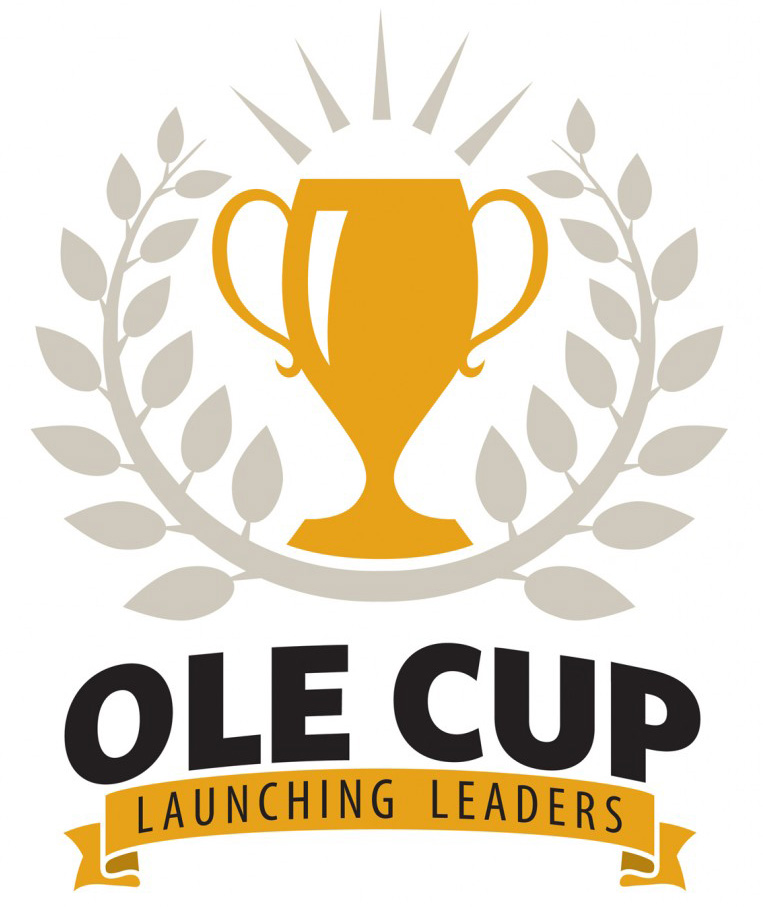 The Ole Cup is an annual student entrepreneurial competition conceived by Brad Cleveland '82. The competition, which is open to all St. Olaf students, is on Saturday, May 6, 2017, following Honors Day. The grand prize winner(s) receives $10,000, and is paired with alumni and parent mentors to receive pro-bono legal, accounting, HR, and other services to support the business for up to one year. The second prize winner(s) receives $5,000 and the third place, $3,000. There will be an additional award of $5,000 for the best social venture. The winner of the Ole Cup automatically qualifies for the semi-final round of the Minnesota Cup student division where the winner (of the student division) is awarded $30,000, and can compete for the Minnesota Cup Grand Prize of $50,000.
Roberto Zayas, the Associate Director for Entrepreneurship at the Piper Center will work closely with outside organizations and programs, such as the Minnesota Cup, and Twin Cities business publications and blogs to provide access and exposure for the winning Ole Cup team.
Want to learn more about the history of the Ole Cup? Read this St. Olaf news article.
Ole Cup 2017 Participants and Judges.
View 2014, 2015, and 2016 participants, including winners and judges.
Live and On-demand Streaming
---
Eligibility
Any individual or group of First-Year, Sophomore, Junior, or Senior students enrolled at St. Olaf at the time of application.
Applicants must be in good academic standing and have maintained professional conduct as a student*
At least one member on the team must be between the ages of 19-30 on May 6, 2017.
The idea needs to be economically viable and it cannot violate or infringe on the copyright or intellectual property of another.
*Good academic standing means a minimum GPA of 2.0, not on academic probation or academically dismissed according to the Registrar's Office. Professional conduct is vetted by the Dean of Students Office.
Application Process
1. Executive Summary (This is your elevator pitch) – Due in Handshake by EXTENDED: Friday, March 31st, 2017. (100 word max).
2. Business Plan – Student(s) should complete a high level business plan by TBD:
EXECUTIVE SUMMARY (100 Word Max)
OPPORTUNITY: Convince us this is a breakthrough idea and an innovative approach. Describe your product/service, the problem it solves, your value proposition and what is unique or innovative about your approach.  Who is your target customer and how large is your addressable market? (500 words)
PLAN: Convince us your plan is commercially viable. Explain your business model including operating, sales and marketing plans.  What activities will your company perform and what partners/vendors will you rely on, how will your product/service be priced and positioned, through what channels will you reach your customers, how will you create awareness and convert customers.  Also, include a list of key team members/advisors that are helping you develop the business.
Please include summary financial projections and assumptions including projected volume, unit pricing and margins, major operating costs and capital needs. (500 words) One excel document may be uploaded with summary financial information.
PROGRESS: What progress have you made?  Do you have a prototype, customers, strategic partners or revenue? Tell us what milestones you've achieved to validate the opportunity and bring your product/service to market. (500 words)
For Social Ventures Only: Under the OPPORTUNITY section of the application, Social Ventures need to articulate the social benefits of their idea and how big the impact will be.
3. Meet with a coach – Roberto Zayas after submitting the Executive Summary to review the Final Business Plan/Pitch before April 25th. (REQUIRED)
4. Pitch – Student(s) will pitch their business during the Entrepreneurial Summit on May 7th, 2016.
Use this tutorial on presentation fundamentals for additional guidance.
If you have any questions, please contact Roberto Zayas at zayas@stolaf.edu or stop by the Piper Center in Tomson 270.
---
Mentoring Areas
Finalists receive pro-bono mentoring from the following areas:
Accounting & Finance
Fundraising & Investors
Legal Services
Marketing & Social Media
Payroll & Human Resources
Web & Technology
---
Videos for inspiration
If you have any questions, please contact Roberto Zayas at zayas@stolaf.edu or stop by the Piper Center in Tomson 270.