2015 Ole Cup Videos
2015 Ole Cup: Keynote Address and Awards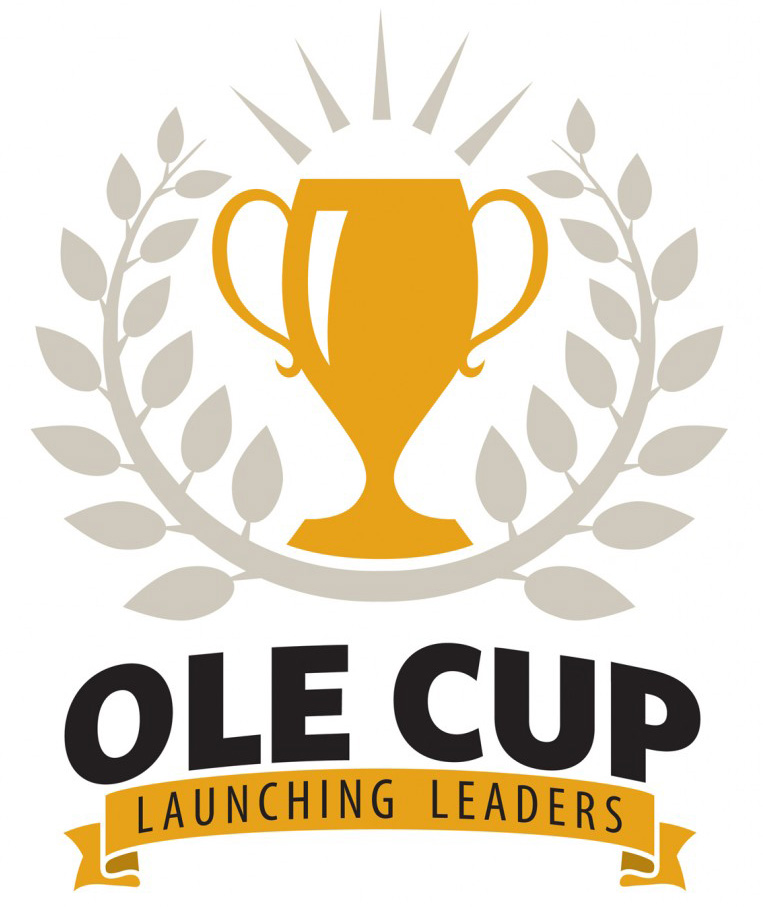 2015 Ole Cup: Business Pitches & Student Presentations
2015 Ole Cup Participants
Who's Missing?: Adrian Rossing '15 (Second Prize Winner)
Members and directors of touring groups all know the logistical nightmares associated with ensuring a large ensemble are all present when traveling on a tight schedule. Who's Missing? Is a mobile solution that provides group leaders with logistics solutions by eliminating communication chaos. The application allows users to "check-in", receive real-time schedule updates, and communicate with other travelers, while group leaders can ensure that their members are accounted for. All touring organizations will benefit from Who's Missing?, a solid solution to problems among traveling groups on the go.
bloom: Kirsten Schowalter '15, Liz Brindley '15, Jay Carlson '15, David Hastings '14, CJ Urnes '15, Kelsey Daly '14
bloom, a social venture, is an initiative that brings attention to the creative process through an intentional omnidisciplinary approach in the way we do, learn, and live. bloom was founded at St. Olaf College two years ago, and now wants to expand to similar schools across the country. bloom supports a core group of students at undergraduate campuses who cultivate new approaches and facilitate collaborative events to help individuals develop the creative skills necessary to tackle the complex problems that do, and will, face their generations.
Campus Klips: Timothy E. Joseph '16, Leonard F. Vibbi '17, Jaylen Jones '16, Zareef Kamal '18
Campus Klips will be a haircut/styling business that will provide students on residential college campuses with high quality, professional haircuts at an affordable price. With an on campus location, Campus Klips will provide college students ease of access and convenience for highly demanded hair care services. In a voice of consumer survey conducted on St. Olaf College campus, 95% of 113 students surveyed, indicated they would prefer this form of service on campus; similar to what is available in downtown Northfield. Campus Klips will enhance student bonding and community building in colleges by providing a social platform for student interaction.
Papa Theo's Fish Farm: Onyemauchechukwu J. Nwigwe '18 (Best Social Venture)
Nigeria imports 900,000 metric tons of fish annually to meet a shortfall of 1.8 million tons. Our company plans to meet that demand. We produce Catfish; a nutritious, delicious, delicacy Nigerians enjoy. Our aim is achieving economic success by sustainably developing our farms, achieving both economic growth and human development. The foundation of our company is to rear this fish from eggs to market, utilizing aquaculture practices. Papa Theo's Fish Farm sits in the launching pad for scalable commercialization, we have the talent, expertise and we have the passion, we are looking for a partner to help make this vision a reality.
Sirius: Partik Štefek '18, Jevrem Leverda '18, Nayar Valente '15
Sirius Inc. is a St. Olaf-based company that commits itself to providing high quality and affordable services. The company's goal is to r educe the amount of time people spend waiting for an open bathroom facility by using in-house developed software which displays the nearest facility and its occupancy. Music festivals, public venues, sports events, shopping malls, hotels, or any other small businesses will greatly benefit from Sirius. We expect to generate profit from entities that strive to provide their customers with a higher standard of service.
Chancify: Ashley Belisle '15, Casey Bouldin '15, Abdi Musse '15, Conor Burke '16
Millions of students apply to college every year without knowing their acceptance chances or what to look for. Chancify is the only available resource for students at all stages of the college application process. We offer the following:
Database search suggests a list of possible colleges
Uses student-entered data to predict that student's chances of acceptance
Feedback tells students how to improve overall application
The company defines its market as college-bound high school juniors and seniors. Chancify's start-up costs are predominantly Web development costs and legal fees to develop contracts between the owners and with the customers, totaling approximately $14,000.
Farming Forward: Kate Seybold '15, Nora Flynn '15
Agriculture represents a significant portion of Minnesota's economy and landscape. The detrimental effects of agriculture on our environment are well documented. While many farmers are concerned about that state of our environment, some are hesitant to adopt sustainable practices without evidence of how they may influence profitability. Environmental problems associated with agriculture need to be addressed in a way that prioritizes farmers' livelihoods. Farming Forward will work directly with agricultural and environmental organizations, farmers, and landowners to conduct on-farm research evaluating the current conditions of farms, and the potential for new agriculture techniques to be both environmentally and economically sustainable.
Qopo: Charlie Johnson '16, Jesse Landa '16, Ben Le Cam '16, Lars Midthun '16 (Third Prize Winner)
Our everyday lives are filled with small details that can affect our mood, and eventually alter our health. At Qopo, we strive to build smart devices to improve people's quality of life. We promote a modern lifestyle through connected objects. We want to make our user's lives better, richer and happier. We believe that a great day starts from the moment you get out of bed. Our first provisional patented product changes the way you wake up.
Foggy Ridge Farm: Max Wolfram '15, Jared Britson '15
Jared Britson and Max Wolfram have partnered, under business agreement, with Foggy Ridge LLC in Washington State to make an Aronia berry pudding, for consumption by people seeking healthier living styles. The popular berry is native to the Midwest and has recently been deemed a healthy super fruit for its high antioxidant levels by the Wall Street Journal. The pudding, Aronia Bliss, is our entrant into this growing industry and is very high in antioxidants, has a long shelf life, would not need refrigeration, and has nutritious value. We feel this could be packaged as the next healthy and convenient grab and go shelf-stable product.
Ole Thrift Shop: Corey Rudder '16, Lisa Swanson '16, Simon Scholten '16, Benjamin Swenson-Klatt '16, Mary Catherine Davidson '17
St. Olaf College promotes an environmentally friendly lifestyle, but lacks a venue for students to effortlessly donate their gently used possessions that would normally end up in landfills. Grounded in environmental and ethical values, the Ole Thrift Shop dedicates itself to increase the sustainability of the St. Olaf campus by collecting donated goods and reselling them for affordable prices annually. In the fall of 2013, Ole Thrift Shop earned a profit of around $6,000, doubling the investment and predicted returns. The success of Ole Thrift Store proves that St. Olaf students eagerly embrace innovative, sustainable businesses.
R.E.D. Foods: Katie Myhre '16, Malika Dale '16, Annie Nguyen '16, Camille Morley '15 (First Prize Winner)
The lack of efficient transaction and produce distribution systems in Minnesota hinders the growing Twin Cities local food industry. R.E.D. Foods is an online marketplace and distribution system that connects local sustainable farmers to local restaurant buyers by aggregating the volume of multiple small-scale farms while preserving the individuality that characterizes small-scale sustainable agriculture. Our innovative transaction and distribution system decreases logistic and transportation costs and price of local food and increases the agricultural and restaurant revenue that stays in Minnesota. Our electronic interface delivers financial transactions with a streamlined distribution system that minimizes the shipping carbon footprint and ultimately contributes to a financially viable and transparent food system.
EarthCure: Joshua Wolf '18
South Africa currently has the highest level of income inequality and is worsening because of environmental degradation. EarthCure funds innovative agricultural development projects by being the first non-profit to commercially produce biodiesel. Biodiesel can readily be produced from sunflower oil, and is extremely cost competitive with standard diesel fuel, with a $0.70/gallon margin. Agricultural development projects use low-cost rustic designs to ensure their long-term economic sustainability. Once communities are beyond subsistence production, they may sell and consume goods in a cooperative market set-up by EarthCure, which is aimed at increasing purchasing power and liberalizing trade.
The Schedule
Welcome & Registration
8:30 a.m. – Coffee and pastries (Buntrock Crossroads)
Business Pitches in Viking Theater (Buntrock Commons)
9:05 a.m. – Who's Missing?
9:15 a.m. – bloom
9:25 a.m. – Campus Klips
9:35 a.m. – Papa Theo's Fish Farm
9:45 a.m. – Sirius
9:55 a.m. – Chancify
10:05 a.m. – Break
10:15 a.m. – Farming Forward
10:25 a.m. – Qopo
10:35 a.m. – Foggy Ridge Farms
10:45 a.m. – Ole Thrift Shop
10:55 a.m. – R.E.D. Foods
11:05 a.m. – EarthCure
Meet the Students (Buntrock Crossroads)
11:15 a.m. – Reception in Buntrock Crossroads to meet the students pitching
Lunch & Awards Ceremony in the Sun Ballroom (Buntrock Commons 3rd floor)
11:45 a.m. –  Keynote by David Rose '89, CEO Ditto Labs and MIT Media Lab
1:00 p.m. – Event concludes
Judges Ole Cup 2015:
Greg Buck '77, President, Productivity, Inc.
Dahlia Brue '09, Owner, Boutique Idun
Brad Cleveland '82, former CEO, Proto Labs
Mark Jacobsen '79, Managing Director, O'Reilly AlphaTech Ventures
Sian Muir, Entrepreneur In-Residence, St. Olaf College (Ex-Officio Non-Voting Member)
Jonathan Pearce '01, CEO, Zipnosis
David Rose '89, CEO Ditto Labs, MIT Media Lab
Jennifer Sawyer '94, Principal, Rebound Enterprises
Kathi Tunheim P'13/'16, Professor of Management, Gustavus Adolphus College (Ex-Officio Non-Voting Member)
Dick Vogen P'95/'99, Logistics Technology Consultant
Darin Steffl '13, CEO, Minnesota WiFi
Megan Tsui '96, Executive Director, Northfield Enterprise Center
Roberto Zayas, Associate Director, Entrepreneurship (Ex-Officio Non-Voting Member)