In June 1898, the citizens of Northfield, through Mohn, invited the members of the Annual Meeting [United Norwegian Lutheran Church], which was held in the cities, to come down to see St. Olaf. It was still a question as to what institution should be the col­lege of the Church. The invitation was accepted. Mohn and Ytterboe were at the meeting, and we who were at home were anxious to have the delegates see what a beautiful and worthwhile place this was.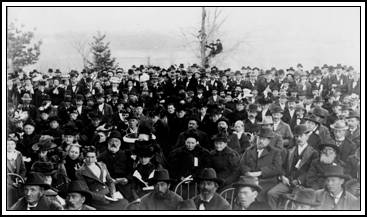 25th Anniversary Celebration, Nov. 6, 1899
(Photograph by O.G. Felland, St. Olaf College Archives, no. 658)
The whole building [Old Main] was cleaned from tower to basement, and a committee of ladies from town was to get refreshments ready to serve a lunch. The train was to arrive at 3:30 p.m. It rained and rained in the morning, and we were all feeling pretty blue. It was difficult to get dishes and food up from town in the downpour. Just before the train was sighted, the clouds broke—the sun came out. It seemed the hill had never looked more beautiful and fresh than that June afternoon.
I remember Mrs. Nutting, Mrs. Skinner, Mrs. Lysne, and others pouring coffee from their lovely silver cof­fee pots to delegates. Everyone was happy and hopeful that our school would be chosen as the college of the Church. People were quite impressed with this beaut­iful location, though the school was not accepted till the next year.
The following fall, to our grief, we noticed that Mohn's health was failing, and in the early part of 1899 he was not able to carry on his heavy work. Lars W. Boe, then a student at the Seminary, was engaged to take part of his work in teaching. This was a wise and good choice; he was a brilliant student and had the respect of his fellow students and so would make a good executive. It may have been the forerunner of his later so efficient work of carrying on at St. Olaf.
Mohn's Health Failing
The college was accepted by the United Church in June 1899. There was great rejoicing, yet our joy was mingled with grief. Mohn's health was failing fast. A new president was elected and Mohn accepted the vice-presidency offered him.
Mohn was able to be present at the installation of the new president, Rev. John N. Kildahl, and say a few words of welcome.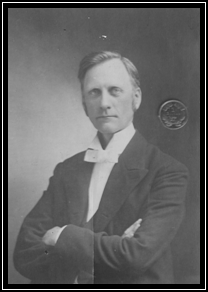 Mohn was much beloved by his parishioners and the citizens of Northfield. In August that year, while he was still able to be up, the citizens came in a body to his home at Deer Park and presented him with a solid silver service as a token of their love. Mr. G.M. Phillips of the First National Bank made the presentation. At that time Ytterboe was presented with a gold-headed cane because of his work for the school, Prof. Goodhue of Carleton presenting it.
The celebration of the twenty-fifth anniversary was that year [Nov. 6, 1899]. To us who were so close to Mohn and to his many old friends it was not a very joyous occasion. Many called at the home; he was not able to see them, he was too ill. Every day from then on till he passed away the question was, "Is he still living?" Ytterboe and I were at his bedside when he passed away, at 2:00 p.m. on Nov. 18, 1899.
We who knew him so well, and loved him so dearly, felt that he had been called home to his reward. He had fought a good fight and won.
My sister Agnes and Rev. John Aasgaard, who was then working on the Northfield Newsstaff, spent the evening and night with the family giving what comfort they could.
Mohn's funeral was a very large one with many speakers. What es­pecially remains in my memory was the burial in Oaklawn Cemetery. The cemetery was quite new at the time and very few graves were there. As we drove in after the long services, darkness came on quite suddenly, as it so often does in the early fall. A lantern was hung over the grave and as one looked about there was dark­ness all around except over the grave.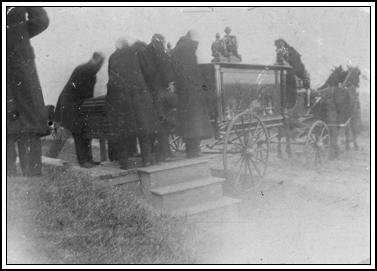 Pres. Th. N. Mohn's funeral, Nov. 1899
It seemed so comforting to see that where he was placed it was light. He had brought light to so many during his life; now he was permitted to go where there is no darkness, only light and happiness. After twenty-five years of service to the school, the first president was allowed to pass on. Blessed be his memory.
Mohn had the pleasure before he died to graduate his two oldest sons, Edward and John, in the Class of 1899.   When the college was adopted as the college of the Church, the school was expected to grow and so we were asked to move out of the Old Main to make room for more class work.
And so after thirteen years in those rooms that had grown so dear to us we moved into a house, then new, on the corner of Linden and West Second Street, where we lived for a year and a half, or until the new dormitory for men was nearing completion.
"To purchase a hard copy, see St. Olaf Bookstore http://www.collegebookstore.org"
Ole Voices No. 1: Reminiscences
Chapters:
St. Olaf's School
Return to Manitou
Early College Days
Changes Take Place
A New Century, New Beginnings
New Quarters
The Passing of Ytterboe
Let There Be Light
Family Memories
Interesting Visitors
The War Years
Remembering Anna Mohn
Remembering Agnes Mellby
Afterword