The first few years the Men's Dormitory [later renamed Ytterboe Hall] was heated by steam, the engine being located in what is now the carpenter shop. When the first heating plant was built and furnished, a dynamo was put in and we got our own electric lights. Hitherto we had used city lights.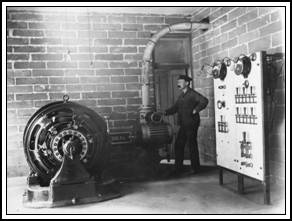 Heating plant, ca. 1906
(Photograph by O.G. Felland, St. Olaf College Archives,
no. 907c)
   When the change was to take place we felt it quite an occasion and invited guests to be present. The lights were to come on at 6:00 p.m. [Nov. 6, 1905]. Kildahl and family, besides other members of the faculty, were present. We had escalloped oy­sters as our treat—they were ready at 6:00 p.m. No lights came on. At 7:00 p.m. there still were no lights. How the oysters would taste was our worry. Shortly before 8:00 p.m. all lights in the dining room came on suddenly, and at once there was a cheering and clapping of hands.
All were too happy to find fault with the over-cooked oysters. We had our own lights. Dr. Glasoe was in charge of making the change and had the satisfaction of seeing his work satisfactorily accomplished.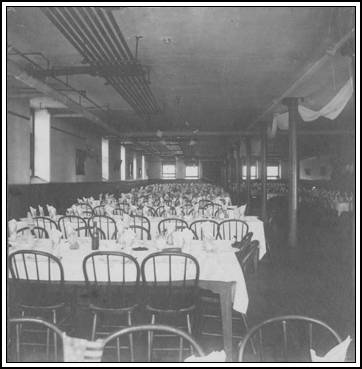 Ytterboe Hall, Dining Room, ca. 1909
Found in the papers of Agnes Kittelsby is a letter from Elise Ytterboe, dated Nov. 12, 1905, detailing the evening event as it unfolded:
   We did not make much extra for dinner but set the time for supper at 5:00 p.m. as we were to serve two settings and then was to be an informal reception from 4:00 p.m. to 7:30 p.m. when the illumination [of Old Main] began. We were to serve supper to visitors, faculty, outside boarders and allin place of the usual ice cream. The bill of fare was to be plain and not extravagant.

Menu:
Escalloped oysters (warm dish)
Vegetable salad (brown lima beans, peas, lettuce with dressing)
Olives
Pickles
Raspberry jam
Fruit cake

The dining room was decorated in old gold and white, napkins to match, and yellow chrysanthemums on the tables. It looked quite pretty.

We were to serve at 5:00 p.m. as I said. I looked at the oysters, they were done and so was the coffee. I was going to start serving when lo and beholdno lights. Glasoe wanted to try the new lights—for the first time (we had city lights before. Now we were to have our own which had not been tried before) —we waited and waited—the crowd got nervous and the students noisy in the halls as bits of plastering began to drop in the dining room.

You should have seen the place when the lights finally came on at 6:15 p.m. Imagine the oysters done over an hour too long and the coffee ditto—somehow I did not care so much as all knew it was not my fault. If the lights had been on we could have served like 1-2-3—anyway I had every one served before 8:00 p.m. They went to the illumination.

Then on to the informal program in the gymnasium in the dormitory.
"To purchase a hard copy, see St. Olaf Bookstore http://www.collegebookstore.org"
Ole Voices No. 1: Reminiscences
Chapters:
St. Olaf's School
Return to Manitou
Early College Days
Changes Take Place
A New Century, New Beginnings
New Quarters
The Passing of Ytterboe
Let There Be Light
Family Memories
Interesting Visitors
The War Years
Remembering Anna Mohn
Remembering Agnes Mellby
Afterword