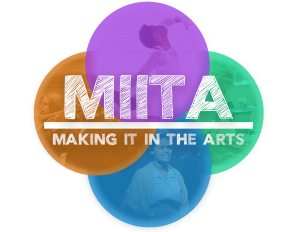 Artists are often called upon to wear many hats in the practice of their craft. Artists need to be marketers, accountants, agents, collaborators, legal experts, web designers, entrepreneurs, and freelancers – and all of this while being musicians, dancers, actors, and artists.
Making it in the Arts is a year-long series of monthly seminars designed to build awareness, provide guidance, and facilitate discussion around professional practice topics for fine artists. Each seminar is designed to be relevant for all fine arts majors and those interested in arts management. (All other majors are welcome too!)
Making it in the Arts is a companion program to Ole Arts with both programs offered in a yearly rotation. Ole Arts is designed to provide opportunities for students and alumni to network and connect with each other. Making it in the Arts will provide guidance and facilitate discussion around professional practice topics that are important in the life of an artist.
Making it in the Arts is a collaboration between the Piper Center for Vocation and Career, Fine Arts Departments, and Arts Management Faculty.
Registration is not required but strongly encouraged. Register in Handshake by following the links below.
(MIITA sessions are pink card events for music majors.)
---
2016-2017 Series
Auditioning
Wednesday, September 21st, 2016 | 6-7:30 p.m. | Buntrock, Sun Ballroom
Register
Invited guests
Wendy Williams, a performer with the Minnesota Orchestra, Sheena Janson from the casting office of the Tony Award winning Minneapolis Children's Theatre Company, and Sarah Jane Steinchen '08, a dancer
The calling card is common to many fine artists is the audition. Whether actor, dancer or musician, this session will bring you together with working artists in your field for some straight talk about what to expect during post-college auditions. Professionals from the Children's Theater Company, the Minnesota Orchestra and Zenon Dance Company will share their knowledge and take your questions.
The Portfolio
Thursday, October 13th, 2016 | 6:30-8:00 p.m. | Center for Art and Dance Room 305
Register
As artists we create – objects, scores, scripts, and performances. When and how do we document our creativity? How is a dance portfolio different from a visual art portfolio? How do we preserve and represent these works? What are the most current forms of dissemination and expression of the work we create? Meet professionals from each discipline who will discuss these important topics. Representatives from all four arts departments will be part of the discussion: Julie Van Grol '08 (Art), Pramila Vasudevan '99 (Dance), Prof. Nathan Shields (Music), Ellen Baker '88 (Theater).
Cultural Spinach
Thursday, November 3rd, 2016 | 6:30-8:00 p.m. | Center for Art and Dance Room 305
REGISTER
Blech. Just like spinach for many, there are aspects of being an artist that we wish we could avoid! In this seminar we will look broadly at the different skills artists need to master in order to practice their craft. Whether it be marketing, technology, web-design, entrepreneurship, budgeting, taxes or many other skills – we will talk about resources and tips for handling it all. Session created by the students of the Fall 2016 Arts Management class.
How to Collaborate
Thursday, Feb. 23rd, 2017 | 11:30am-12:30 p.m. | Center for Art and Dance Room 305
REGISTER
How do artists collaborate across disciplines, both within and outside the arts? What factors should be considered when preparing for a collaborative project? Stephan Koplowitz, an award winning director/choreographer/media artist, will share his experiences and strategies as a public artist, creating performances made in public sites, for diverse public audiences in architecturally interesting and challenging spaces in which collaboration is front and center.
Freelancing
Thursday, March 9th, 2017 | 6:00-7:30 p.m.| Buntrock Commons Sun Ballroom
REGISTER
This session will discuss different possibilities to make money as a freelance musician in the Twin Cities. How to locate and secure opportunities for performing and teaching in a wide variety of groups, venues, and educational institutions will be presented. Melissa Morey, a French horn player who graduated in 2000 and Dave Hagedorn will talk about their experiences.
End of Year Networking Social
Thursday, April 27th, 2017 | 6:30-8:00 p.m. | Buntrock Commons Sun Ballroom
REGISTER
Artists need to be expert collaborators across artistic boundaries to create for the world. Music, Theater, Dance, Visual Arts must often blend together in the creation of art. The End-of-Year Networking Social is about celebrating artistic collaboration by bringing together all students, faculty and staff in the arts. We will celebrate with food, facilitated conversation, and – most importantly – good company.